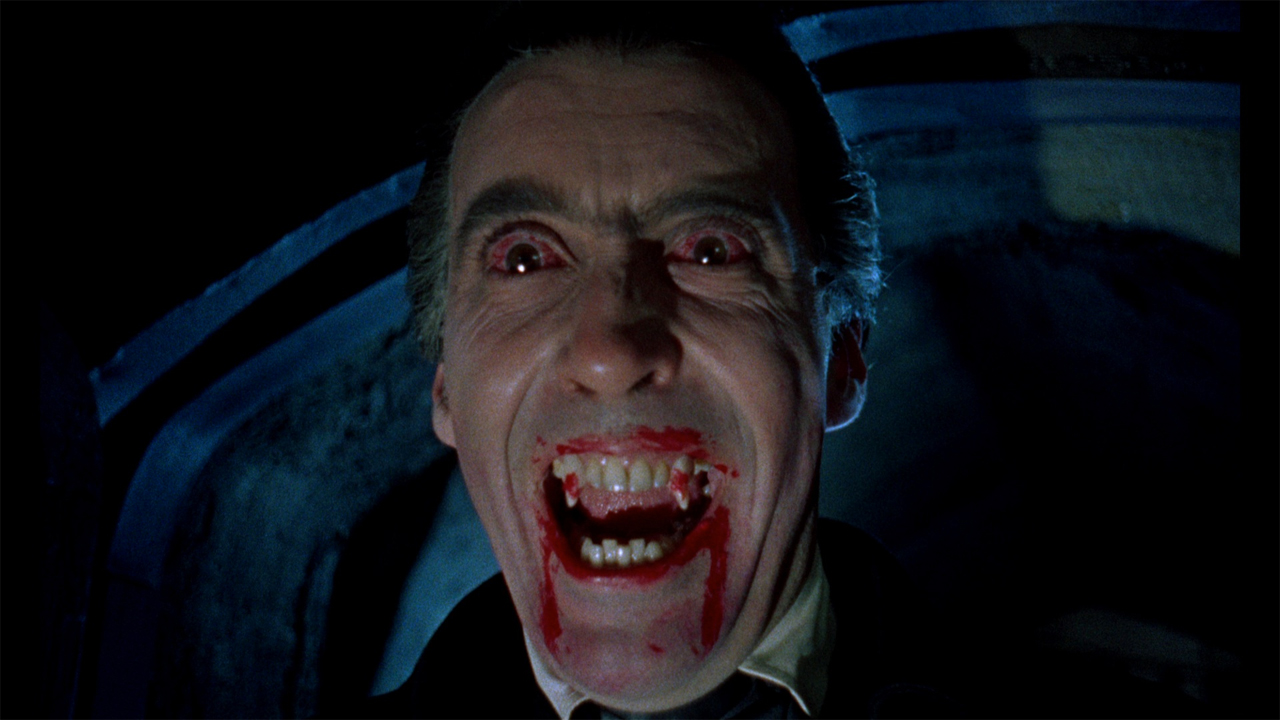 Y'know what's genuinely frightening? Making a list like this with a definitive title and releasing it onto the internet. That beats any creaking floorboard or sudden chilling scream late in the night by miles.
Nevertheless, like a group of teenagers running towards a creepy abandoned shack in the middle of a forest, we've just blundered ahead with it, as if oblivious to all danger. So, in this spookiest of all weeks, here's a roundup of British chillers, slashers and thrillers, all of which are currently available on streaming services near you. Please don't hurt us.
Note: where possible we've tried to avoid spoilers, especially for those movies that have startling twists.
The Wicker Man (1973)
By some distance the eeriest movie to come from the British Isles, The Wicker Man only becomes more unsettling with the passage of time. Essentially a film about the fear of trespassing in a closed society, it places a pious Christian police officer (Edward Woodward) into a community whose pagan rituals and strange customs were supposed to look a bit rustic, unsettling and antiquated at the time, albeit part of a broadly understood tradition that takes in such British customs as Beltane and May Day. He goes to investigate a missing girl, and finds a community oddly untroubled by her absence, and that's just the start of his troubles.
28 Days Later (2002)
A story which takes several familiar horror story ideas—a single event that all but destroys humanity overnight, a plague of zombies, the opening section from John Wyndham's The Day of the Triffids—and infuses them with relentless intensity and deep melancholy. It is also responsible for the piece of music above, from John Murphy, which is the sound of someone realizing that civilization has eaten itself.
Horror Of Dracula (1958)
Better known in the U.K. as Dracula, this is the classic retelling of Bram Stoker's take of a vampiric count, with Christopher Lee and his broad, appalling smile replacing Bela Lugosi, and Peter Cushing playing the righteous vampire hunter Van Helsing. This is the movie that emphasizes the terrifying and sexual charm of Count Dracula, with his imposing castle and immaculate breeding. It takes him out of the still-forming tradition of gory movie horror and places him back in the tradition of Gothic fiction from which he first came.
Hellraiser (1987)
One of the most enduring tropes in horror is the terrible consequences of messing with something you don't really understand, and so it goes with Clive Barker's Hellraiser. There's a puzzle box, and if you solve the puzzle, deeply unpleasant creatures called Cenobites come out and… well let's just say it's called Hellraiser partly because they look like demons and partly because their idea of fun is the worst kind of party imaginable.
Alien (1979)
An abiding theory about Alien is that it's about the fear of reproduction. More specifically it's a celibate's fear of reproductive impulses, with the alien becoming a personification of malevolent nature, the kind you see in fungus spores that embed themselves in ants and force them to walk to the top of a tree before germinating. Whether that's the case or not, it's certainly true that H.R. Giger used human genitalia as a design inspiration for the alien itself, and the scene in which John Hurt "gives birth" is one of the most iconic moments in all of cinema history.
The Descent (2005)
Yet another trespassing allegory, only this time with claustrophobia and the constant threat of utter darkness to deal with too. Six women take a spelunking trip that does not go well, leaving them trying to find their way out of an unknown cave system with unpleasant inhabitants and a great big pile of human bones. To make matters worse, once under attack, the women discover that their friendships are not as rock solid as they may have previously thought.
Village of the Damned (1960)
In this adaptation of John Wyndham's The Midwich Cuckoos, the inhabitants of the idyllic English village of Midwich are rendered temporarily unconscious, and when they awake, they soon discover that all of the women of child-bearing age are pregnant, and that all of the children born in this mini-baby boom share unsettling characteristics. Not the least of these is their golden hair and unsettling ability to communicate without talking.
Eden Lake (2008)
A young middle class couple (portrayed brilliantly by Kelly Reilly and Michael Fassbender) take a trip to a lakeside location for a holiday, only to find themselves on the receiving end of the malicious intentions of a gang of insolent kids. It's a grisly, nasty and deeply worrying film, riddled with class tension and suspicion, and being British, it's also about the breakdown in social order when normal rules of etiquette have been breached. A truly terrifying prospect.
Dog Soldiers (2002)
A story of bluff, double-bluff, cross and double-cross as a squad of British Army soldiers attempt to complete a training mission in the Scottish Highlands, unaware of the fact that they're deep in wolf country—werewolf country, that is. What happens next is a tale of training and leadership set against feral nature and really sharp teeth, and it wouldn't be unduly spoiling things to say that not everyone makes it with their humanity intact.
Kill List (2011)
As with all of these films, it's best not to pry too heavily into the synopsis before you start watching, as part of the joy (and we're probably using that word most incorrectly) lies in being taken to somewhere unexpected. Suffice to say that this Ben Wheatley movie begins with two former soldiers who have taken up work as hitmen. To say things do not go according to plan would be an understatement of extreme proportions.
Got your own suggestions? Add them in the comments.
See more:
Watch Out For The Weeping Angels In Scary 'Doctor Who' Fan Video 'Stone'
Emma Watson And The Nine Scary Waxworks Of Doom
Brit Binge Watching: Six British Horror Flicks Available Online
'Doctor Who' and the Invasion of the Classic Horror Monsters
Read More
Filed Under: