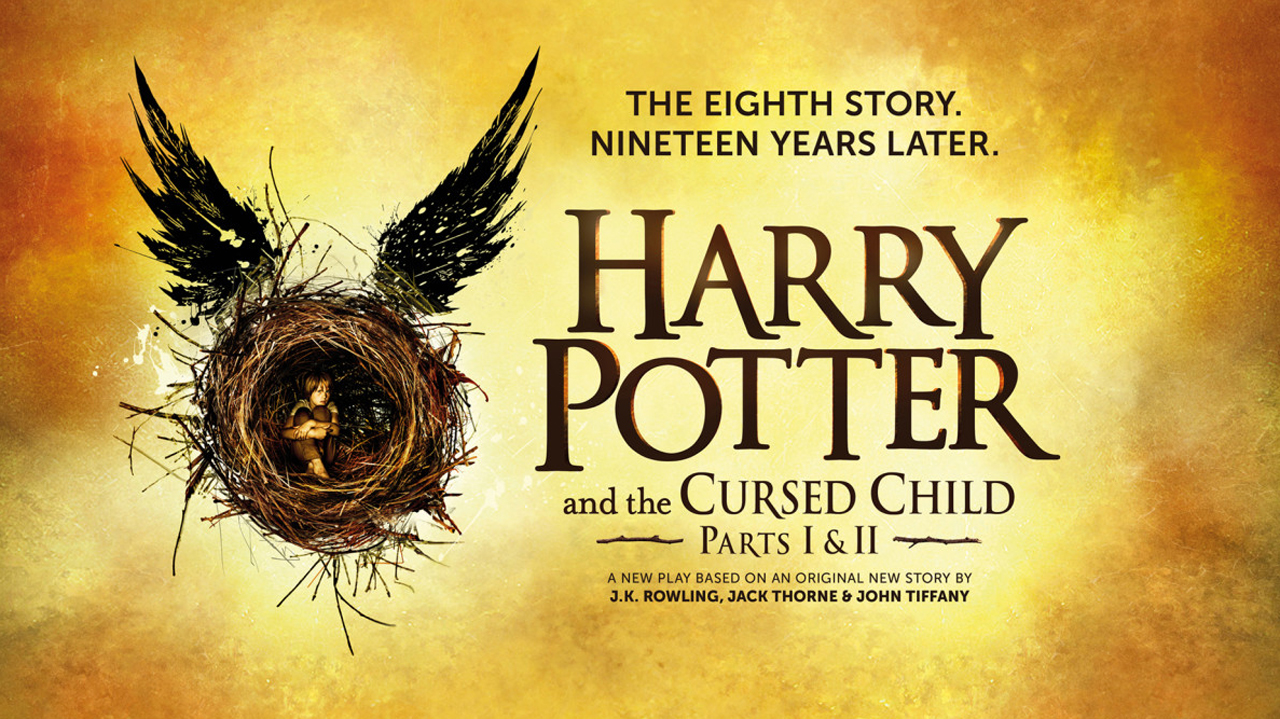 Things are definitely hotting up for Harry Potter fans who are curious as to what the latest opus from J.K. Rowling might be about.
Yesterday, the first poster for her theatrical production Harry Potter and the Cursed Child was revealed, and as it's just a poster, it would be unwise to read too much significance into things. But the strapline "The Eighth Story" seems key. As does "Nineteen Years Later":
And today, a full synopsis of the story was placed on the Harry Potter site Pottermore, and we find out that it's a story that takes place after the events detailed in Harry Potter and the Deathly Hallows, and is chiefly concerned with some beloved characters and their children:
It was always difficult being Harry Potter and it isn't much easier now that he is an overworked employee of the Ministry of Magic, a husband and father of three school-age children.

While Harry grapples with a past that refuses to stay where it belongs, his youngest son Albus must struggle with the weight of a family legacy he never wanted. As past and present fuse ominously, both father and son learn the uncomfortable truth: sometimes, darkness comes from unexpected places.
The two-part play has been written by Jack Thorne, in collaboration with J.K. Rowling, with direction from John Tiffany. When it comes to London's Palace Theatre in 2016, it will feature over 30 actors. It seems unlikely that many of them will overlap with the cast of the Harry Potter movies, but not impossible either.
Announcing the synopsis, the team said: "It is very exciting to explore Harry's world in a brand new way through the live form of theater. Collaborating on this story is exhilarating for all of us, and we can't wait to present the eighth story at the Palace Theatre next summer."
And J.K. Rowling added: "The story only exists because the right group of people came together with a brilliant idea about how to present Harry Potter on stage. I'm confident that when audiences see Harry Potter and the Cursed Child they will understand why we chose to tell this story in this way."
Pre-registered priority tickets go on sale online at 11am GMT on Wednesday, October 28 and then the rest are on sale at 11am GMT on Friday, October 30. Registration for tickets at HarryPotterthePlay.com closes tomorrow (Saturday October 24) at 11.45pm BST.
See more:
J.K. Rowling Stupefies Fans with Voldemort Revelation
J.K. Rowling Unveils New 'Harry Potter' Story for the Theater
J.K. Rowling Explains the Alchemy of Dumbledore and Hagrid
J.K. Rowling and the American Hogwarts
Read More
Filed Under: