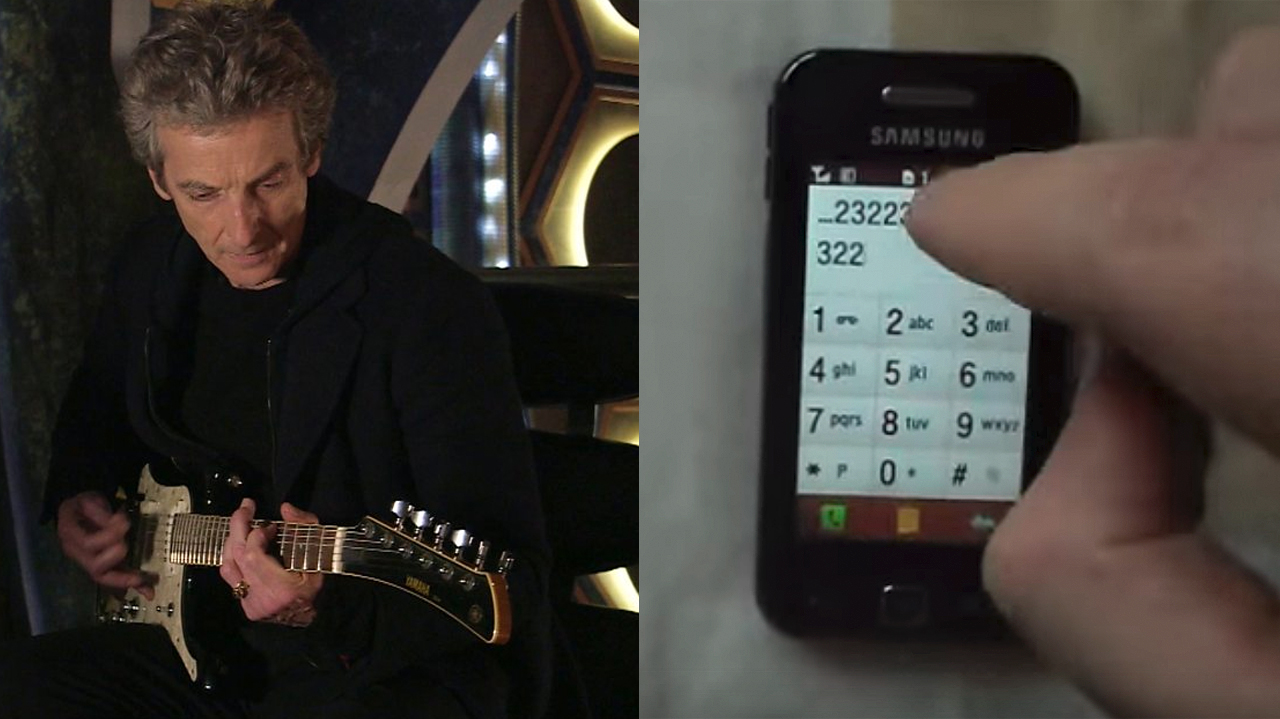 Welcome to this week's Doctor Who's Day roundup, a collection of various Gallifreyan bits and bobs that the Internet has seen fit to share with us over the past week. And as is traditional, we begin with something that is daft, but also rather brilliant.
This is what happens if you should ever want to to play Murray Gold's "I Am the Doctor" theme on a Samsung phone. YouTuber Arsen Sayadyan is developing a channel of clips in which a smartphone becomes a musical instrument (without the use of any special apps for the purpose) and as it's quite a Doctor Who thing to do, he plays something appropriate to the task:
The entire Doctor Who theme is probably a step too far, given the musical limitations of the instrument.
While we're on fan music, how about a rewording of Katy Perry's "Wide Awake," from the perspective of a fan trying to get used to the Doctor's various regenerations?
Amazing.
Here's what else has been going on in space and time this week:
• David Tennant and Catherine Tate are back as the Doctor and Donna in three new Doctor Who audio dramas for Big Finish. And they are delighted to be working together again, as this clip proves:
• The Twelfth Doctor and Clara appeared as Tumblr fan art:
• "The Woman Who Lived" (watch here, U.S. cable subscribers) allowed us to see what happened to Ashildr, the Viking girl who always felt slightly out of place and who became practically immortal, thanks to the Doctor. Steven Moffat explains the Doctor's dilemma with Ashildr:
• Maisie Williams discusses the chemistry between Lady Me and the Doctor:
• And playing the two sides of her character:
• 10 things you may not have spotted from "The Woman Who Lived" , from the Terileptils to the origins of the term "dandy prat."
• Rufus Hound defines Sam Swift's character:
• And then takes a camera behind the scenes to muck about with Maisie:
• In rehearsal for his own death:
• Joshing with a villageful of extras:
• And occasionally getting too distracted:
• But he was on hand to record the arrival of Peter Capaldi's birthday cake on set:
• Stuart Manning designed a fiery poster:
Here's my retro poster for tonight's #DoctorWho ep The Woman Who Lived starring @Maisie_Williams and @RufusHound. pic.twitter.com/6nDzogYos3

— Stuart Manning (@stuart_manning) October 24, 2015

• Catherine Tregenna explains what it was like to write "The Woman Who Lived":
• Here's the trailer for "The Zygon Invasion," in which the Doctor's cease-fire from "The Day of the Doctor" becomes unpicked:
• The Doctor in uniform:
• Steven Moffat talking about what it is like when a companion leaves the Doctor at MCM Comic Con: "We always use this awful word companions, but they're really co-stars, the co-leads. Right from the very beginning with Barbara and Ian, that character is the core. It's a huge thing when they leave, and it knocks the living crap out of the Doctor every time."
• Here's a clip from his panel with Mark Gatiss, Rachel Talalay and new show writer Sarah Dollard:
• Speaking of Mark, here he answers questions about writing Doctor Who, ahead of the Doctor Who Festival next month:
• The Doctor photobombs himself at Comic Con London:
Whilst at Comic Con London, I was unexpectedly Photobombed by Sylvester McCoy, while taking a picture with Colin Baker!
• And finally, have you ever watched the companions/assistants of classic Doctor Who and wondered if you were a Sarah Jane, a Leela, or more of a Jamie?
Well here's a quiz to help you find out: which classic companion are you?
TTFN!
Read More
Filed Under: