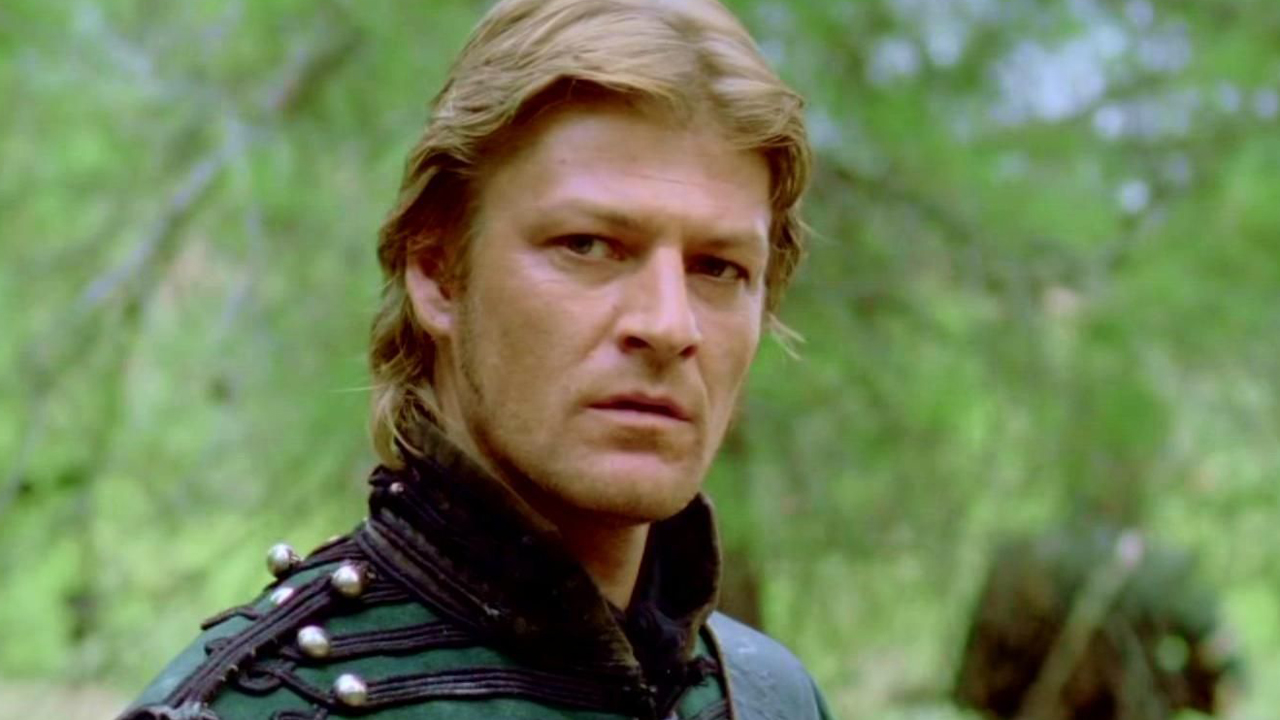 You may have heard, because we just mentioned it the other day, The Last Kingdom is heading to BBC AMERICA on October 10. The series is based on Bernard Cornwell's historical novels The Saxon Stories. But what about Cornwell's earlier Sharpe series? We still have some time to binge on the action-packed TV adaptation of the war novels, starring Sean Bean as British officer Richard Sharpe, available here:
iTunes
We meet Sergeant Richard Sharpe (Bean) in the first installment of the series of TV movies, Sharpe's Rifles, which is actually the sixth novel in Cornwell's books. In the opening sequence Sharpe saves the life of British army commander Sir Arthur Wellesley (David Troughton) while battling the French during the Napoleonic Wars in 1809. He is soon promoted to Lieutenant and put in charge of the Chosen Men, a regime of expert riflemen. Sharpe is a dedicated soldier, but he finds some time for romance. Keep an eye out for familiar faces throughout the Sharpe series like Daniel Craig (Skyfall), Julian Fellowes (Downton Abbey), Mark Strong (The Imitation Game), Elizabeth Hurley (The Royals), Toby Stephens (Black Sails), Brian Cox (The Slap, Doctor Who), and Emily Mortimer (Doll & Em).
iTunes offers the first 14 dramas:
1. Sharpe's Rifles (1993)
2. Sharpe's Eagles (1993)
3. Sharpe's Company (1994)
4. Sharpe's Enemy ((1994)
5. Sharpe's Honour (1994)
6. Sharpe's Gold (1995)
7. Sharpe's Battle (1995)
8. Sharpe's Sword (1995)
9. Sharpe's Regiment (1996)
10. Sharpe's Siege (1996)
11. Sharpe's Mission (1996)
12. Sharpe's Revenge (1997)
13. Sharpe's Justice (1997)
14. Sharpe's Waterloo (1997)
Watch the Sharpe series (1993 through 1997) on iTunes.
Hulu
Hulu has the two most recent series, Sharpe's Challenge and Sharpe's Peril, which are broken up into two parts each. The TV movies premiered in 2006 and 2008 respectively. The follow-ups were based on Cornwell's characters, with Bean returning as Sharpe, but were pulled loosely from the novels and written specifically for TV, with Cornwell's seal of approval. The final story of the first set of TV movies ended in 1815. When we meet up with Sharpe the second time around it's 1817 and he's retired from the military. He's living a quiet life as a farmer, until he's recruited to look for a missing agent, who turns out to be his old friend (Daragh O'Malley).
Hulu offers the last two installments:
Sharpe's Challenge Part 1 
Sharpe's Challenge Part 2
Sharpe's Peril Part 1
Sharpe's Peril Part 2
Watch the Sharpe series (2006 and 2008) on Hulu.com.
Are you a fan of the Sharpe series?
See More:
Brit Binge Watching: Five British War Films You Can View Online
A Viking Trail Through Britain
2015 British Fall Preview: 10 Shows to Watch
Read More
Filed Under: