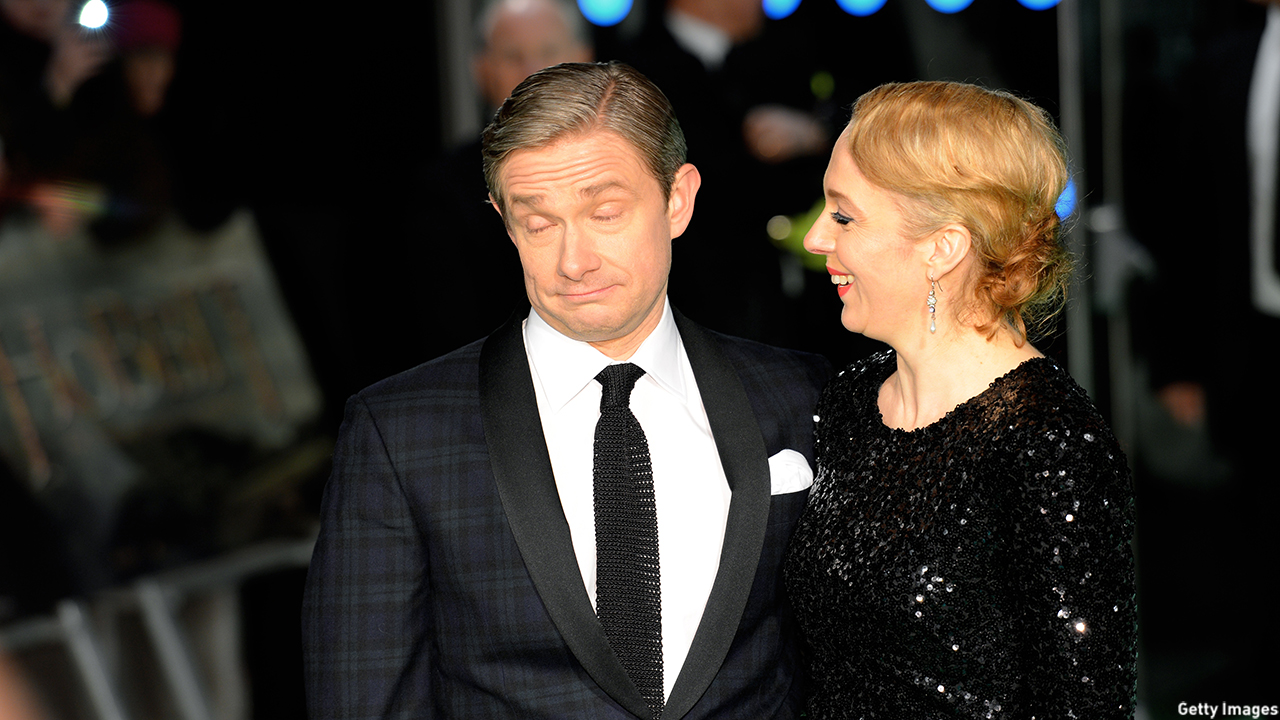 We just recently tweeted that Sherlock's Amanda Abbington likes to talk shop, and we like it when she does, in response to her giving us a little hint about the Victorian Sherlock special.
And she likes to tweet.
Her Twitter handle @ChimpInSocks shows off her playful personality. She may use the social media platform to give a head's up on something to look out for, share a selfie video, or, like the rest of us, may just feel like posting a photo that gives the fuzzies.
Twitter is one way the British actress can reach a lot of people in one swoop.
But it appears to be leaving her long-time partner and Sherlock co-star Martin Freeman scratching his head.
We put it in nicer terms when saying he's "not keen" on her tweeting away, but Abbington went the more direct route, telling Radio Times, "Martin thinks I am crazy."
That's another way to put it.
She goes on to elaborate, saying, "He says, 'I don't know why and how you do it. I could never do that.'"
Admittedly Twitter is a commitment and involves sharing your thoughts with the public, but Abbington seems to have a handle on it.
She talked to Radio Times about feeling comfortable on Twitter, saying, "I am doing work I love so I can afford to be quite honest about stuff and if people don't like it then that's up to them."
She addressed Twitter users who aren't always so kind and how she deals with trolls, saying, "I am not going to shy away from bullies. I am not going to shy away from people who hide behind anonymity and feel it's fine to say what they like on social media and I think you have no right to do that."
Freeman may not be a fan of posting on Twitter himself, but he was a good sport and took part in this tribute to Spinal Tap with Abbington, which landed on Twitter (whether he knows it or not).
As well, Freeman has been the topic of tweets, like when we mentioned him hosting Saturday Night Live, which Hobbit co-star Richard Armitage re-tweeted:
WATCH: Host Martin Freeman Gets His Dance On in 'Saturday Night Live' Teaser http://t.co/1NOFeHXdY4 via @anglophenia SNL tonight with MF

— Richard Armitage (@RCArmitage) December 13, 2014
Armitage and Abbington couldn't help but chime in:
@RCArmitage @anglophenia he does that all the time at home. It's irritating Richard…

— amanda abbington (@CHIMPSINSOCKS) December 13, 2014
We adore you Martin, but please don't stop tweeting Amanda.
Are you following Abbington on Twitter? 
See More:
Amanda Abbington Tweets 'Sherlock' Excitement
Martin Freeman 'Despairs' Over Partner Amanda Abbington's Telly Watching
20 British Celebs Taking Over Instagram
Read More
Filed Under: