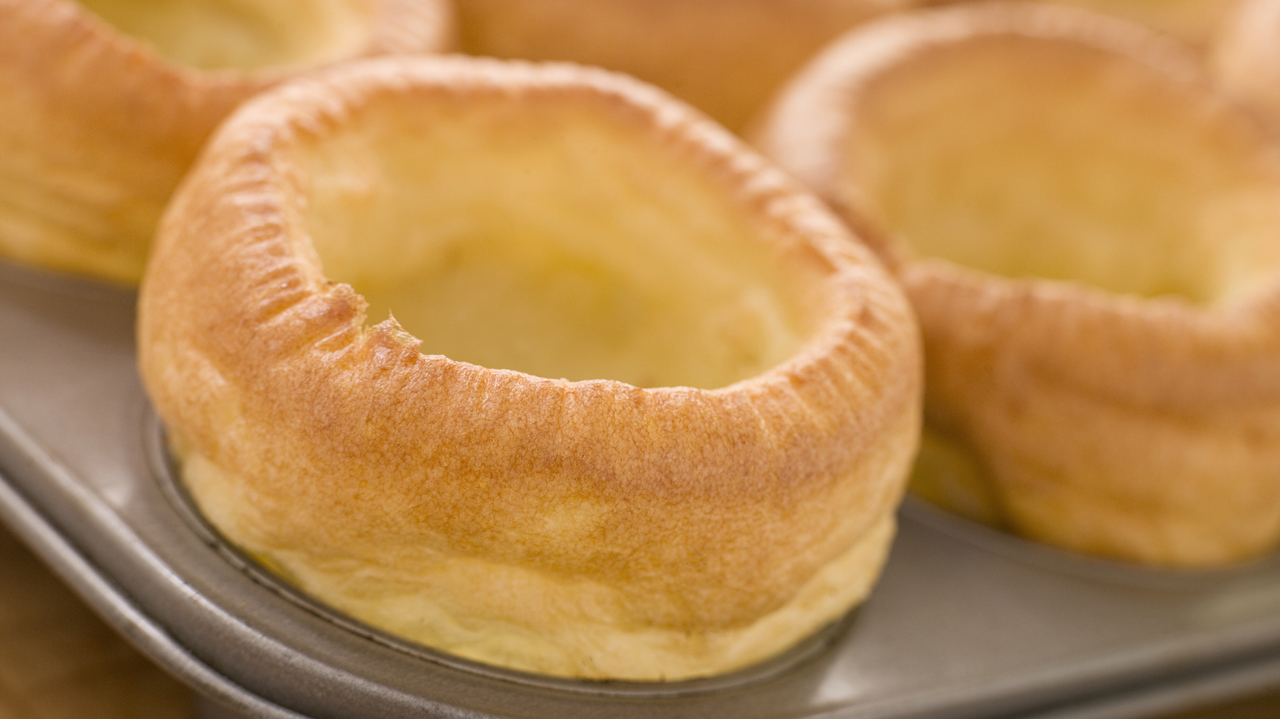 Today, as we all know, is National Yorkshire Pudding Day in America. It's a time for families to get together, look back on the last 12 months with fondness, exchange presents, and prepare for the year ahead. October 13 is set aside in the calendar, with many people taking time out from their busy lives to prepare the traditional Yorkshire pudding as a symbol of affection for their loved ones.*
For the very few of you who may not be familiar with Yorkshire Pudding, it's a side dish consisting of eggs, flour and milk, made into a batter and roast in the oven. It goes with the British Sunday roast dinner, a dish which is broadly made up of a roasted meat joint, roast potatoes, boiled vegetables and gravy.
It's very different in Britain, not least because their Yorkshire Pudding Day is the first Sunday in February, and because for many families, particularly those that make a roast dinner every week, every Sunday is Yorkshire Pudding Day. And being a creative bunch, they've had lots of time to come up with various interesting ways to serve the classic batter pudding, apart from the classic "resting on some roast meat and smothered in gravy," or as the sleeping bag for sausages that makes toad in the hole, of course.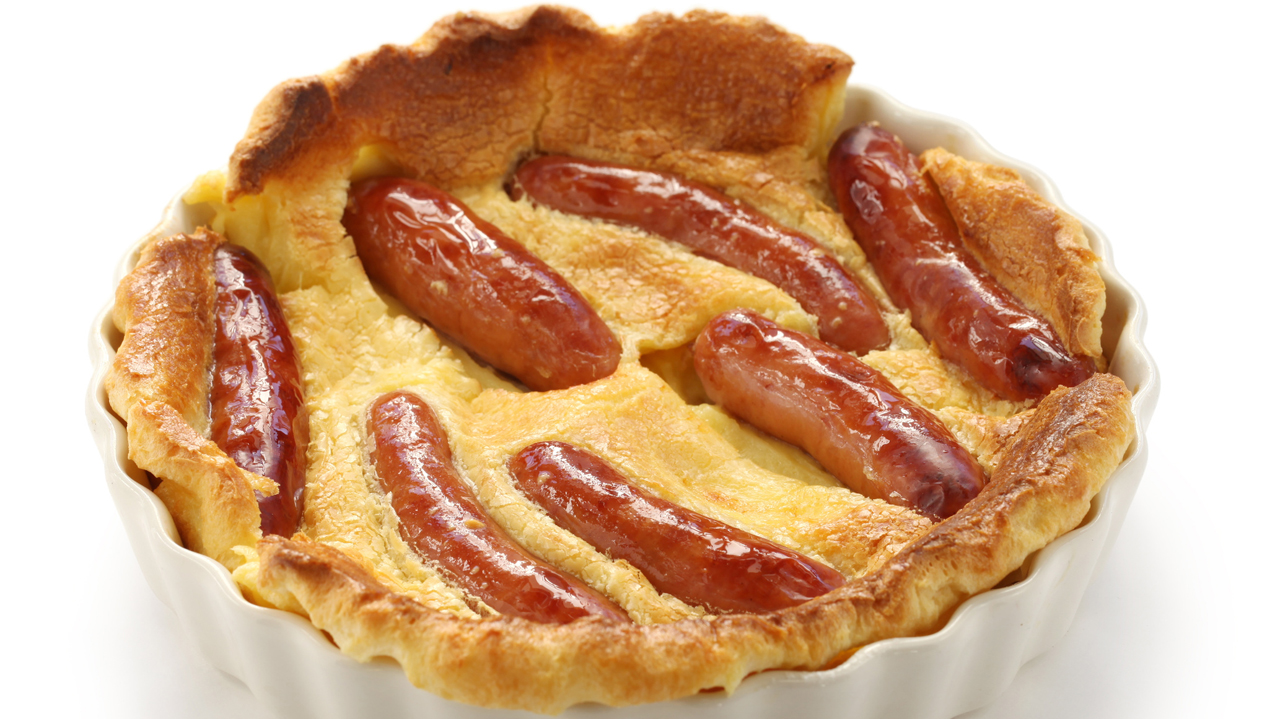 So, to make your National Yorkshire Pudding day celebrations go with a swing, here are some alternative suggestions for fillings (taken from this discussion on NetMums):
Cold with sweet things
Suggestions for the kind of garnishes that would suit either leftover Yorkies or specially made ones (if you're feeling decadent) include jam (any flavor), treacle, golden syrup, maple syrup, chocolate spread, lemon and sugar, ice cream and syrup, and lemon curd. Anything you'd put on a pancake will do.
Cold with savory things
This plays in to the European tradition for crepes, but cheese, meat and mustard are all popular choices. There's also various pickles and relishes. A strong cheddar and Branston pickle is hard to beat on almost anything. Maybe even cheddar and Marmite, if you're really feeling adventurous. Also, some people like to dunk cold Yorkies in cheese sauce or ketchup. Not something you'd get away with at the Savoy, but worth a try.
As a pie base
This is by far the most popular option, not least because it allows the Yorkie to do what it does best, act as a receptacle for gravy. So, any stew or casserole with braising steak or lamb or savory mince or sausages will sit beautifully in a great big Yorkshire pudding, also curry and chili will work too. The trick is to make the stew first, then ladle into a finished pudding base.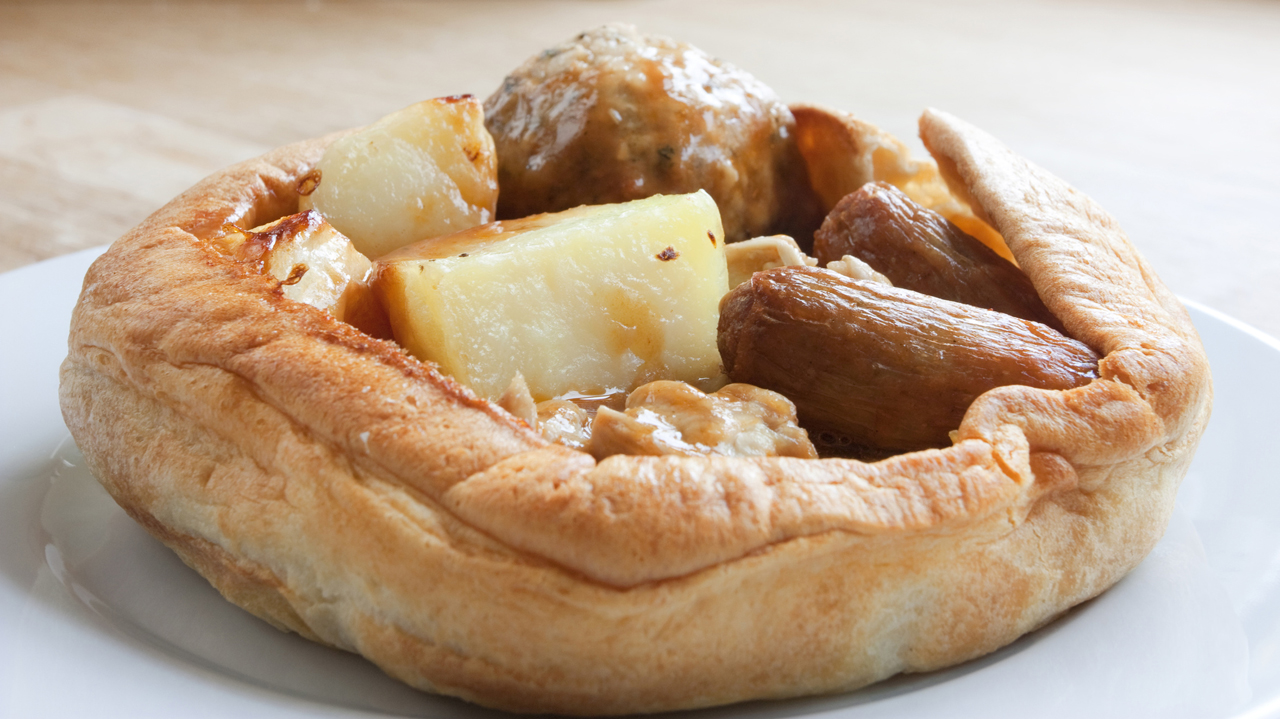 As a quick quiche
Possible one for experienced quiche chefs, but there's no reason why that big Yorkie base can't be used as the container for a quiche mix. Or even just a place to dump a big pile of cauliflower cheese before serving. Push the boat out, you've a whole year to wait before next National Yorkshire Pudding Day after all.
As big profiteroles
One of the suggestions is to take a Yorkie, pipe cream into in and cover it in either melted chocolate or chocolate sauce, thus creating a strange British fusion between Yorkshire puddings and profiteroles. Let's call them proBriteroles and say no more about it.
"Chop toad"
Don't panic, there are no amphibians in this recipe, and none of them require chopping. One of the suggestions was for an equivalent to toad in the hole, in which lamb chops are substituted in for the sausages. It seems a fairly straightforward recipe—grill the chops, put them in a baking tray with pre-heated oil, pour on the batter mix, bake—and could form the main course of a menu of British dishes with unappetizing names, with spotted dick for dessert.
Happy National Yorkshire Pudding Day, one and all!
See more:
Personality Quiz: Which British Food Should You Try?
WATCH: Think British Food is Boring? 9 Dishes That Will Change Your Mind
Snapshot: 12 Photos of Traditional British Food Dishes
How Would You Describe British Food? 'No Kitchen Required' Chef Michael Psilakis Gives His Take
* We all do this, right?
Read More
Filed Under: