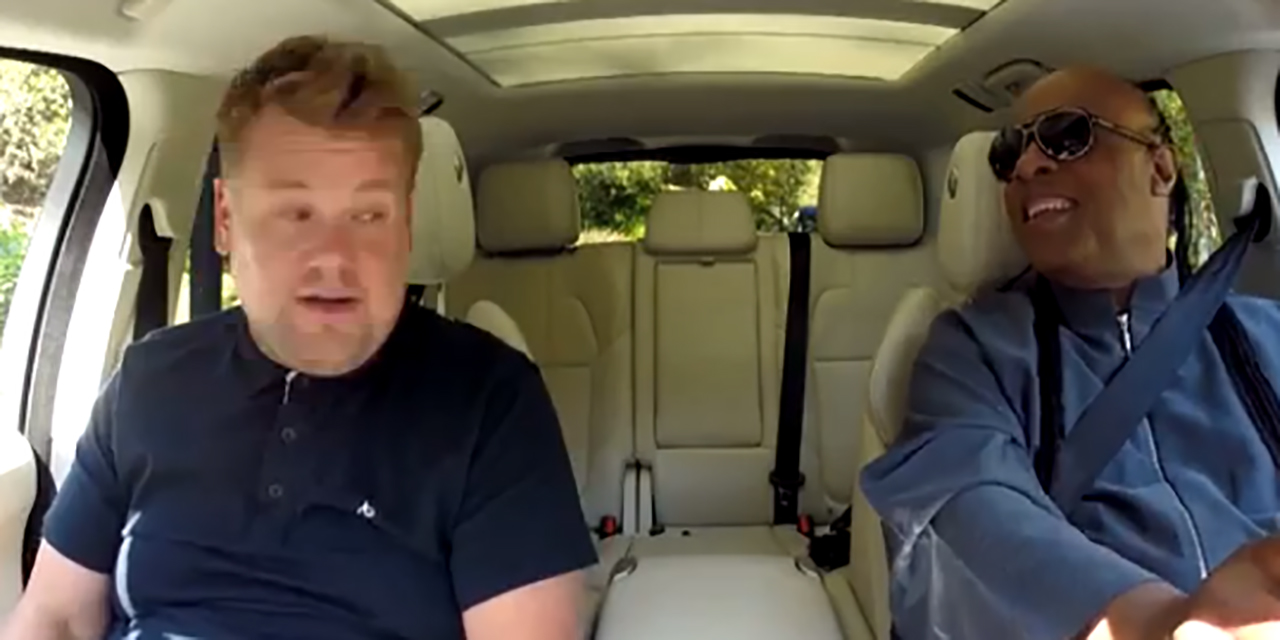 James Corden (The Wrong Mans, Gavin & Stacey) kicked off his new gig as host of The Late Late Show in March 2015. It can be nerve-racking starting any new job, but just imagine knowing millions of people will be watching to see if you sink or swim. We can happily report that James has been doing swimmingly and already has an Anglo-file of amazing moments in his short tenure.
Today (October 23) is National TV Talk Show Host Day, marking the anniversary of Johnny Carson's birthday. Let's celebrate by looking back at 10 of our favorite moments with James on his late night show (so far):
1. When Stevie Wonder and James went for a drive.
James and Stevie hopped in the car for some Carpool Karaoke. The legendary singer teased James with the suggestion that he should drive, assuring James he had his driver's license. (License or not, that really wasn't the biggest concern.) The two ended up swapping seats, and belting out some of Stevie's songs like "Superstition," "Sir Duke," and "Isn't She Lovely," with two "phone-a-friend" breaks:
2. The Late Late Show theater company's rendition of Grease.
James put together a musical company, recruiting the best of the best to perform Grease on the streets of L.A. The drivers were keen on the crosswalk performance up until the light turned green, that's when the beeping started:
3. James living out his dodgeball dream with One Direction.
Sure, growing up to be a beloved talk show host is enough for some, but James's true dream was to coach a dodgeball team. Luckily for him the guys of One Direction had the same dream:
4. When he unveiled D&J briefs with David Beckham.
David and James (D&J) stripped down to their tighty whities to show off their new line. It's great to see the former football star was feeling confident enough to appear shirtless in the advert with our number one talk show host. The underwear is meant to maintain men's sense of self during the day, leaving them feeling "secure," "free," "cradled," "alive," and … well, just watch:
5. The time Betty White prank called the talk show host.
Betty was set to be a guest on the show and called James directly with some over-the-top requests. James took the suggestions to heart, but when he got off the phone, he did seem slightly rattled. We have to give some of the credit for this best moment to Betty for making it happen:
6. Speed acting with Tom Hanks.
James and Tom takes us through the American actor's famous films in less than seven minutes, starting off with scenes from Forrest Gump and Big, making their way through Turner & Hooch and Sleepless in Seattle, ending on a high note with Toy Story and Toy Story 2 & 3:
7. When he came to Katie Couric's rescue.
Apparently people really like pranking James, including broadcast journalist Katie Couric. Katie swung by the show for a catch up but pulled a goof on James, not quite making it to the stage for the interview:
8. The time he reenacted Basic Instinct with Michael Douglas.
Yes, yes, you did read that right. James took on the role made famous by Sharon Stone, donning a blonde wig and white dress. We'll give you one guess as to which scene the two remade:
9. Speed acting with Arnold Schwarzenegger.
Remember that time James went through Tom Hanks' film career and acted out scenes with Tom? Sure you do, we just mentioned it as #6. Well, he did the same with Arnold Schwarzenegger. You can look forward to snippets pulled from Conan the Barbarian, The Terminator, Twins, Predator and Terminator 2, just to name a handful:
10. When James showed us how he got his start in late night.
One of James's best moments is when he filmed how it all came to be. He is doing great, and we're so happy for him, but how did he get this job over so many other people? James asks the very same question in the below, saying, "Now, I'm sure that a lot of people are wondering how I ended up here in this seat. And I include myself in that, too." Rather than explain it in a monologue, James showed us what he went through to earn his spot in late night:
Thank you, James, for all the laughs and great interviews (so far).
See More:
So How Did James Corden Do on 'The Late Late Show'?
PICS: James Corden Gets His OBE
Brit Binge: James Corden Roles You Can Watch Online
Read More
Filed Under: