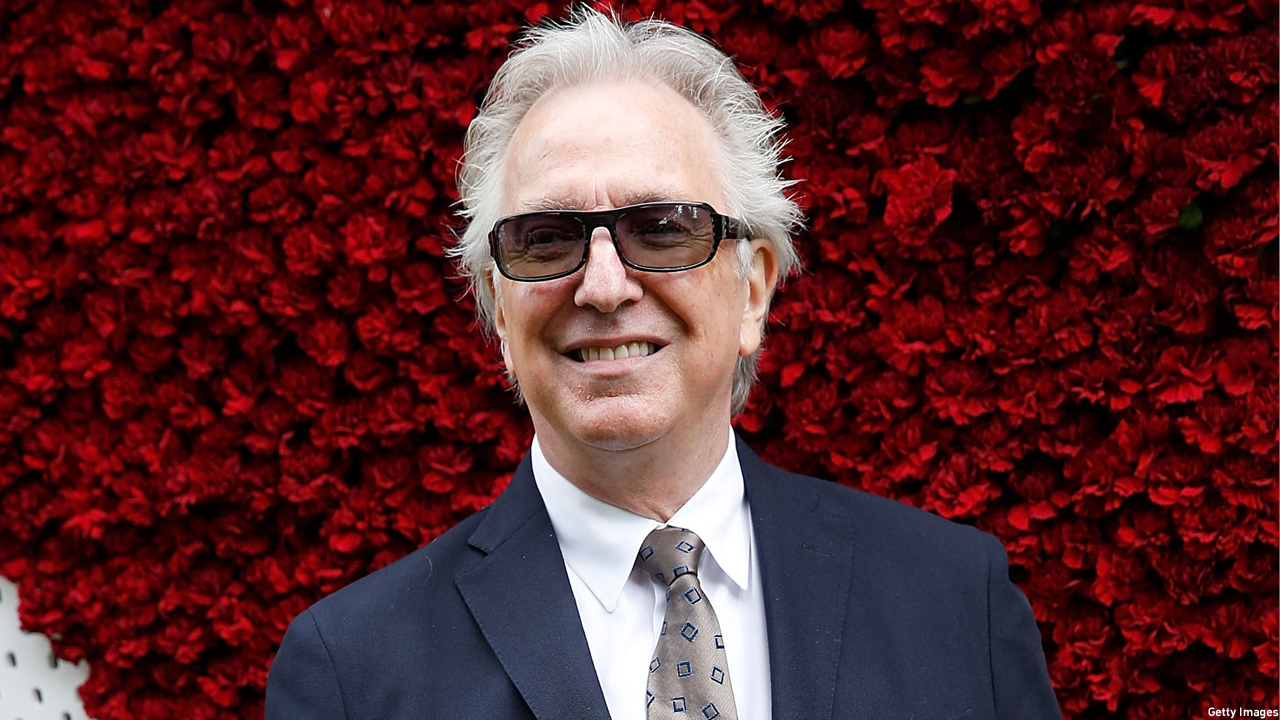 Whether he accepts it or not, Alan Rickman has a particularly interesting voice to try and impersonate. It's not just a matter of getting the tone right, there are also those unique speech rhythms, the swooping intonation, the sudden pauses and breathy sighs.
That's presumably why so many actors—professional and amateur—have had a go at delivering the full Rickman. Some we know, some we don't, and one does it so often it's becoming his chat show trademark.
Let's have a look:
Benedict Cumberbatch
You probably don't already know this, but the actor Benedict Cumberbatch, famous for Sherlock, Star Trek Into Darkness and 12 Years a Slave, does quite a good Alan Rickman impression. He keeps it under his hat, never tells a soul, so it is always a surprise when someone asks him to launch into it a the drop of a hat. Here he is appearing on a radio programme helmed by Dawn French and Jennifer Saunders, and they've got a particular Rickman request.
Jimmy Fallon (and Benedict Cumberbatch)
True fact: Jimmy Fallon is the only person in the world that knows that Benedict Cumberbatch can do an Alan Rickman impression, and he has been sworn to secrecy. This clip was never shown on television and they dubbed the laughter on afterwards, so concerned was Benedict that people would think he just turns up to interviews and milks his Rickman impression rather than answering serious questions about his art. That would be awful.
Tom Hiddleston
Another shy and retiring thespian who would rather shun public speaking than descend into vulgar party tricks like doing impressions of other famous actors, singing, dancing, smiling and generally horsing around. Ever wondered why they cast Tom as Loki, the God of Mischief, in the Thor and Avengers movies? Well, it must just be because he's the actual god of mischief, and that includes doing impressions when he is supposed to be working.
Studio C
Hats off to Utah for creating a sketch show in which Professor Snape gets to appear in The Bachelorette. The fun with the Rickman impression often lies in watching the faces people have to pull in order to make that noise come out, and this is a perfect case in point.
John Sessions
John Sessions is a British actor and comedian and raconteur and all round bright spark. He's also quite good at impressions, and needs even less prompting to have a go at a full Rickman that Benedict does. Here, as part of the panel show QI, he merely recites lines from Die Hard, much to the delight of everyone present.
James Hurn
Here we see the actor and voice artist James Hurn doing another impeccable Snape in the BBC children's sketch show Gina's Laughing Gear. If anything, his face is even more animated than the fellow from Studio C. He looks like he's talking in a badly dubbed movie from a non-English language, which is top-notch Rickmanning.
Snipezy117
YouTube is not short of people trying out their impressions, and as the Rickman voice is so distinctive (and Professor Snape looms so large in the public consciousness), amateur Rickmans pop up quite a bit. Snipezy117 is particularly good, and it's not just because he dressed up.
Gavin Crawford
Another excellent YouTuber, whose Snape impression neatly summarizes some of the plot points in the later Harry Potter movies. Gavin's Rickman face is particularly death-masky.
Steve Coogan
Steve began his TV career lending his voice to the satirical puppet show Spitting Image, and as anyone who has seen him and Rob Brydon in The Trip knows, he's an exceptional impressionist. So even when put on the spot by the presenters on Channel 4's T4, he can still pull a passable Rickman out of the bag at a moment's notice.
Aaron Jacobs
Another lesson for would be Rickmans to follow, this time from another YouTuber—it seems it's all in the throat and curious emphasis of syllables—with the bonus of a (slightly Australian) Daniel Radcliffe tutorial thrown in too.
And one for luck…
Benedict Cumberbatch (again)
Because he simply will not stop until people stop asking him to do it.
See more:
Gallery: A Day at the Horse Races with Alan Rickman
Alan Rickman is the 'British Kevin Bacon,' Fans Say
10 Reasons We Love Alan Rickman
Alan Rickman Ties the Knot in NYC with Partner of 50 Years
Read More
Filed Under: