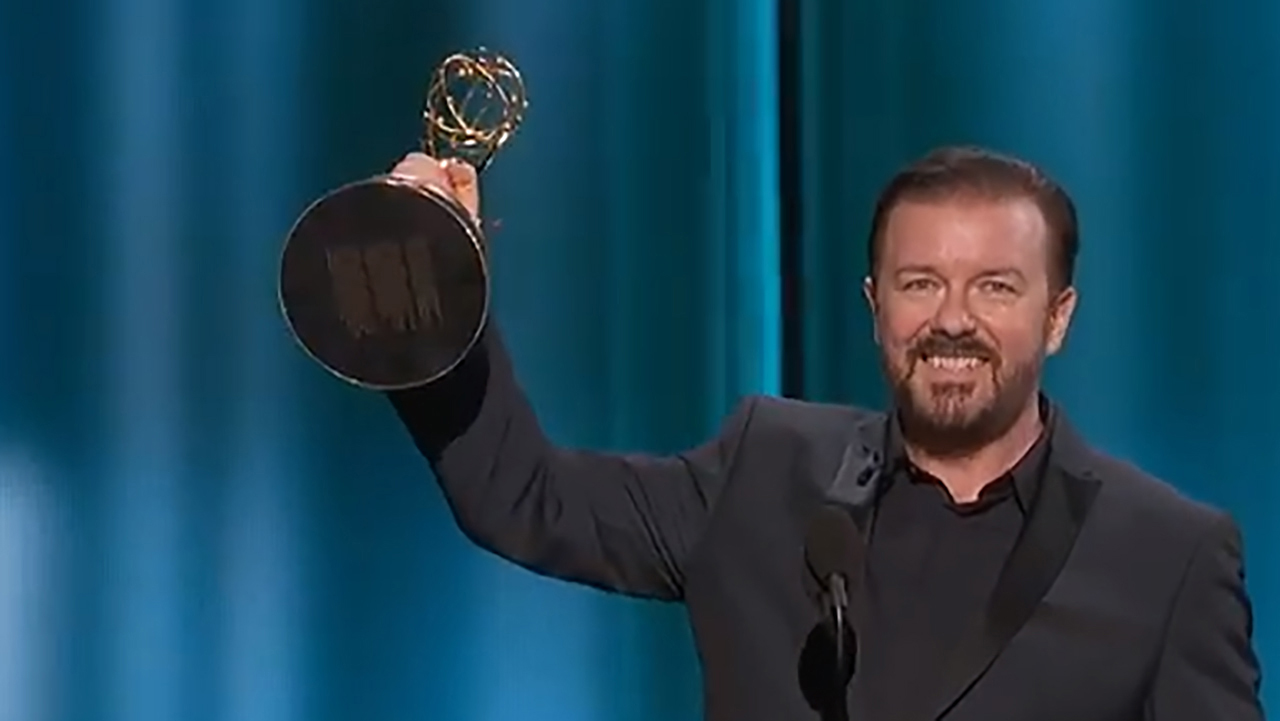 Ricky Gervais took to the Emmy Awards stage last night (September 20) to present the award for Outstanding Supporting Actor in a Comedy Series.
Gervais greeted the crowd, saying, "Hello! Back again. To lose another one," with the crowd responding in laughter.
If you don't know what he's referring to, Gervais has been nominated for 22 Emmy Awards total, including this year's nomination for Best Actor in a Limited Series or TV Movie for his lead role in Derek.
He has won two Emmys, but he may be more of a "glass half empty" kind of person, saying, "I haven't lost yet. There's still hope. There's no hope," as he looked down and shook his head in dismay.
He went on to say it doesn't matter because in a few days no one will remember who won or didn't win.
But, all of a sudden, his glass was half full, with what looked like a light bulb going off in his head. He had the idea if people saw him on stage, holding an Emmy, they'd think he did win this year.
Here's how his master plan fell into place:
Oh, and did Gervais win last night? No.
He can pat himself on the back for being correct about his prediction.
He did finally get around to his reason for being on stage, which was announcing the winner for Outstanding Supporting Actor in a Comedy Series, Veep star Tony Hale.
Veep, created by Scottish writer and director Armando Iannucci (The Thick of It), took home the win for Outstanding Comedy Series. Iannucci accepted the award on behalf of the cast and crew.
What do you think of Ricky Gervais' use of his stage time? 
See More:
2015 Emmy Preview: Watch Eight Nominated British Actors' Performances
Ricky Gervais Promises Longer 'Derek' Special for Netflix Premiere
'Veep' Fans: A Guide to Armando Iannucci's Comedy
Read More
Filed Under: