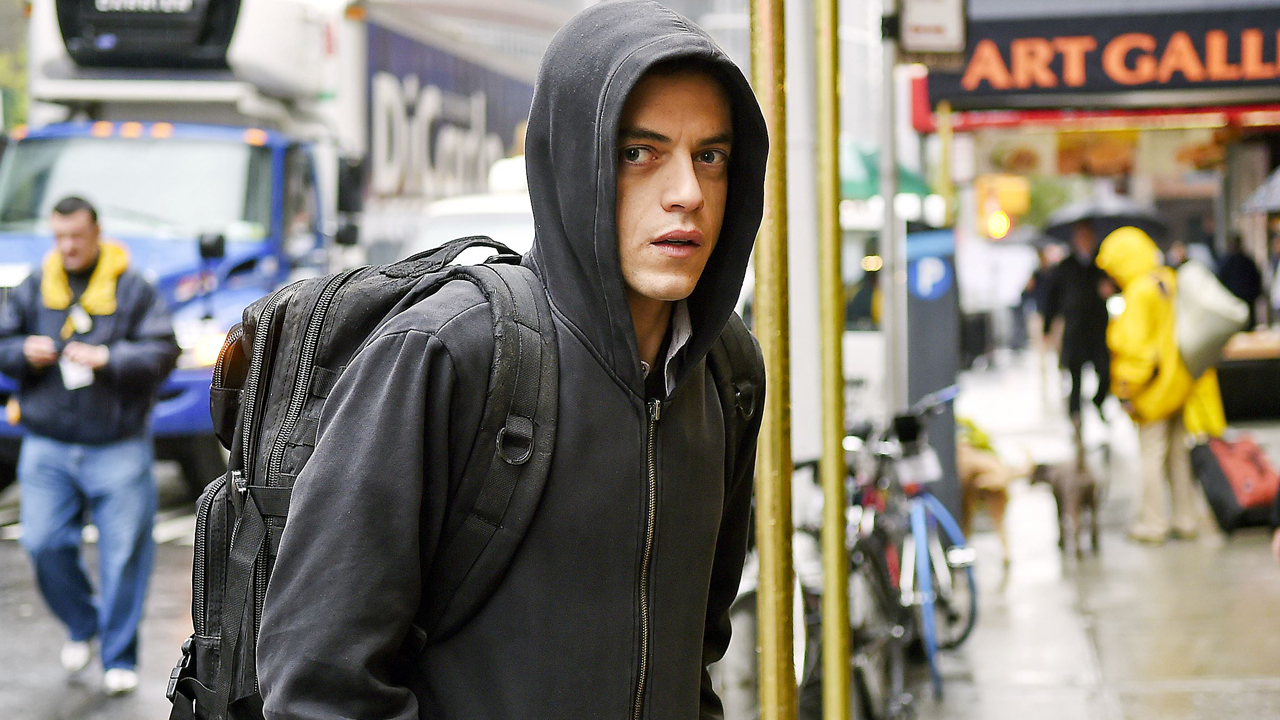 USA Network's dark thriller Mr. Robot premiered in June 2015, and viewers couldn't get enough of the series, with over 17 million people tuning in by the end of summer. The story follows a young hacker by the name of Elliot Alderson (Rami Malek), who knows he can't save the world, but he can at least make it uncomfortable for the baddies. Nobody is immune to his techy abilities, not even his court-ordered therapist, the pervy coffee shop owner, or his friend's annoying boyfriend. But that's just passing time for Alderson; it's E Corp (Evil Corp as he likes to call the massive organization) he has his eye on.
With the season finale of Mr. Robot already having come and gone (September 2), here are five Brit-centric shows that are on a similar level:
1. Black Mirror 
Charlie Brooker's Black Mirror is the kind of television that makes you think. And when we say think, it's almost like you can't stop thinking about what you just saw, and you may not want to watch it before you go to bed because it may result in nightmares. The tech-driven series delves into topics like people in the near future forced to watch television ALL day. (We like to binge here and there, but 24/7 of anything could be grueling.) Or the episode of a political figure who is forced to publicly humiliate himself on live television or a life will be taken. Like Mr. Robot, Black Mirror makes us as viewers evaluate life choices.
Watch Black Mirror on Netflix.
2. 24: Live Another Day  
Mr. Robot's Elliot thinks people are after him, but we're not 100 per cent sure as viewers. On the other hand, 24's Jack Bauer (Kiefer Sutherland) is definitely a wanted man, hunted by American soldiers sent for him by the U.S. President (William Devane). In season nine of the long-running series, Bauer turns up in London and is actually working to protect the President whose life is in danger.
Watch 24: Live Another Day on Amazon Prime.
3. Humans
AMC's sci-fi series—starring Colin Morgan (Merlin), Katherine Parkinson (The It Crowd), and William Hurt (Damages)—is set in suburban London, taking place in a parallel present. The latest must-have gadget for any busy family is a Synth, which is a highly developed, artificially intelligent servant eerily similar to its living counterpart.
Watch Humans on Amazon Instant.
4. Torchwood
Writer Russell T. Davies' Doctor Who spinoff Torchwood kicked off in 2006 and ran for four seasons, ending in 2011. The series is set in Cardiff, Wales, revolving around a group of alien hunters who work out of the Torchwood Institute. The all-star cast is led by John Barrowman and Eve Myles. Doctor Who's Peter Capaldi joined the cast for 2009's "Children of Earth." Something is going on but not everyone knows about it, similar to the story line in Mr. Robot.
5. Orphan Black
Orphan Black premiered in 2013, and like Mr. Robot, it was an instant hit. Viewers, who now make up the "Clone Club," absolutely could not get enough of Brit Sarah Manning (Tatiana Maslany) and her "horde of clones," as referred to by The New York Times. Heading into its fourth season in 2016, fans are just as into actress Maslany, who makes it all happen: portraying multiple characters like the stepford wife-like Alison, science-minded Cosima, and the kind of nutty Helena. And it's not just us fans: Maslany's peers have recognized her tremendous work, nominating her for a 2015 Emmy Award for Outstanding Lead Actress in a Drama Series.
Watch Orphan Black on Amazon Prime.
Is dark with a dash of humor your cuppa?
See More:
Brit Binge Watching: Five Science Fiction Programs You Can View Online
Brit Binge Watching: Five Medical TV Series You Can View Online
Brit Binge Watching: Five Detective Series You Can Stream Online
Read More
Filed Under: