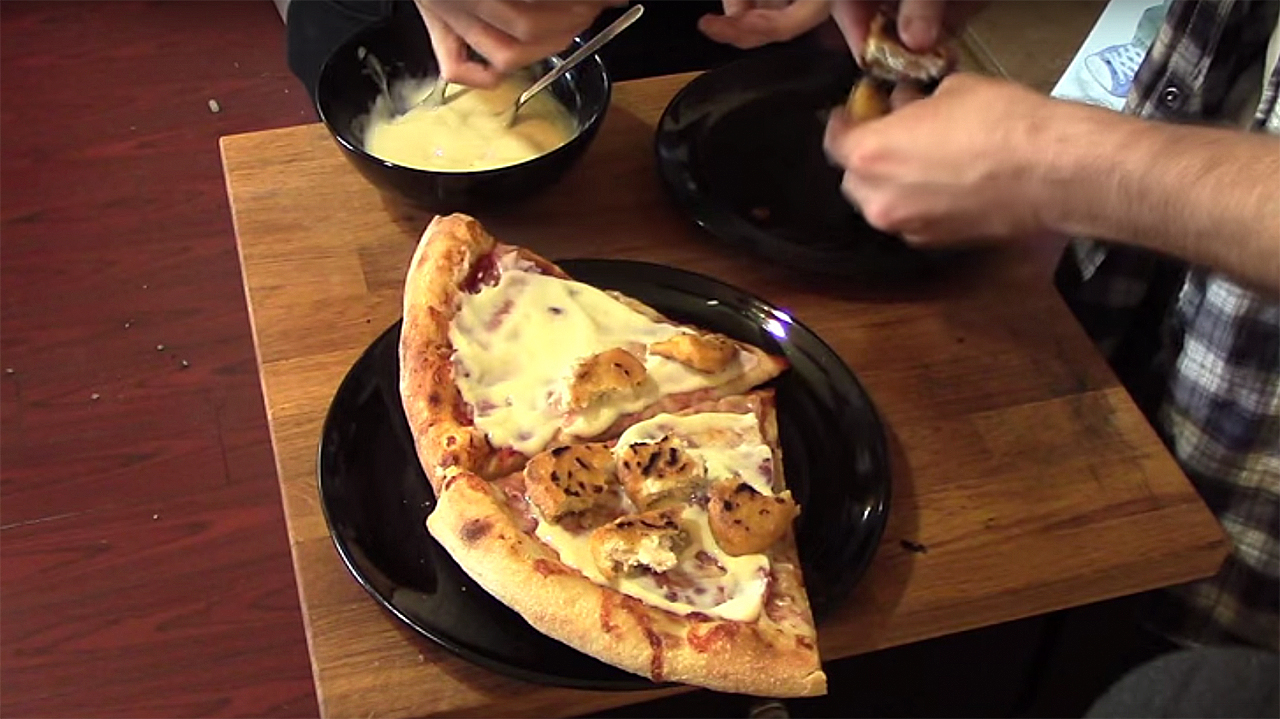 Welcome to this week's Doctor Who's Day Roundup, an assortment of astrological and temporal happenstance that is at one and the same time part of the Whoniverse and also outside the Whoniverse, looking in.
This week, before we launch into the full list of wonders and astonisments, we begin with a scientific analysis of one of the Eleventh Doctor's favorite meals and an attempt to improve it with pizza.
James Brent Isaacs has a YouTube channel in which he regularly examines certain foodstuffs and asks the question, "Does it taste good on pizza?"
His most recent clip is in tribute to Doctor Who, and asks the question everyone* has been wondering since "The Eleventh Hour," namely "this combination of fish fingers and custard that the Doctor seems to like so much, what would that be like on a slice?"
Well, now we know:
Just something to help pass the time until Season 9 finally starts on September 19. Here's what else has been going on in space and time this week:
• This brand-new introduction to Season 9:
• "The Magician's Apprentice," Season 9's very first episode, has been given a trailer and a synopsis:
"Where is the Doctor?" When the skies of Earth are frozen by a mysterious alien force, Clara needs her friend. But where is the Doctor, and what is he hiding from? As past deeds come back to haunt him, old enemies will come face-to-face, and for the Doctor and Clara survival seems impossible…"
Here's the trailer:
• There are also a wealth of new interviews with Jenna Coleman, Steven Moffat and Michelle Gomez about the new season. Peter Capaldi's interview contains the wonderful line, "The Doctor has realized that he's 2,000 years old and life is short."
• River Song is coming back for the Christmas special!
• Here are 10 of her finest moments, and a quick How to Dress Like River Song for good measure.
• And naturally the Tumblr fans are delighted:
• The 12 ways Captain Jack died in Doctor Who.
• Steven Moffat says Clara is getting over Danny Pink pretty well:
• When fandoms collide: Karen Gillan and Emma Watson are working together in The Circle.
• This looks important:
• BBC AMERICA's "The Doctor's Finest" series is going great guns, with "The Day of the Doctor" (there's a scene-setting recap here) and this revelation about an early, Doctorless script from Steven Moffat:
• Speaking of things that almost were, did you know that Jenna Coleman auditioned for the role of Mels, the previous incarnation of River Song?
• There's also our fact file; 10 things you may not know about "The Day of the Doctor."
• "I am the Doctor, and these are my spoons!"
• Peter Capaldi is looking forward to meeting Whovians at the Doctor Who Festival in London and Australia in November:
• The best Doctor Who fan art for all 13 Doctors.
• And Doctor Who: The Fan Show has an update on preparations for the festival, plus a location report with Millennium FX, the people who make the monsters:
• This is really nice. It's a medley of all the Doctor Who title sequences to date, all squished together:
• 15 of the Master's most bonkers plans for global or universal domination.
• Ingrid Oliver, who plays Osgood, tells Hannah Hart what it was like to be in Britain when Doctor Who returned in 2005:
• And finally, something that's not new, and may not even be new to you, but definitely worth considering the light of the Doctor Who Festival. In 1977, the world's first Doctor Who convention was held in Battersea, London. Among the attendees was Kevin Davies, a schoolboy who had made an affectionate Doctor Who cartoon with some school friends on a miniscule budget, rushing to complete it in time.
And, the internet being what it is, Kevin has uploaded that cartoon, entitled Doctor Hoo, to YouTube. Keep an eye out for the disco Daleks:
TTFN!
Read More
Filed Under: