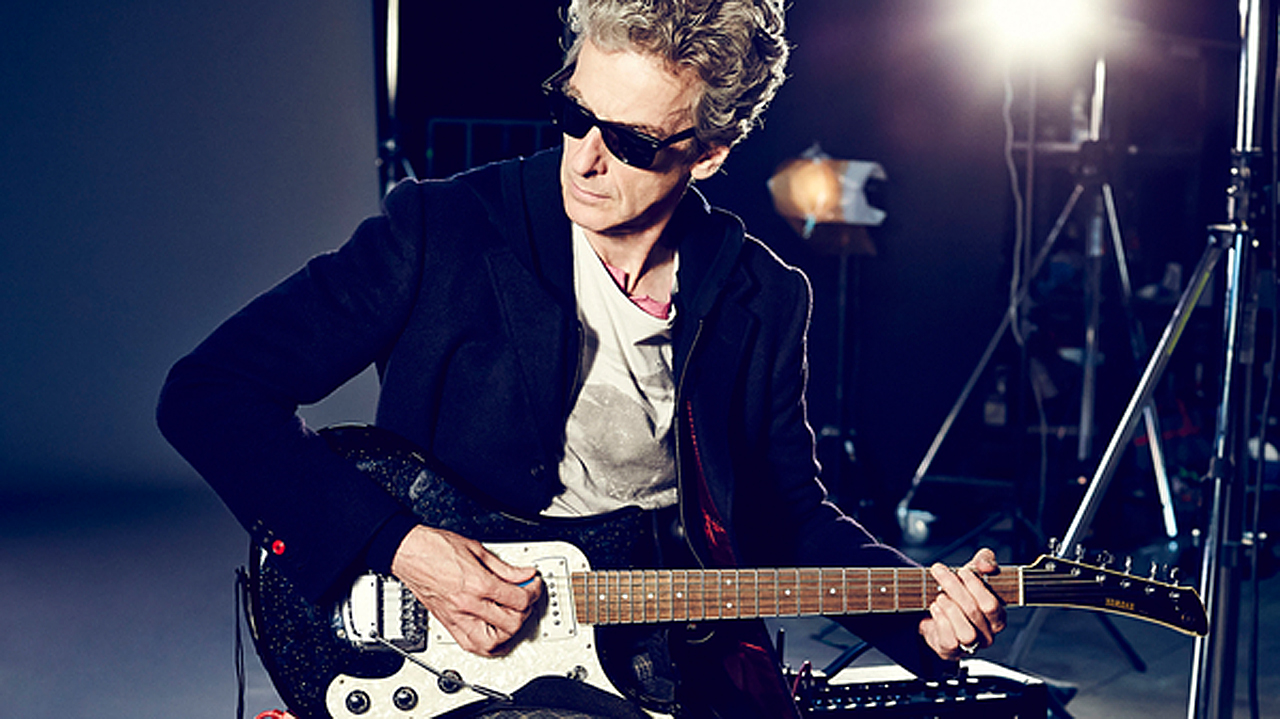 It's always fun to pull together a collection of Doctor Who-related shenanigans when we're in the middle of a cliffhanger situation. Half of the Whovian fandom is crying out, "But what happens next?" And the other half want to know whether Missy and Clara are really gone for good.
So, to introduce this week's Doctor Who's Day roundup (guaranteed spoiler-free) let's just look at immediate reactions to some of the best bits of "The Magician's Apprentice" (watch the full episode here at AMC.com, U.S. cable subscribers), starting with the already iconic moment when the Doctor rocked out in the 12th century:
Naturally the fan art is already coming in…
• And this fan-shot footage of a costumed Peter Capaldi in London's Denmark Street trying out a Gretsch Duo Jet (as played by George Harrison of the Beatles), before plumping for the more space-age guitar the Doctor ended up with:
• Speaking of the Fab Four:
She loves Who, yeah, yeah, yeah! http://t.co/fPNyafUK3s #DoctorWho pic.twitter.com/PfA6jgnFRA

— Doctor Who Official (@bbcdoctorwho) September 19, 2015
• Radio Times asked if Peter was actually playing his own riffs. It seems so.
• Having become overexcited by all the rocking and rolling, we pulled together a selection of musical clips involving various former Doctors and companions.
• Clara and Missy's head-to-head didn't escape attention either:
• Shades are coooool:
Here's what else has been going on in space and time this week:
• There's this trailer for "The Witch's Familiar"
• To which we can add the "next time" trailer from the end of "The Magician's Apprentice"
• In the spirit of clarity, here are 10 things you may not know about "The Magician's Apprentice," including a working definition of "the dog's unmentionables," for non-British readers.
• And the full episode fact file from the Doctor Who website.
• Then there's this pithy summary of the situation from Instagram:
• And a new gallery of pictures from "The Witch's Familiar" here too, including one of the return of the Special Weapons Dalek from "Remembrance of the Daleks."
• Also, a quiz, to test whether you were paying attention or hiding behind your hands.
• Jenna Coleman announced that she is leaving Doctor Who during Season 9.
• Missy came back for a bit and was as bananas as ever:
• To celebrate her return, we set up a personality quiz, so that fans can work out which Master they are.
• We met the distinctly unpleasant acolyte of Davros, Colony Sarff:
• BBC Music investigated the origins of the Doctor Who theme.
• Dan Starkey (Strax) lent a hand to Doctor Who: The Fan Show:
• Storyboards for the war on Skaro:
• And other production artwork:
We've a gallery of gorgeous production artwork for you at http://t.co/iAbe3YLmg4 #DoctorWho pic.twitter.com/GUtstiS94M

— Doctor Who Official (@bbcdoctorwho) September 21, 2015
• To round things off, how about a new song from our old trock-rocking friends Legs Nose Robinson? It's devoted to the phrase the Twelfth Doctor likes to use above all others (although you'd be unwise to call it a catchphrase in his presence): "Shut Up."
TTFN!
Read More
Filed Under: