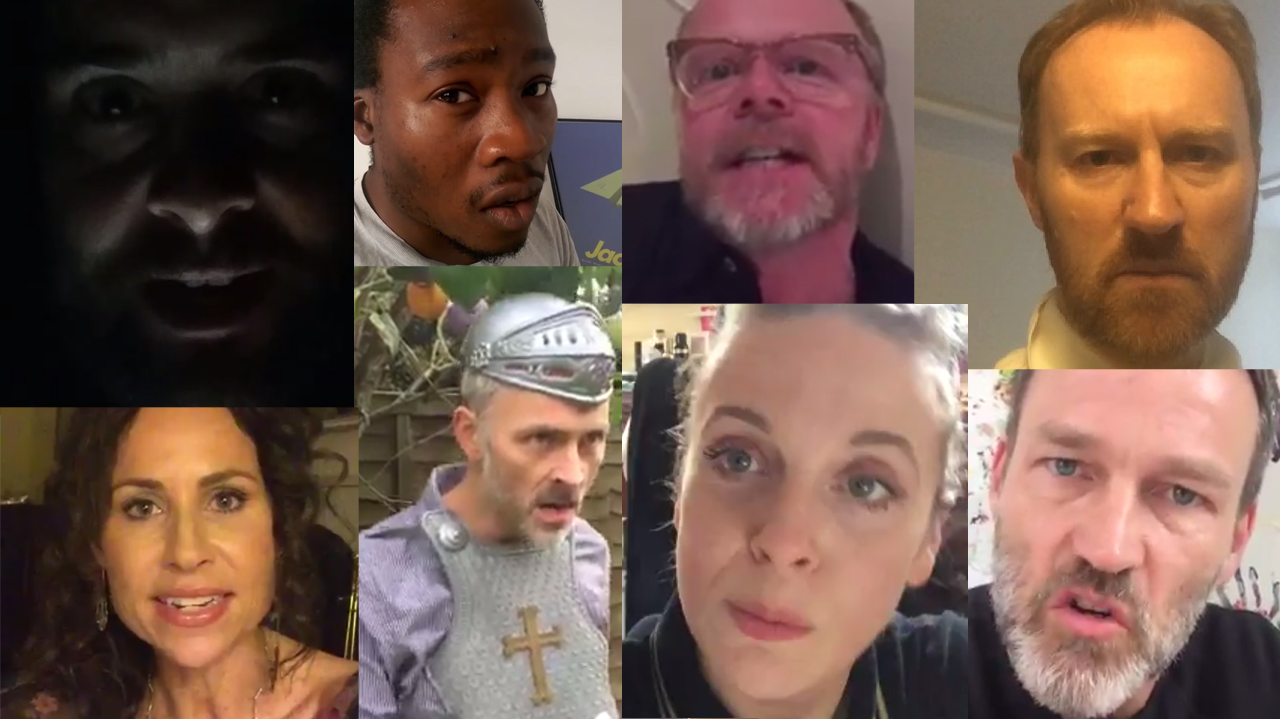 It is tempting to assume that this sort of thing is how actors pass the time fairly frequently, but over the last week a growing number of thespians have taken to filming themselves reciting a fragment of a pop lyric as if taken from a tense moment in a Shakespeare play.
It began, like any other daft internet meme, with one person (in this case David Fynn, of Leap Year and Undateable fame) who decided that the theme song to The Fresh Prince of Bel Air simply wasn't dramatic enough:
The clever thing he did then was nominate friends and performers to do likewise, and before long, an avalanche of actorly silliness was tumbling webwards.
Here are some of the greatest hits utilizing the skills of some of the greatest talents in British theater:
Here, for example, is True Blood's Stephen Moyer, adding some gravitas to "Down in the Tube Station at Midnight" by the Jam. The bard of Woking is, of course, Paul Weller:
it's over 15 but U can't rush The Bard Of Woking. I nominate @alistairpetrie & @IAmJohnAles #15secondshakespeare pic.twitter.com/XX7LF4GcwE

— Stephen Moyer (@smoyer) September 19, 2015
And Minnie Driver's declaration from Kanye West's "Gold Digger" is quite something too (so far Patrick Stewart has not responded to his nomination):
@davidfynn #kanye made me go full Staurt. #15secondshakespeare I also nominate @SirPatStew pic.twitter.com/j23c4vfDIs

— Minnie Driver (@driverminnie) September 19, 2015
Mark Bonnar (Jimmy in Doctor Who's "The Almost People) has set an exceptionally high standard:
Thanks for the nom @amyhubcast Calling @Jason__Watkins @EnzoCilenti and @EdStoppard #15secondshakespeare pic.twitter.com/xVJ5Vvipuf

— Mark Bonnar (@mark_bonnar) September 20, 2015
Fisayo Akinade (star of Russell T Davies' Cucumber) adds layers of emotional light and shade to "Anaconda" by Nicki Minaj
Thanks for the nomination @MPShaeffer I nominate. @rebeccacallard and @CHIMPSINSOCKS #15secondshakespeare pic.twitter.com/2fHnA4pxLD

— Fisayo Akinade (@FisayoAkinade) September 20, 2015
Amanda Abbington lends a lyrical softness to Pharrell's "Happy":
@FisayoAkinade @rebeccacallard nominate: @RalfLittle Martin Freeman and @daisy_haggard #15secondshakespeare pic.twitter.com/oOCubQG6J4

— amanda abbington (@CHIMPSINSOCKS) September 20, 2015
Jason Watkins (Being Human, W1A) is frankly terrifying:
Thanks for the nom @mark_bonner calling @eddiemarsan @davemorrissey64 @Lloyd67 @JefficaHoons #15secondshakespeare pic.twitter.com/qyfaEQZD8I

— Jason Watkins (@Jason__Watkins) September 20, 2015
Terry Molloy (who once played Davros in Doctor Who) channels the Beatles:
#15secondshakespeare @Simon1701 #oldiesbutgoldies I nominate @markjackson23 pic.twitter.com/MVkj5VBtJA

— Terry Molloy (@tuckerspatch) September 19, 2015
Mark Gatiss took things into a new and unexpected area by abandoning pop songs and instead reciting the mantra of the supermarket self-serve machine:
@davidfynn @amyhubcast #15secondshakespeare http://t.co/TKctcrgnhe

— Mark Gatiss (@Markgatiss) September 20, 2015
It is, of course, only a matter of time before Masters Hiddleston, Cumberbatch and McKellen make their presence felt.
See more:
WATCH: 10 British Actors Who Can (and Will) Dance
12 British Actors Reading Shakespeare for Shakespeare Day
10 British Actors Trying Their Hands at Pop Music
Poetry Day: 10 British Actors Read 10 British Poems
Read More
Filed Under: