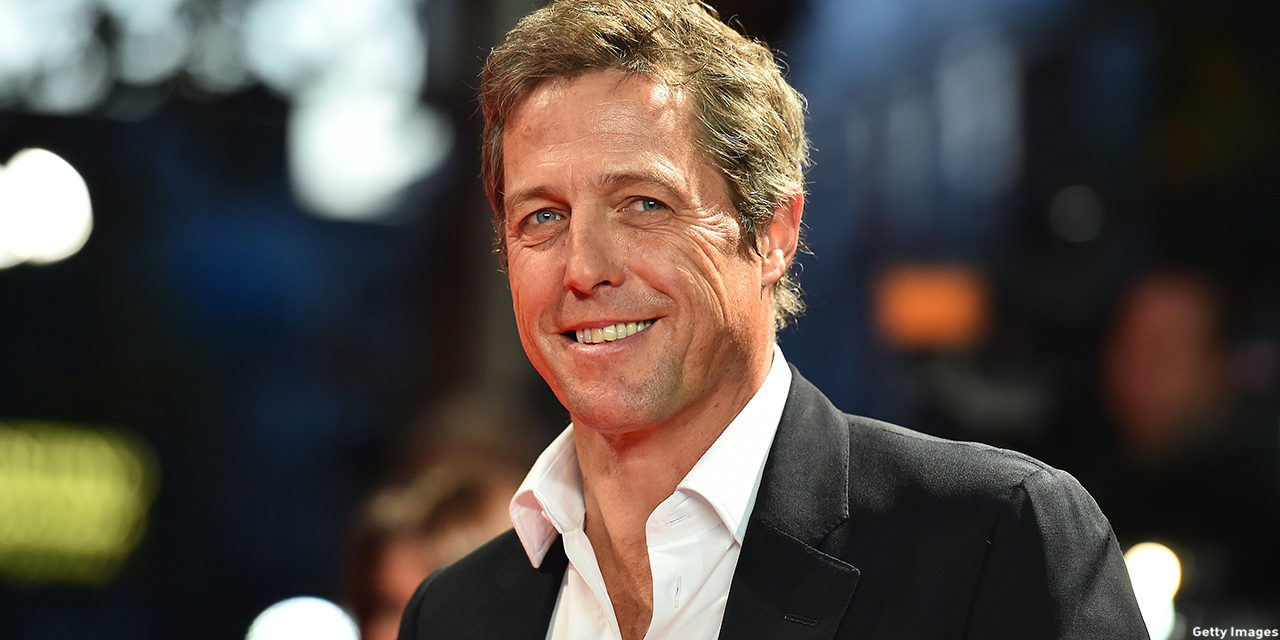 Great Britain's eternal bachelor Hugh Grant, who just starred in The Man From U.N.C.L.E., turns 55 today (September 9). In October 2014, he claimed he was "too old" to play the leading man in a romantic comedy, but we don't agree with that kind of talk. And, not to sound like a know-it-all, we're looking forward to seeing him in the 2016 biopic Florence Foster Jenkins, where, cough, cough, he plays a love interest (guess he changed his tune).
Any self-respecting Anglophile can rattle off Grant's more famous performances like Bridget Jones Diary and Four Weddings and a Funeral, but what about some of his earlier roles from the 1990s (Hugh, we'll turn back time for you on your birthday):
1. Impromptu (1991)
Grant takes on the role of Polish composer Frédéric François Chopin in this 19th century period film. Set in France, Chopin is pursued by George Sand, portrayed by Judy Davis, which is actually the novelist's pseudonym. She is indeed a woman, but she dresses like a man and strategizes like a man in her pursuit for love.
2. Sirens (1993)
Grant takes on the role of a minister in Sirens. He and his wife (Tara Fitzgerald) try to live an upstanding life. Their beliefs are tested when meeting a controversial artist (Sam Neill) and his mischievous models (Elle Macpherson, Kate Fischer, and Portia de Rossi).
3.  Bitter Moon (1994)
You may have heard of the seven-year itch, when a spouse may be tempted to look elsewhere for love. Grant and Kristin Scott Thomas portray a married couple who go on a cruise to celebrate their seven-year anniversary. Grant's character develops a wandering eye.
Watch Bitter Moon on Amazon Instant.
4. Restoration (1995)
Grant joins an all-star cast made up of Robert Downey Jr., Meg Ryan, Sirens co-star Sam Neill, David Thewlis, Ian McDiarmid, Polly Walker, and Sir Ian McKellen in this campy take on King Charles II's court. The film is based on the 1989 novel by the same name. Downey Jr. portrays a physician who gives up medicine to take up painting. Artist Elias Finn (Grant) takes him under his wing.
5. Extreme Measures (1996)
This crime drama is still in rotation, and you may easily catch it when flipping cable channels. But why rely on chance when you can watch Extreme Measures online on your own time? Grant portrays a British doctor in NYC who becomes suspicious when the body of a John Doe disappears from his emergency room. He stars opposite Sarah Jessica Parker (Sex and the City) and Gene Hackman (The Royal Tenenbaums).

Watch Extreme Measures on Amazon Instant.
Have you been missing Hugh Grant? 
See More:
Brit Binge Watching: Five Hugh Grant Romantic Comedies Available Online
Which Brit Has the Most Desirable Accent?
WATCH: Hugh Grant Recommends Travel Sites in Britain
Read More
Filed Under: