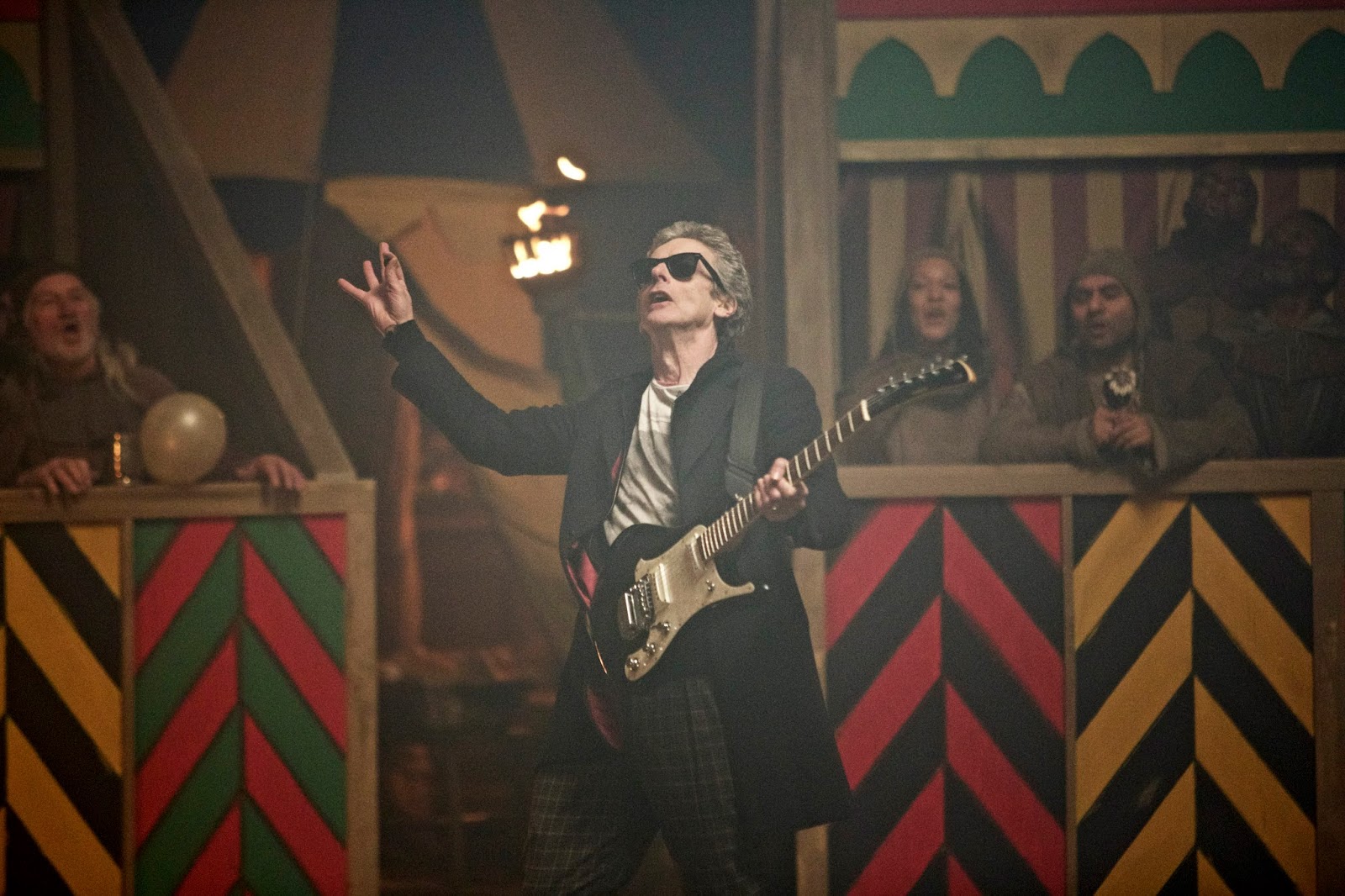 Over the weekend, among many startling things in the season premiere of Doctor Who, the Doctor brought a tank and an electric guitar to an axe-fight in a 12th century arena.
It's not the first time this particular Time Lord has displayed an interest in musical performance. The Second Doctor had his recorder, the Tenth claimed that Beethoven had taught him to play the organ, the Eleventh claimed to have recorded backing vocals for Dizzee Rascal and to have been hands three and four in Schubert's original Fantasia in F-minor for four hands: "Schubert kept tickling me to try to put me off."
And it's not as if his real world equivalents aren't musically gifted either. Here's a selection of the actors of recent Doctor Who, singing up a storm:
Peter Capaldi
We have not one, but two examples of the current Doctor offering the benefit of his musical youth in punk bands. First, there's this clip from Fortysomething, the ITV comedy drama starring Hugh Laurie, Anna Chancellor, Benedict Cumberbatch and Peter, as Hugh's arch enemy Dr. Pilfrey. There's also this rendition of the Velvet Underground's "Pale Blue Eyes," recorded with Richard Strange, of the Doctors of Madness, and Sarah Jane Morris, formerly of the Communards.
Christopher Eccleston
This glorious moment comes from the Danny Boyle TV movie Strumpet, released in 2001. Christopher plays a poet called Strayman (because he always has a pack of dogs with him wherever he goes). He befriends a young woman who plays guitar (he calls her Strumpet, charmingly), and the two of them forge an unlikely musical alliance that takes them all the way to Top of the Pops.
Paul McGann
Here we see the soon-to-be Eighth Doctor in 1990, plucking out "Oh Susannah" on a banjo as part of the story of a hospital porter who takes on the identity of a doctor whose death he has witnessed at close quarters. The banjo is not a key part of the plot, but very welcome nonetheless.
Matt Smith
You can see Matt's contribution to his college production of West Side Story—he's a jet—at 9:05 and 45:50 in this clip. Or, if you have a couple of hours to kill, you can grab some popcorn and watch the entire thing from start to finish.
Karen Gillan
Karen's remarkable rendition of Sia's "Chandelier" occurs at a very specific moment in the story of Eliza Dooley, her character in Selfie. She is falling in love with Henry Higgins, the man who is encouraging her to ditch her previous wild and shallow behavior, but he's not sure, so at the office party, she gets up and sings the song, and effectively resets the clock.
David Tennant and Catherine Tate
David and Catherine's production of Shakespeare's comedy (of errors) Much Ado About Nothing was a remarkable way to keep their on-screen chemistry alive. What it also did was require both lead actors to lend their musical talents to a modern-day recasting of "Sigh No More" from the play.
The soundtrack also featured this, as a bonus track. Watch out for the trumpet solo:
John Barrowman
John's often earnest musical career might surprise fans more familiar with his giddy, irreverent offscreen persona. He's indeed a really good singer, and he can belt out a tune very well—as this rendition of Air Supply's "All Out of Love" shows. (It goes without saying that he's easy on the eye.) But don't expect any winking or innuendo.
Arthur Darvill
Arthur's musical credentials are impeccable, having composed the score for various plays with his former RADA chum Ché Walker. The musical The Lightning Child won Arthur a Judge's Discretionary Award for his songs, and of course there was his starring role in the Broadway and London productions of Once. And if you look carefully at the guitarist singing backing vocals behind the floppy-haired Fyfe Dangerfield on The Graham Norton Show, you might see a familiar face:
Ingrid Oliver
This clip comes from Watson and Oliver, the comedy sketch show in which Ingrid, who plays the asthmatic Osgood, first made her name. Some of the jokes may not make sense to an international audience, but the main thrust is that the U.K. always struggles to do well in the Eurovision Song Contest, despite punching significantly above their weight in pop music generally.
And finally, the one we could not leave out:
Billie Piper
Why have we put this song on last? Because we want to, because we want to.
See more:
The Surprising Singing Voices of British Actors
'Doctor Who': 10 Things You May Not Know About 'The Magician's Apprentice'
Poetry Day: 10 British Actors Read 10 British Poems
WATCH: 10 British Actors Who Can (and Will) Dance
Read More
Filed Under: