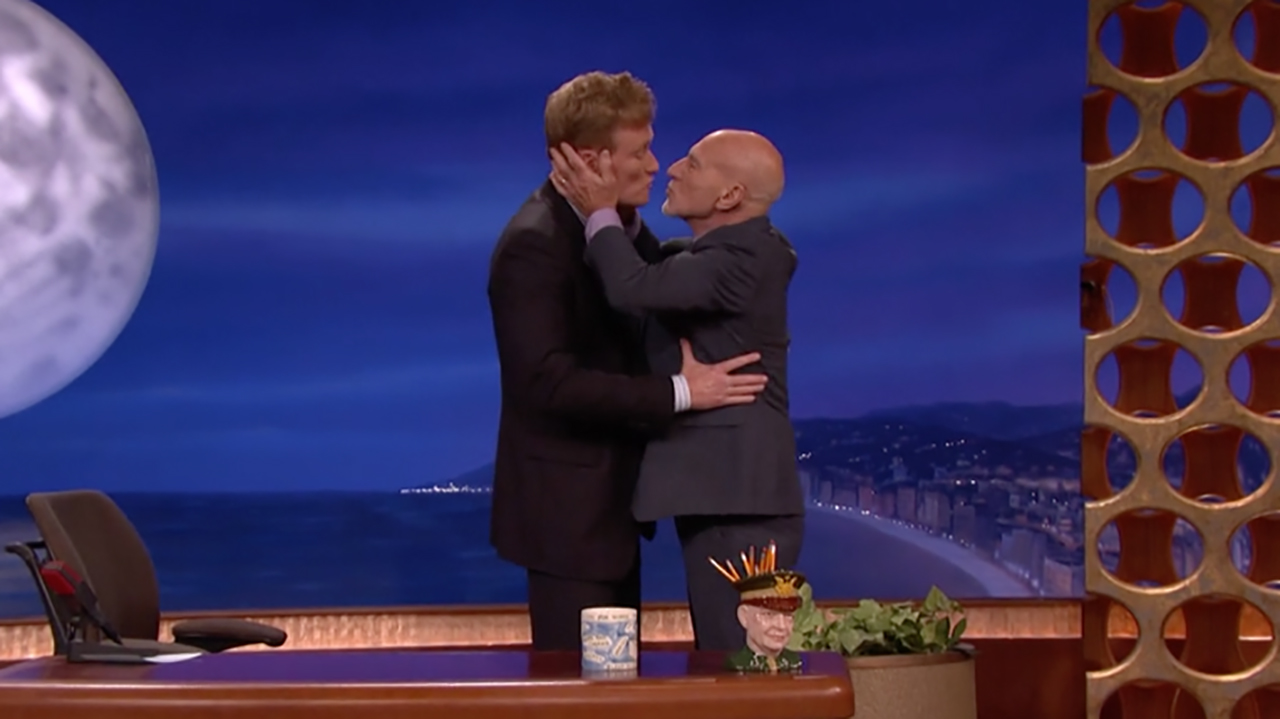 Late night host Conan O'Brien spotted the iconic photo of Sir Patrick Stewart giving bestie Sir Ian McKellen a big kiss on the lips at the Mr. Holmes premiere, which had O'Brien busting with questions on last night's Late Night program.
He and his right-hand man Andy Richter inquired, "Is it only other Sirs? Is it only knights who can kiss?"
Stewart explained that McKellen isn't the only Sir he would kiss, as he's not a "one-man guy," and would consider laying one on Sir Sean Connery.
He agreed with O'Brien that he's completely comfortable with smooching his mates when asked about it, but he did point out, "I don't do it with strangers."
This is where things got interesting.
There was a slight pause, but Stewart continued on, saying to O'Brien, "Do you … want … to try … it out? Is that what you're … "
Stewart was cut off as the crowd burst into cheers and applauds.
O'Brien went on the defense, saying that's not what he was looking for, but Stewart didn't back down, saying, "Conan, you were looking at me in a way that I recognize."
Sir Ian might be a bit of a jelly belly when he sees the below lip action:
What did you think of Stewart's technique?
See More:
Sirs Patrick Stewart and Ian McKellen Lock Lips at 'Mr. Holmes' Premiere
WATCH: Sirs Patrick Stewart and Ian McKellen Play a Bromantic 'Newlywed Game'
PHOTOS: Sirs Patrick Stewart and Ian McKellen's NYC Adventures, Remembered
Read More
Filed Under: