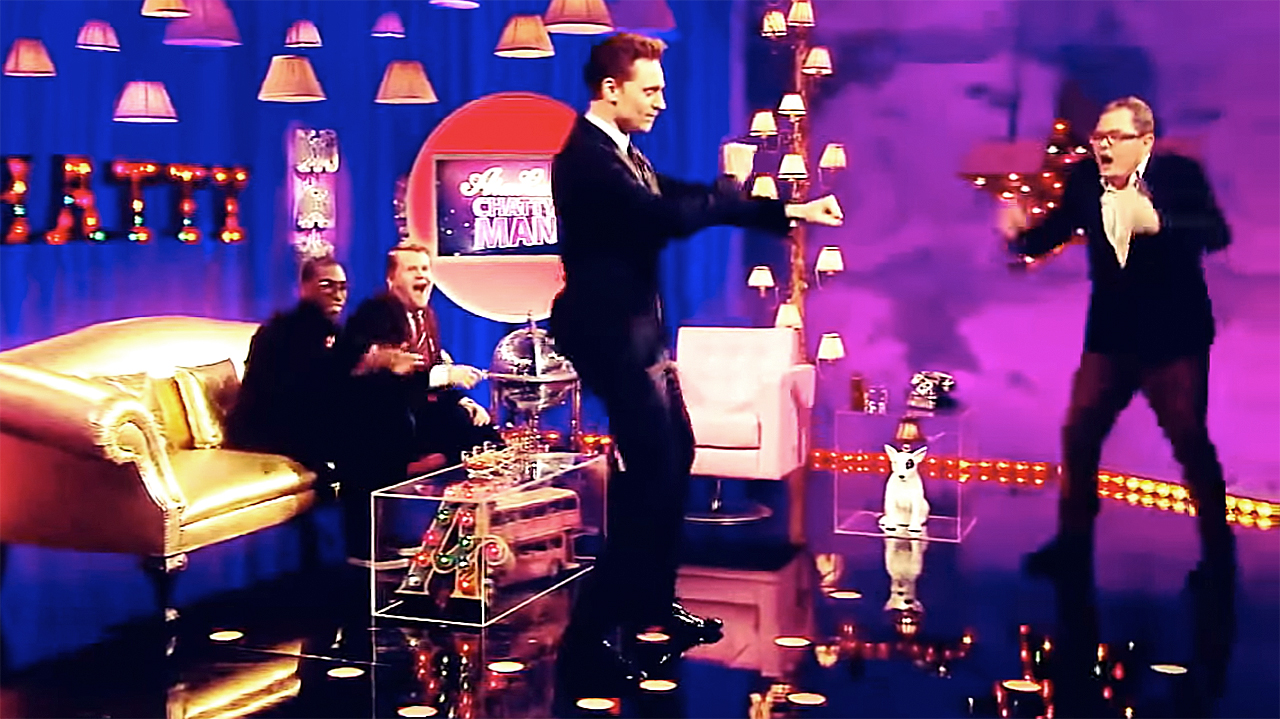 The British celebrities we tend to keep an eye on may carry themselves as if they're sensitive artistes, for whom dignity is on equal footing with oxygen as a necessity for life itself, but rest assured, they're all, without exception, incredible show-offs.
And as sure as day follows yesterday, with incredible off-showing comes incredible dancing. Granted, some of the performers in this list can only access this flamboyant side of their personalities by affecting a show of mock humility first, but that doesn't mean it's not waiting impatiently in the wings, ready to leap into action.
Take a look a this lot, starting with a classic of the form:
Eddie Redmayne
Who, me? Little old Eddie Redmayne, soon-to-be Academy Award winner? Dance? No! I couldn't possibly! Especially a routine I haven't performed since I was just a child, taking my first tentative steps on the West End stage in a production of Oliver that feels like an entire lifetime ag-OH ALRIGHT THEN. LET'S DO THIS!
Patrick Stewart
This is just lovely and a little bit odd. Sir Patrick Stewart boldly having a go at a touch of the old soft shoe in full Jean-Luc Picard get-up—plus straw boater and cane—in tribute to Star Trek's creator Gene Roddenberry. Set audience reaction to stunned.
Emma Thompson
Something a bit more impromptu now. Emma's appearance on The Tonight Show starring Jimmy Fallon took a turn towards the dancefloor when the Roots fell into a funk jam, and suddenly both host and guest began the kind of dance recital that would leave most choreographers in tears. A particular highlight is when Emma starts vibrating across the floor like a smartphone receiving a call, a text, a tweet, an Instagram message and a Facebook friend request all at the same time.
Tom Hiddleston
Not everyone needs coaxing, of course. With Tom Hiddleston, it's more a question of keeping him still long enough to answer some questions about his life and work, before he leaps up and starts showing his best moves. And as you can see from this collection, there are a lot of moves, and they're all pretty good. (Beware: this selection is set to Nicki Minaj's "Starships," and as such, the audio is a bit NSFW.)
Emma Watson
Emma is far less of an instant show-off than Tom, although she has shaken her stuff with Jimmy Fallon before now. But the most notable dancefloor moment for her (including the ball scenes in the fourth Harry Potter movie) occurred in The Perks of Being a Wallflower, in which she had to entirely rock out to "Come On Eileen" by Dexys Midnight Runners. Here, she explains all the different moves she was taught in order to make that scene look properly spontaneous.
Benedict Cumberbatch
Note: this isn't the music Benedict was actually dancing to, it's a YouTube mash-up, using footage taken from his appearance on Ellen's show. The comically emphasized suggestion is that he likes to bust some fairly serious moves in the wings just before he makes his dramatic entrances. And if that is the case, this will cast a very interesting light on his performance as Hamlet, later this year.
Dame Maggie Smith
It's hard to imagine the reaction of some of Dame Maggie's most famous creations to this promotional appearance with Carol Burnett from 1974. It's exactly the sort of glitzy affair both the Dowager Countess and Professor McGonagall would find a bit distasteful and showy. But she's magnetic, declaring her lines like a true Broadway star and given her host a run for her money in the "who wore it best" stakes.
Matt Smith (and Karen Gillan)
Here we see the ever-jaunty Matt and his then-workmate Karen ready to go and meet Doctor Who fans at Comic-Con 2011. Given the opportunity of a minor pause in their schedule, and with some disco music appearing overhead, our time-traveling twosome take the opportunity to cut a rug, with Matt once again proving that the best dancing is the sort that makes you look a bit Muppety but adorable all the same.
Dame Judi Dench
Right, stop what you're doing a second, grab a hot drink and a muffin, and settle back in your seat for something rather special. Here's Dame Judi Dench performing the song "16 going on 17" from The Sound of Music with her future Quantum of Solace castmate Brendon O'Hea at a gala evening in 2002. No one needs to know how such a delightful moment came into being, but the po-faced dance routine in the middle might just be the best thing she has ever done.
Dame Helen Mirren
It's rotten to be skeptical of every little TV moment, but surely an actress of the stature and backbone of Dame (Dame!) Helen Mirren would not find herself coerced into twerking twice in one lifetime. Yes, she has impeccable manners and yes, it's clear her hosts are only too keen to encourage her, but you have to assume that when this dame twerks, it's because she wants to. And why not?
James McAvoy and Michael Fassbender (and Hugh Jackman)
Another stellar Graham Norton moment, in which three very handsome men form an instant boyband in order to illustrate a point about actors using music to get themselves going in the mornings.
And, as a final moment of contrast (and an extra clip), here is David Tennant being taught to waltz properly, for the Doctor Who episode "Human Nature":
See more:
12 British Actors Reading Shakespeare for Shakespeare Day
Snapshot: 12 British Actors Rocking Cravats in Period Dramas
10 British Actors Trying Their Hands at Pop Music
Poetry Day: 10 British Actors Read 10 British Poems
Read More
Filed Under: