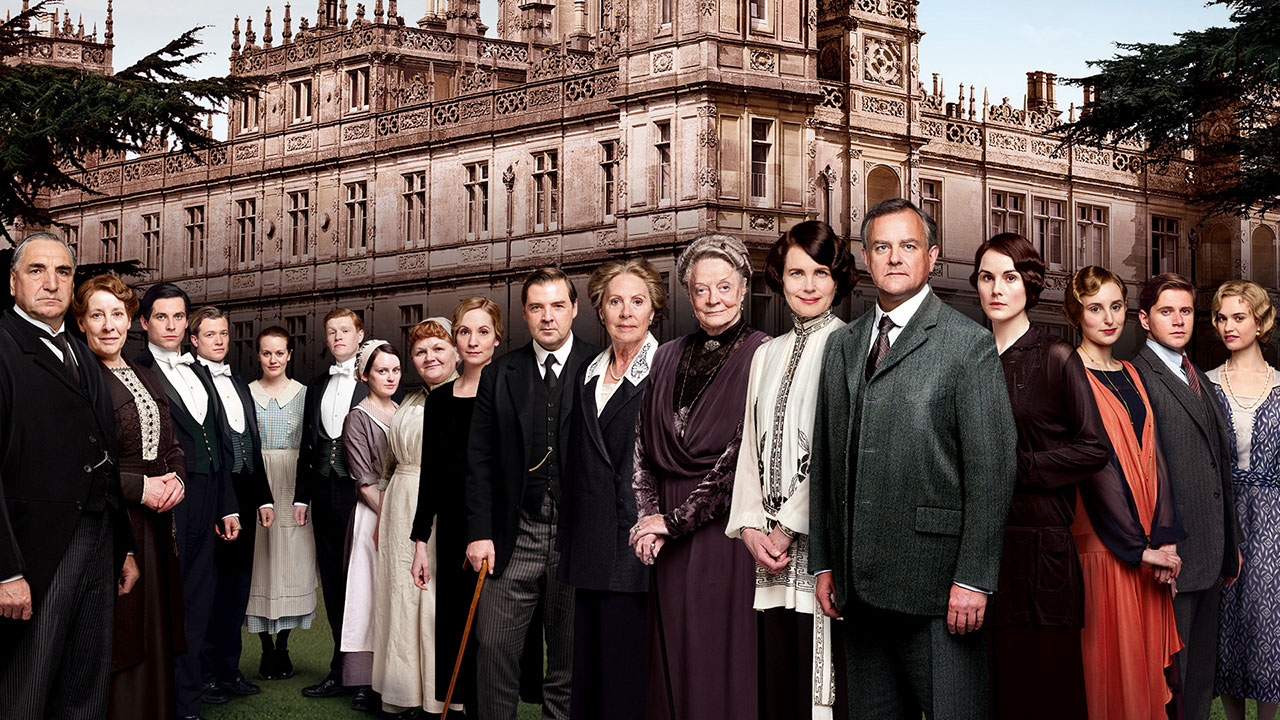 The end is near. Downton Abbey's sixth and final season, due for broadcast in January 2016 on PBS, is currently in production. And, as the final shooting has wrapped over the last few days, the cast and crew have been taking to Twitter to say a fond and slightly sad goodbye to the show, using the hashtag #LastDaysofDownton.
Elizabeth McGovern (Lady Grantham) filmed her final scenes over the weekend, and tweeted a light-hearted reference to her "McGonneville" friendship with actor Hugh Bonneville:
https://twitter.com/ElizabethMcGov/status/630301616227401728
… as well as an emotional snap from her last day on set:
#LastDaysofDownton. Literally . My last. #tears. #tears #tears pic.twitter.com/YxWrj8fkFm

— Elizabeth McGovern (@ElizabethMcGov) August 8, 2015
Earlier today, meanwhile, screen husband-and-wife Brendan Coyle and Joanne Froggatt paid tribute to one-another:
Love this woman #lastdaysofdownton pic.twitter.com/FH4Gx3NQt4

— Brendan Coyle (@brendancoyle99) August 11, 2015
https://twitter.com/JoFroggatt/status/631011419169902592
Froggatt also found the time to give a shout to producer Liz Trubridge:
Our amazing exec producer Liz. She has kept it all going for the past 6 years. She is THE BEST! #LastDaysOfDownton pic.twitter.com/YkIvdWvmlg

— Joanne Froggatt (@JoFroggatt) August 11, 2015
There was something slightly forlorn about this photo from the show's historical advisor Alastair Bruce, of bedroom furniture being packed away into storage for good:
@masterpiecepbs @PBS Like Carters glimpse into Tutenkamens tomb, Coras bedroom packed off 2 store #LastDaysOfDownton pic.twitter.com/X4lDhwLm2m

— Alastair Bruce (@AlastairBruce_) August 11, 2015
And this lovely picture of Michelle Dockery (Lady Mary) with Zac and Oliver Barker, who together play her screen son George, was posted by the twins' mother:
#LastDaysOfDownton #george will miss his dear #mama. Farewell @DowntonAbbey it's been the best two years ever! X pic.twitter.com/lCyUDGqPuu

— Clare Barker (@clare_omz) August 10, 2015
The show's executive producer Gareth Neame has also been talking to The Guardian about the decision to voluntarily end the show after the sixth season. "I am very conscious, finishing the show earlier is a classic thing, quitting while ahead," he said. "I prefer that to being two years down the line and we couldn't secure an actor."
Nearne also explained that while the ending of Downton won't necessarily be happy all round, it shouldn't be seen as a definitive final chapter for everyone concerned. "It's focused on the end of an era. The dying of the light. The slight sense of finality. It is not Downton pulling up the drawbridge, not a thunderbolt that destroys it. We don't have to have completely happy endings, but for the audience it is not a satisfying ending to have the place blown up. It is overwhelmingly a positive show, even when melancholic."
Are you looking forward to the final season? Will you be sorry to see the show end?
See more:
WATCH: How Should 'Downton Abbey' End?
'Downton Abbey' To Finish After Season Six
PHOTOS: The Duchess of Cambridge Swings by 'Downton Abbey'
Life After 'Downton Abbey': Where Are They Now?
Read More
Filed Under: