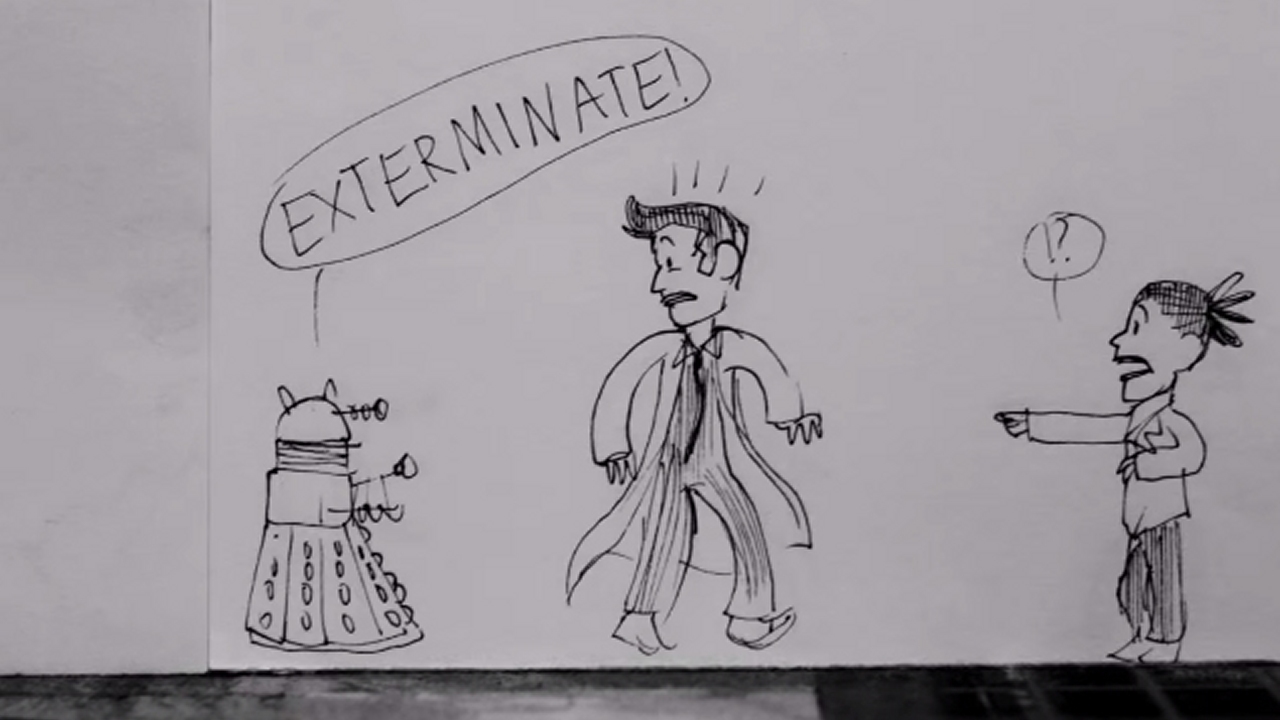 Welcome to Doctor Who's Day, our weekly collection of chronological chatter from across the Whovian web.
We're used to seeing Doctor Who fan videos that look almost as technically accomplished as anything from the show itself—but sometimes, a truly great video can be made from the most basic of animation principles. Such is the case with this gorgeous little short by Youtube animator Adrianna Ojrzanowska, which takes a simple idea and quite literally runs with it. Watch out for some devilishly clever page-to-page transitions, in particular:
Here's what else has been going on in time and space this week:
• Actor Reece Shearsmith has joined the cast of season 9, and will be appearing in an episode written by his old League of Gentleman buddy Mark Gatiss. With Gatiss himself having appeared in season 3's "The Lazarus Experiment", and Steve Pemberton showing up in "Silence in the Library", this means that all three main League cast members have now appeared in our favorite show. Which might be some kind of record?
• The Doctor Who Instagram page has given us another perplexing visual tease, this time of some typically Who-looking machinery. But just what the heck is it, anyway?
• Meanwhile, Doctor Who: The Fan Show have been talking to Alisa Stern, the creator of the brilliant Doctor Puppet:
• In honor of International Cat Day, we took a look at 10 great cat-related tributes to the show.
• And Karen Gillan made it into our updated list of ten British actors who've, like, totally nailed an American accent.
• Writer Mark Gatiss has given this interview to The Express about his life, including the revelation that if he had half an hour left to live, he'd spend 25 minutes of it watching "The Curse of Peladon."
• Den of Geek have been taking a look back at Moffat's 2007 series Jekyll, and in particular how it prefigured his work on both Sherlock and Doctor Who.
• Back in the 1970s, the Doctor drove the "Whomobile." Here in 2015, one driver has decided to follow in that spirit with a Who-themed car of their own:
• Minecraft-themed Doctor Who videos are starting to become almost as common as Lego-based ones, but here's a particularly strong rendition of the Season 8 opening titles, complete with Minecraft-Capaldi eyebrows!
• There's some absolutely fantastic work on this Tumblr that reimagines Doctor Who stories as Penguin book covers. New additions include a take on Season 1 episode "The Parting of the Ways":
… and a beautiful cover for the docudrama An Adventure in Space and Time:
• Former Doctor Who Magazine editor (and Sarah Jane Adventures writer) Clayton Hickman has been taking his Twitter followers on a trip through the past recently. Here's a look at how the very first official publicity shots of Matt Smith as the Eleventh Doctor could have turned out quite differently:
Midnight treat: variants of Matt Smith shoot I used 4 publicity image & 1st test b4 I replaced original TARDIS cutout pic.twitter.com/ZD7NwKXRQi

— Clayton Hickman (@claytonhickman) August 8, 2015
Forgive the lo-fi, but just to give you an idea (L-R) original rejected Matt Smith shoot/my 1st rough fix/final image pic.twitter.com/V1RLresJSm

— Clayton Hickman (@claytonhickman) August 9, 2015
And here are some of the variants I created as potential @DWMtweets covers, alongside the finished version. pic.twitter.com/Jtj9HvmMwW

— Clayton Hickman (@claytonhickman) August 9, 2015
• The Radio Times have got a new quiz for you: can you name all ten of these one-off supporting characters?
• Have you ever wondered what certain classic Doctor Who scenes would sound like if performed by different Doctors? One pair of Youtubers have applied a pretty uncanny impersonation of William Hartnell to this well-known Tom Baker moment:
• And, finally, in another clash of eras, here's how 1985's Season 22 might have looked if it were given a trailer here in 2015:
TTFN!
Read More
Filed Under: