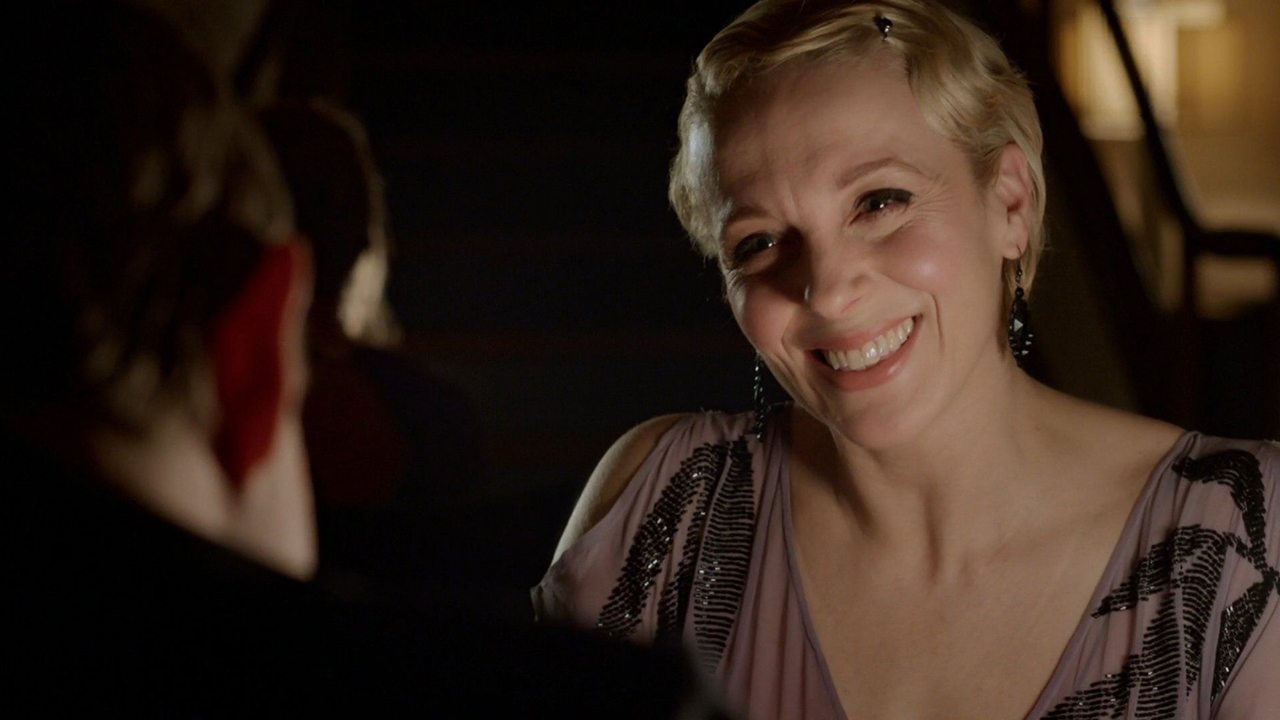 British actress Amanda Abbington (Sherlock, Mr. Selfridge) has already shown signs of being "just like us" moments, with admissions of guilty pleasures like watching American TV's Real Housewives series, and now she joins in with Sherlock fans to tweet her excitement over the forthcoming return of season four.
A new Sherlock promo turned up on British telly last night (August 24), following a rebroadcast of "His Last Vow," with Moriarty's (Andrew Scott) face emblazoned across the screen.
Here's a sneak peek:
"Did you miss me?" #Sherlock pic.twitter.com/V9YaNnskzU

— BBC One (@BBCOne) August 24, 2015
It's fun to think Abbington saw the promo pop up for the first time along with the rest of the public (but she may have had some insider knowledge), because soon after she tweeted this:
Ohhh so excited to start filming the fourth one. Can't wait until next year. You lot are in for a treat! Love those boys. #Sherlock — amanda abbington (@CHIMPSINSOCKS) August 24, 2015
And this:
You do know that some of the top business men and women around the world are classed as psychopaths. It's not a bad thing. #MaryRocks.

— amanda abbington (@CHIMPSINSOCKS) August 25, 2015
Abbington portrays Doctor Watson's love interest Mary Morstan in Sherlock. She and Martin Freeman, who portrays Watson, are actually each other's love interests in real life too.
The above tweet expands on Morstan's alter ego, but we don't want to be the ones to announce a spoiler for anyone who hasn't seen the latest episodes just yet (there may be one or two people out there.) If you're not sure what we're referring to and are now curious, we expand on Morstan's "extracurricular activities" in this earlier Anglo post.
The Victorian Sherlock Christmas special will air in 2015, with filming for Sherlock season four beginning in 2016.
We'll hold onto these brief yet precious moments with cast members to get us through the hiatus.
Are you on pins and needles like us?
See More: 
WATCH: Sneak Peek at 'Sherlock' Victorian Special
Martin Freeman and Amanda Abbington's Daughter's Career Goal
Martin Freeman 'Despairs' Over Partner Amanda Abbington's Telly Watching
Read More
Filed Under: