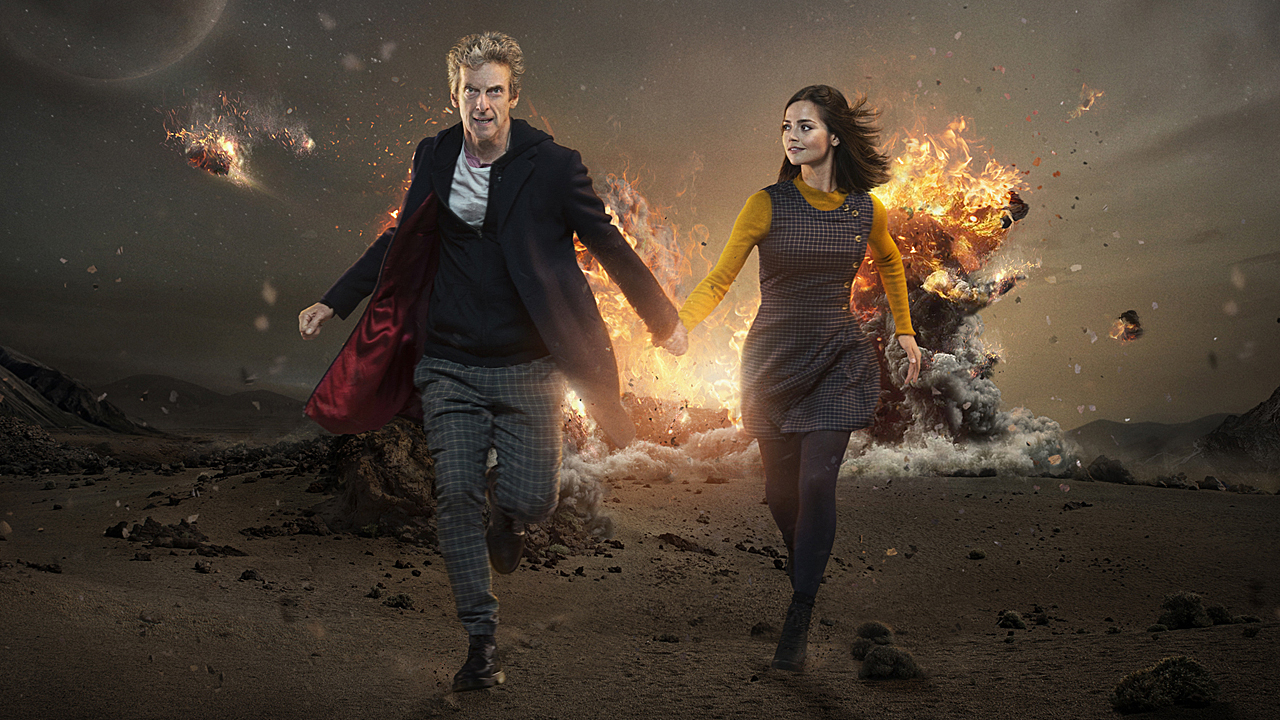 Summer isn't quite over yet, but we're already looking forward to the fall season of new and returning shows, particularly the British lineup. Here are 10 British programs premiering this fall:
1. Doctor Who
Network: BBC AMERICA
Launch Date: Saturday, September 19
Synopsis: The Doctor (Peter Capaldi) makes his return to BBCA in the ninth season of Doctor Who. And he has some new friends coming along for the journey, joined by British actors Maisie Williams, Reece Shearsmith, Rebecca Front, Rufus Hound, Paul Kaye, Elaine Tan, Neet Mohan, Nethany Black, Paul Courtenay Hyi, Jovian Wade and Sophie Stone, all making guest appearances.
The Draw: Well, it's Doctor Who. Plus, everyone wants to find out who Game of Thrones's Maisie Williams is playing, and "Blink" director Hettie Macdonald has returned to direct the two-part premiere.
Network: BBC AMERICA
Launch Date: Saturday, October 10
Synopsis: The Last Kingdom is a contemporary story of redemption, vengeance and self-discovery set against the birth of England in 9th century A.D. The historical series is an adaptation of Bernard Cornwell's best-selling series of books The Saxon Stories, by BAFTA-nominated and RTS award-winning writer Stephen Butchard. The BBCA original stars Alexander Dreymon (American Horror Story), Rutger Hauer (True Blood), David Dawson (Ripper Street), Emily Cox (The Silent Mountain), and Matthew Macfadyen (Ripper Street), just to name some of the actors you can expect to see.
The Draw: It's a fresh, exciting look at the beginnings of England with an international cast. And it's from the Emmy-winning producers of Downton Abbey.
Network: PBS
Launch Date: Sunday, September 6
Synopsis: Martin Clunes (Doc Martin) takes on the role of Sherlock Holmes author Sir Arthur Conan Doyle (Sherlock Holmes) in the three-part adaptation of Julian Barnes' novel Arthur and George. The drama is based on true events, set in 1906 Staffordshire, Hampshire and London, England. Doyle and his secretary Alfred Wood (Charles Edwards) investigate the case of George Edalji (Arsher Ali) and the events that led to his imprisonment.
The Draw: We get to find out more about the man behind Sherlock.
4. Doll & Em
Network: HBO
Launch Date: Sunday, September 13
Synopsis: Real-life besties Dolly Wells and Emily Mortimer return for the second season of their sitcom Doll & Em. The first season, co-written and starring the two actresses, followed the English women as they made their way through Hollyweird. In the follow-up season, the women are in NYC making an off-Broadway show, with guest stars like Ewan McGregor playing himself.
The Draw: The two play off of each other so well that it's like they were, well, best friends.
5. Reign
https://www.youtube.com/watch?v=5_Cl-Bz5OYs
Network: CW
Launch Date: Friday, October 9
Synopsis: Reign returns with its third season, detailing the life of Mary, Queen of Scots (Adelaide Kane). Mary Stuart was Queen of Scotland from 1542 to 1567. She was the only legitimate child when her father King James V passed away, making her Queen as an infant. Mary moved to France at the age of five where she was betrothed to the French heir to the crown. The first season detailed her early years in France. We left off the second season with her and her husband Francis (Toby Regbo) as queen and king reigning over both France and Scotland.
The Draw: We're excited to see where the third season takes us. Maybe back to Scotland?
Network: FX
Launch Date: Tuesday, September 15
Synopsis: The Bastard Executioner is a 10-part series created by Sons of Anarchy's Kurt Sutter. The gory series, set in the Middle Ages, follows one of King Edward's knights. He finds himself broken, giving up the fight and his sword. But when he gets his second wind, reaching for a sword, he finds that he's chosen the executioner's weapon. The series was filmed in Wales, starring Darren Evans (Galavant), Lee Jones (Magical Tales), Stephen Moyer (True Blood), Elen Rhys, and Katey Sagal (Sons of Anarchy).
The Draw: You can blow off some steam watching the men battle.
Network: PBS
Launch Date: Sunday, September 27
Synopsis: Golden Globe Award-winning actress Julie Walters (Educating Rita) stars in the nine-part series premiering on PBS Masterpiece. Set in 1932, the story follows a young English woman (Jemima West) who travels to the foothills of the Himalayas on a summer holiday. It's a getaway spot for Brits, but there's a culture clash with locals, portrayed by Nikesh Patel and Lillete Dubey. Walters portrays the ring leader, catering to the British tourists at the resort.
The Draw: We get to armchair travel to India. 
Network: PBS
Launch Date: Friday, October 23
Synopsis: If you didn't catch the live performance of Billy Elliot the Musical, you can watch it in your own home on PBS. The stage adaptation is based on the 2000 film, which starred Jamie Bell as a young boy in a working class town who found a new life in the form a dance. The musical first premiered in 2005 and is still in production, performing songs written by Sir Elton John.
The Draw: You can go to the theater without leaving your couch.
Network: Acorn TV
Launch Date: Thursday, September 3
Synopsis: David Walliams (Little Britain) and Jessica Raine (Call the Midwife) star in the six-part series Partners in Crime, based on novelist Agatha Christie's popular book series. Set in 1950s Britain, the two play a married couple tackling cases based on Christie's novels The Secret Adversary and N or M? The series is broken up into two parts, with three episodes dedicated to each mystery.
The Draw: It's fun to try to solve the mystery before getting to the end.
10. Elementary
https://www.youtube.com/watch?v=Pd-j6pocv0Q
Network: CBS
Launch Date: Thursday, November 5
Synopsis: Sure, we have our Sherlock, but there's enough room in the world for more than one Detective Holmes. Sir Arthur Conan Doyle's popular character turns up in Elementary, starring British actor Jonny Lee Miller solving crimes in modern day NYC. His Watson is portrayed by actress Lucy Liu. The third season of Elementary left off with Miller's Holmes succumbing to his alcohol addiction, falling off the wagon. We'll see what state he is in, with the season four premiere.
The Draw: Sherlock Holmes comes in all shapes and forms.
What shows are you looking forward to? 
See More: 
British Summer TV Preview: 10 Shows to Watch
British Summer Movie Preview: 9 Flicks on Our Watch List
10 Great British Actors Who've Nailed An American Accent
Read More
Filed Under: