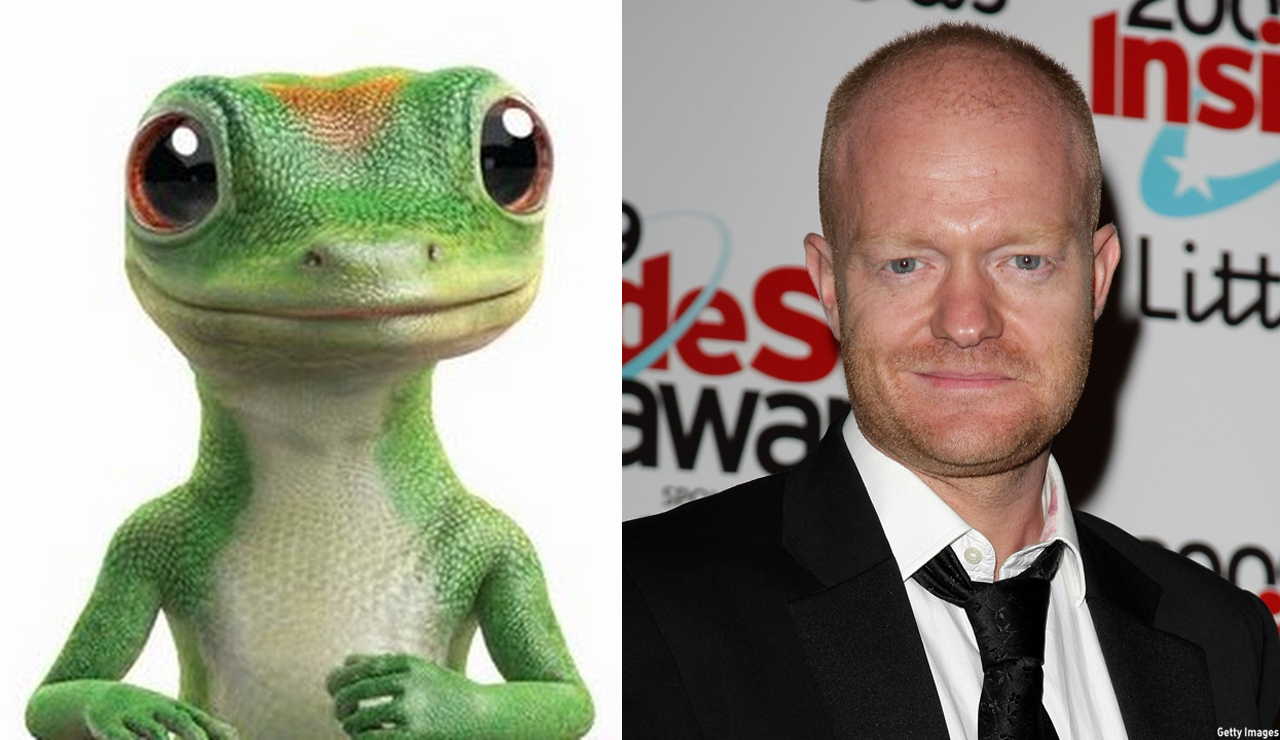 Are commercials more appealing when presented by Brits? We imagine a marketing team setting up a focus group, asking, "Would you be more inclined to talk about your toilet paper use with a delightful British woman?" That may not necessarily be the thought process behind casting British actors, but it does make us inclined to find out more about the Brits behind the products:
1. Geico
Martin the Gecko is 15 years old, first appearing in Geico commercials in 2000. The early commercials featured Martin getting wrong number phone calls looking for Geico Insurance. The current Gecko is voiced by English actor Jake Wood, who has starred in the U.K.'s long-running soap opera EastEnders from 1995 to 2015. Here's a listen to Wood in a 2015 commercial:
https://www.youtube.com/watch?v=oI7yX3YLvkQ
2. Cottonelle
English actress Cherry Healey has been seen asking people about wiping their bums in the new Cottonelle commercials. Healey is a television presenter in the U.K. and known for her BBC3 documentaries like How to Get a Life and Old Before My Time. Here's a look at Healey taking part in a speed dating Cottonelle commercial and asking her prospective dates about their toilet paper use:
3. BBC America
Do you ever find yourself watching BBC America and think, "Who is the guy behind the BBCA promos?" Well, his name is Mark Sheppard. His voice is the one you hear introducing shows like Doctor Who. In addition to being the voice of BBCA, Sheppard is an actor and starred in two episodes of Doctor Who as Canton Delaware. We also enjoyed his work in Supernatural as Crowley from 2009 to 2015. We had a chance to have a sitdown with Sheppard and get to know him a bit better with this interview:
4. Orbit Gum
English-born American actress Vanessa Branch's sharp British accent helped deliver the memorable line "Dirty mouth? Clean it up!" in the Orbit Gum commercials. She's a working actress and has appeared in nine episodes of 2013's TV series Model Employee as a judge, and she starred in two episodes of Days of Our Lives as Giselle Van Hopper in 2014. She's set to appear in Adam Carolla's 2015 release Road Hard. Here she is in one of her "fabulous" Orbit commercials:
5. Poo-Pourri
Scottish-born actress Bethany Woodruff moved to Utah when she was 18. Her first big break was landing the starring role in the two-minute online commercial for Poo-Pourri, reaching over 33 million people. If you're not quite sure what Poo-Pourri is or how it works, Woodruff explains in the 2013 commercial:
6. Viagra
English actress Linette Beaumont talks into the camera for a Viagra commercial, addressing the medication's consumers directly. She sweetly says, "It's just you and your honey. The setting is perfect, but erectile dysfunction happens again." In the U.K. she's been seen in EastEnders and Holby City. Here she is in the 2014 Viagra commercial:
7. Jaguar
With Jaguar being a British luxury car line, it makes sense to use British actors in a recent series of commercials, first appearing in the U.S. during Super Bowl 2015. Anglo favorites like Tom Hiddleston, Nicholas Hoult, and Mark Strong outline what it takes to be a British villain:
8. Alexander's
This commercial from the 1980s promotes Alexander's department store, which was a chain based in NYC at the time. A stylish shopper donning a British accent sings its praises (literally):
9. Fox Sports
Alex Warner refers to himself as the British VoiceOver Guy, he even has a YouTube page by that name. He was born in London, but lives near Barcelona, Spain. Thanks to technology he can record his voice for international clients and send along. While his work is seen internationally, you may recognize his voice from this U.S. Fox Sports ad:
10. Rimmel
Model Georgia May Jagger is helping Rimmel London sell their scandal'eyes mascara here in the U.S. Yes, that Jagger. She's the daughter of rock royalty Mick Jagger and Jerry Hall. She's more into fashion than acting, having modeled for Chanel and Vivienne Westwood. But she delivers the memorable line at the end like a pro, "Get the London look!"
Are you in the shopping mood now? 
See More:
9 American Stars in British TV Commercials
Five Great British Rock Stars In Horrendous TV Commercials
Funny British Adverts That Give Super Bowl Commercials a Run for Their Money
Read More
Filed Under: