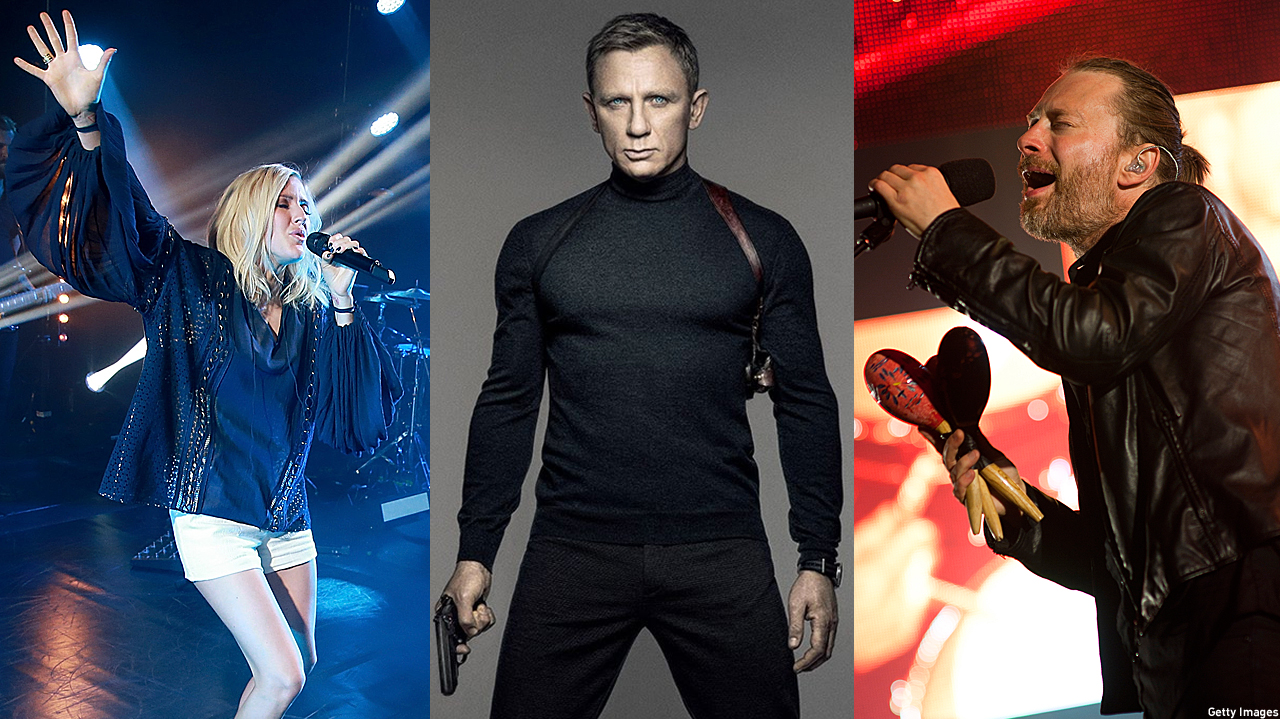 Show business loves to make a grand entrance. It's not enough to share a piece of information about a new and exciting movie or album or TV show anymore. The trick is to withhold it until the last possible moment and then announce it with a big splash and a fireworks display.
So, the excitement of a movie release date will be ramped up by the relative excitement of a second trailer, which will have been released on the back of mounting anticipation from a first trailer, and a teaser before that, and a tweet announcing the teaser before that, and further back to a series of highly speculative news reports from various media outlets (hello!) based on the title of the movie and some of the big names in the cast list.
That's the only context in which it's possible to view the kerfuffle surrouding the theme song to Spectre, the 24th James Bond movie. Each of the previous 23 has been blessed with its own song, most often supplied by a notable pop or rock star capable of working in some John Barry orchestral stings among their own ideas.
First, we spent most of the year listening to pop commenters confidently predicting that Sam Smith would be the next to sing a Bond theme, then once he had effectively ruled himself out of the race—even though his voice came back after his vocal operation—an unspooling of other hints and tips immediately ensued.
Paloma Faith ruled herself out almost before she'd been asked about it, saying: "You're supposed to pretend that you're really cool as a cucumber and stuff just comes to you, but I'm not really that type of person.
"Now I've messed it for myself because I've told everyone that I would like to do it."
And then Ellie Goulding's name kept popping up, largely because Sam had said he thought she was in the frame, and because she has a habit of tweeting provocative comments like this:
Live and let die

— Ellie Goulding (@elliegoulding) July 9, 2015
And this:
Recording music at Abbey Road isn't necessarily proof of a Bond theme, though: Just ask the Beatles.
But the strangest twist thus far has been the news that bookmakers William Hill have stopped all future bets that it will be Radiohead that provides the Bond theme, and this is because someone in Middlesex tried to bet £15,000 (around $23,000) that they already have.
Rupert Adams, William Hill's spokesman, told the Guardian: "The first gamble of the day was Ellie Goulding and punters were backing her as if she already had the gig, but just as we were thinking of pulling the plug we had a load of bets for Radiohead, including one customer who asked to place a £15,000 bet on the band at 10/1.
"There seem to be all kinds of rumors, and the plot has had more twists and turns than a classic Bond tale, but surely nobody risks £15,000 on a hunch."
Well, let's not rule out stupidity here.
In any case, the current final word rests with Spectre director Sam Mendes, who told the BBC a week ago that the song is ready and will be announced soon.
Because that's how showbiz works.
See more:
10 Songs That Should Have Been James Bond Themes
WATCH: Bond is Back in Full-length 'Spectre' Trailer
Sam Mendes Thought Daniel Craig was a "Terrible Idea" for Bond
WATCH: The "Bond, James Bond" Moment in 'Spectre'
Read More
Filed Under: