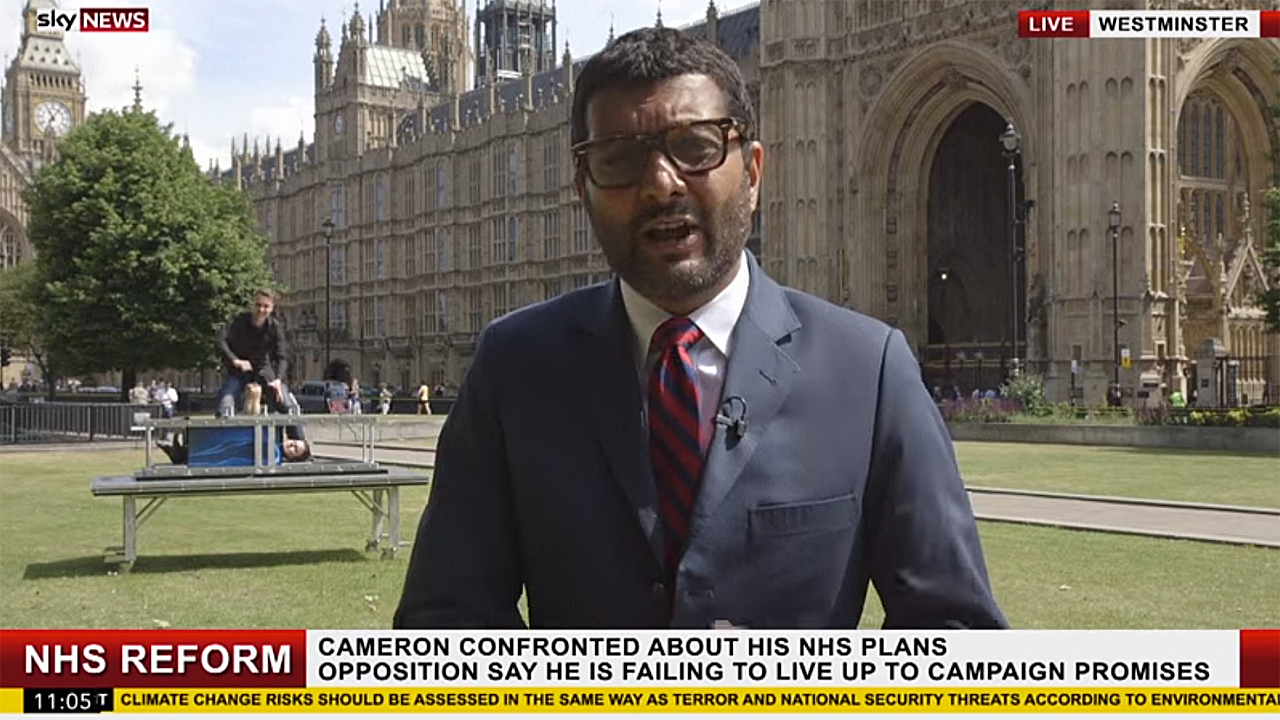 Pranking live news media is a sport that has a long and ignoble tradition, whether by accidentally walking into reporters as they're speaking to camera, shouting something obscene behind them, or jumping around behind the camera and trying to put them off.
But this video seems to take the art to a brand new height. It shows the Sky News reporter Ashish Joshi giving a report on the British government's proposed reforms to the National Health Service, and then, in the background, something odd happens:
Wonderful, isn't it? And if you think so, you're not alone. This morning (July 24) the video has official gone viral, with news sites and social media all applauding our two magical friends and their audacity.
Now prepare, in true Penn & Teller fashion, for the big reveal.
It's a fake.
In fact the whole thing is part of an attention-grabbing longer clip by the magicians Young & Strange, depicting their failed attempts to get on TV:
And Sky News have confirmed that the footage, whether doctored or specially made with the involvement of Ashish himself, was not made for a Sky broadcast:
We'd like to clarify that the Ashish Joshi video with the magicians in the background is not a Sky News report

— Sky News PR Team (@SkyNewsPR) July 24, 2015
Which is a shame. For a moment there, the possibilities for videobombing live news broadcasts looked almost infinite. Now we'll have to go back the age-old excitable sports fans making a spectacle of themselves, and that's no fun for anyone (except them, of course).
See more:
English Amateur Photographer's Weasel Riding a Woodpecker Photo Goes Viral
WATCH: 10 British Viral Videos You Should Have Seen in 2014
WATCH: British Dad's Online Lessons for His Teenage Children Go Viral
Top 12 Fandom-Related Viral Videos of 2013
Read More
Filed Under: