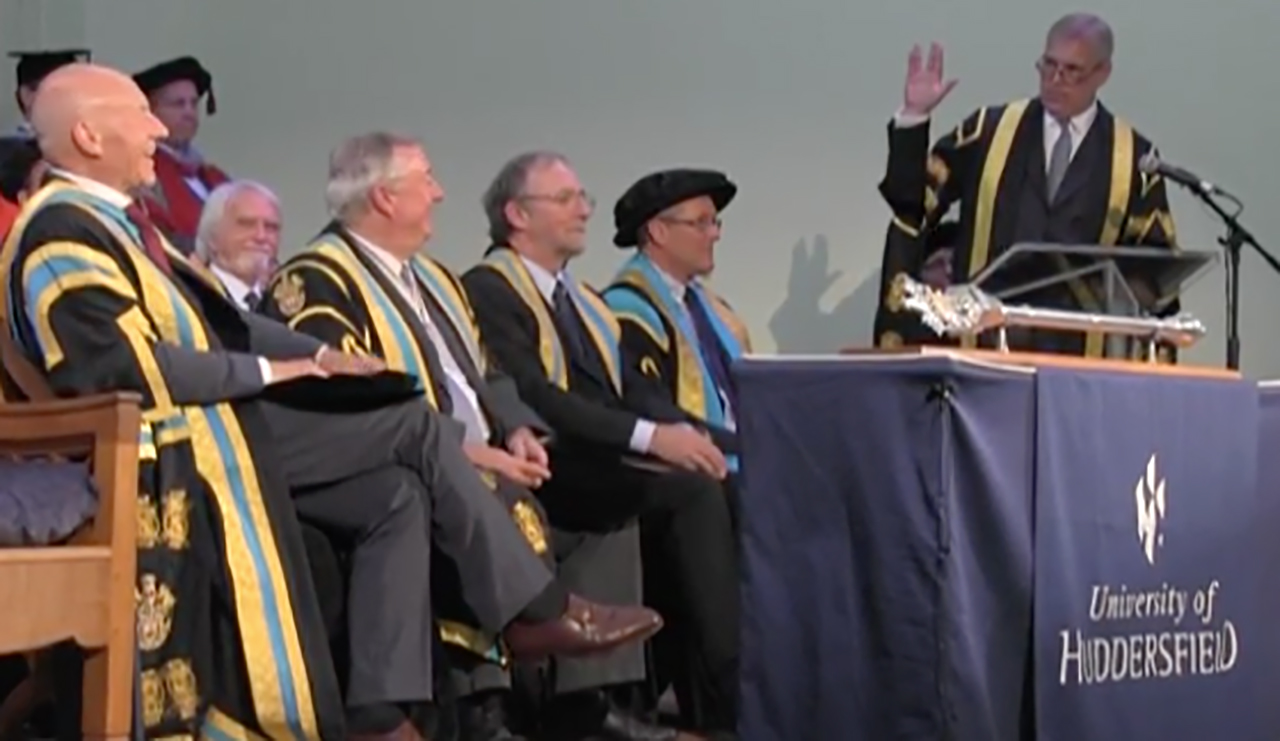 Not everyone can do the Vulcan salute, but Prince Andrew, the Duke of York, showed off his ability when giving a speech at Huddersfield University in West Yorkshire, U.K.
It may sound out of context for the royal to bust out the hand signal during a university awards ceremony, but he was addressing Sir Patrick Stewart, who portrayed Captain Jean-Luc Picard in Star Trek: The Next Generation, at the time. Stewart was the chancellor for the university for 11 years, and now Prince Andrew will be taking over his responsibilities.
The crowd was definitely amused, which you can watch in the below clip:
The Guardian reports that as part of Stewart's speech he talked about his taking on the role at the university, saying, "When I was offered the chancellorship I was, in this order, astonished, speechless and instantly accepted, because, although I did not know it at the time, it has transformed my life."
Stewart was living in Los Angeles when he teamed up with the university, and he says it was a way for him to stay connected to England.
He grew up a few miles from the university in the village of Mirfield.
Prince Andrew has been a patron of the university since 2013, opening the Duke of York Young Entrepreneur Centre the same year.
We can look forward to seeing Stewart in the new TV series Blunt Talk, which premieres August 22, 2015.
Are you impressed by Prince Andrew's salute? 
See More:
WATCH: Sir Patrick Stewart on Culture Clash in 'Star Trek' Documentary
Sirs Patrick Stewart and Ian McKellen Lock Lips at 'Mr. Holmes' Premiere
WATCH: Sir Patrick Stewart Acts Out Annoying Airplane Passenger Quirks
Read More
Filed Under: