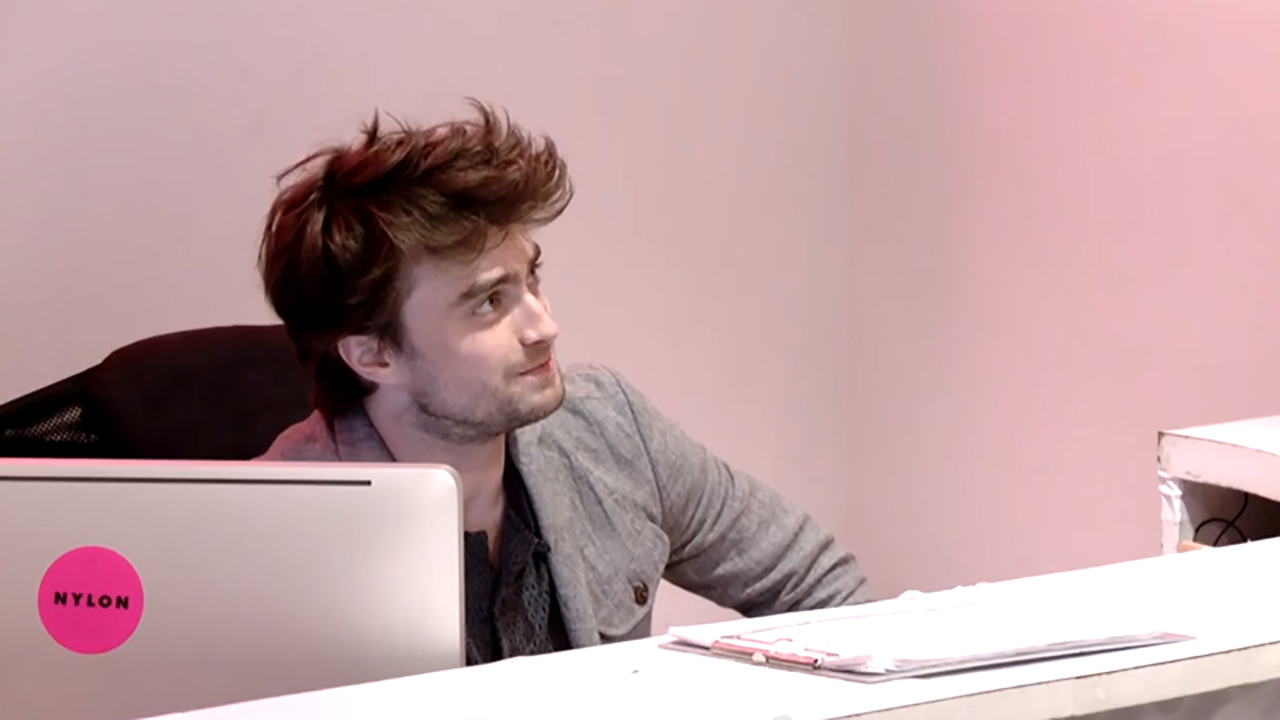 Daniel Radcliffe swung by Nylon Magazine for an interview in NYC, and they put him to work at the receptionist desk.
The British actor was prepped on how to handle his new duties, including how to turn on the Nylon neon sign and making sure the newest issue of the magazine is out on display. But the key direction was to constantly smile.
Radcliffe found the last one to be "rough."
In the video below the first four staffers to walk by were in their own head and didn't even notice Harry Potter behind the desk. Radcliffe himself seemed a little surprised with a sheepish "Hiya?" to one person.
Then slowly but surely word got out that Radcliffe was not only in the office but sitting alone in the front. In other words, they were to free to walk up to him and have a chat, ask questions, or take photos.
The questions weren't just movie-related but some did call for him to act like a receptionist like, "Do you have the bathroom key? Do you have stamps?"
Radcliffe let the pressure get to him when he saw a food delivery man come to the glass doors, saying to himself, "Don't come in. Don't come in."
Was Radcliffe able to help the Nylon employees, or were they left stampless and hungry?
In addition to his side job, Radcliffe can be seen next in Victor Frankenstein as Igor, starring opposite James McAvoy. The film is set to his U.S. theaters on November 25, 2015. The story will be told from Igor's perspective, with McAvoy taking on the title role.
How do you think Daniel Radcliffe handled the stress of it all?
See More: 
Daniel Radcliffe: English Accent or Bust, According to Movie Producers
The Reason Daniel Radcliffe Won't Wear Glasses in Real Life
WATCH: Daniel Radcliffe Raps (Well) on 'Fallon'
Read More
Filed Under: