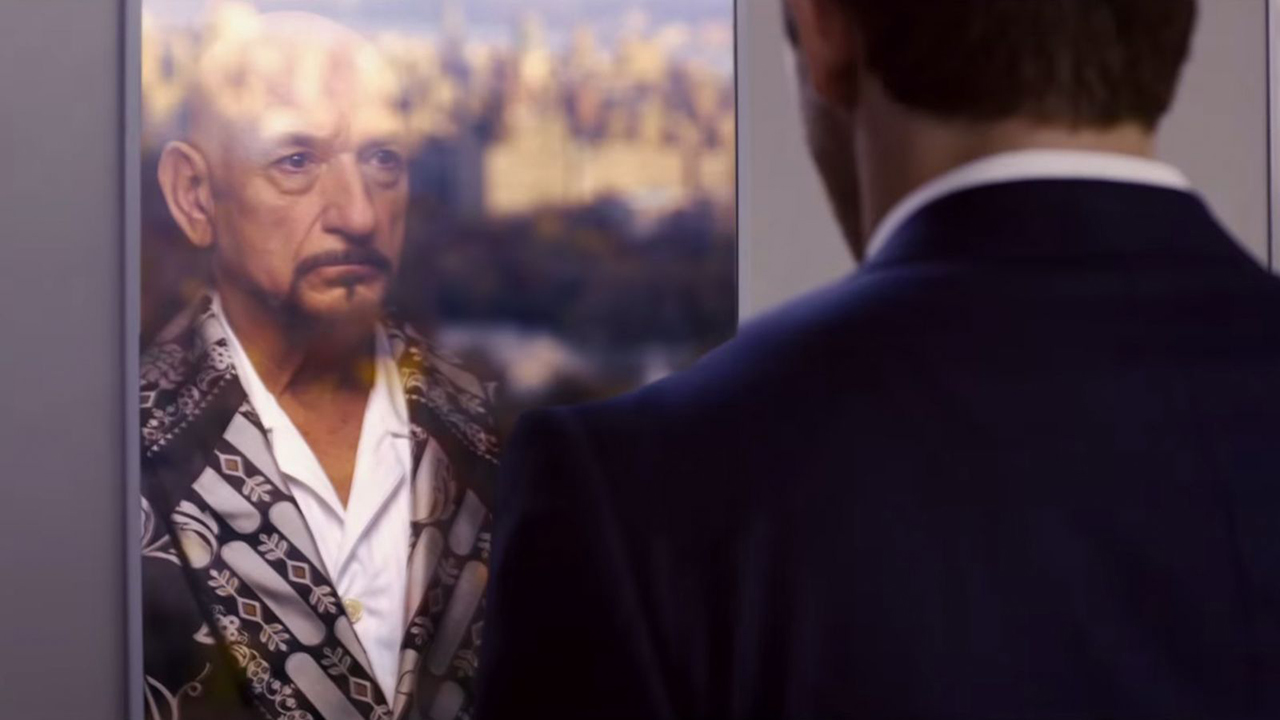 We last saw Sir Ben Kingsley in 2014's Night at the Museum: Secret of the Tomb. He makes his return to the big screen in the technological thriller Self/less, premiering today (July 10). Kingsley portrays a terminally ill man who takes drastic measures to preserve his life, having his consciousness transferred into another man's body (Ryan Reynolds). Did we mention he's extremely wealthy? Well he'd have to be, as consciousness-swapping doesn't come cheap. It's not clear if they did a reference check on the new body, though, because there's a shadowy organization after him/them.
Let's catch up with some of Kingsley's earlier performances available online:
1. Hugo
Kingsley takes on the role of the pioneering French filmmaker Georges Méliès in the 2012 Academy Award-winning film. The story revolves around a young boy named Hugo (Asa Butterfield), who finds himself an orphan after his inventor father (Jude Law) passes away. He seeks refuge in the chambers of a train station, basically living alone. Kingsley's character has given up on happy endings, but Hugo doesn't give up on him.
2. Fifty Dead Men Walking
Kingsley stars in the telling of informant Martin McGartland's infiltration of the IRA in the early 1990s, opposite Jim Sturgess. McGartland (Sturgess), who originates from Belfast, Ireland, was not keen on the IRA and agreed to help the British Police by going undercover at the age of 21. Kingsley portrays his handler, Fergus.
Watch Fifty Dead Men Walking on Hulu.
3. The Wackness
We see Kingsley's more quirky side in The Wackness. He takes on the role of a pot-smoking therapist who is working with a teenage boy (Josh Peck) to sort out some issues. But there are some other issues: that teenage boy happens to be interested in his step-daughter. So the therapist doesn't realize he's advising his patient to pursue someone in his own household: hilarity ensues.
4. Schindler's List
Steven Spielberg's 1993 film adaptation of the novel Schindler's Ark won a number of awards including the 1994 Academy Awards for Best Picture and Best Director. Liam Neeson takes on the title role of German businessman Oscar Schindler, who was a member of the Nazi Party during WWII. When Schindler realizes what's happening around him during the devastation of the Holocaust, he works to employ as many Jewish people as he can at his factory in an attempt to save them from persecution, and ultimately death. Kingsley plays the role of Schindler's accountant and advisor Itzhak Stern, who also happens to be Jewish.
Watch Schindler's List on Amazon Instant.
5. Gandhi
Kingsley won the 1983 Academy Award for Best Actor in the title role of Gandhi. The film also took home Best Picture and Best Director Oscars for Richard Attenborough's work on the film. The film opens with the assassination of Mohandas Karamchand Gandhi and then cuts back to Gandhi at the age of 24. The movie spans 55 years in which Gandhi worked to protest British rule and squelch civil unrest through non-violent tactics.
Watch Gandhi on Amazon Instant.
Do you have a favorite Ben Kingsley role?
See More:
Brit Binge: James Corden Roles You Can Watch Online
Brit Binge Watching: Five Hugh Grant Romantic Comedies Available Online
Brit Binge Watching: Five Roald Dahl Adaptations Available Online
Read More
Filed Under: