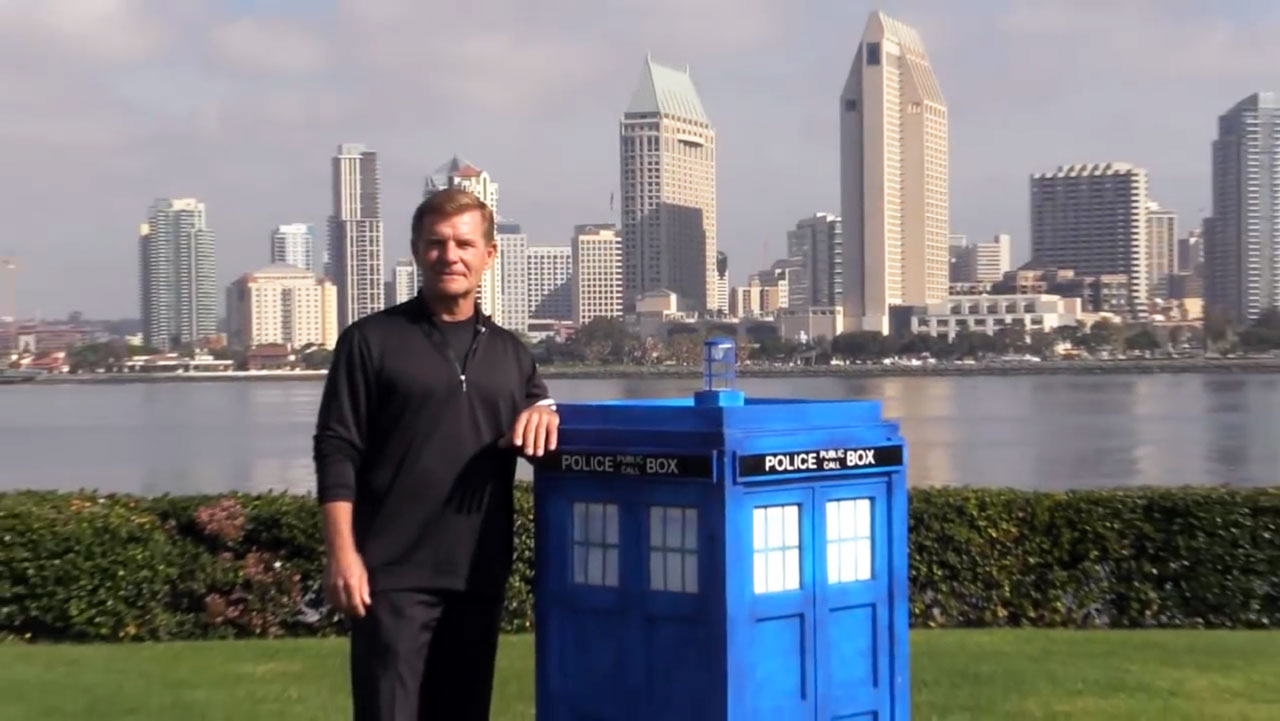 Doctor Who's TARDIS was ubiquitous at this year's San Diego Comic-Con, inspiring fan art and even some runway-ready couture. But eagle-eyed attendees may have spotted the ever-recognizable blue box swooping through the trees behind the Convention Center during the event. The flight of the TARDIS was the handiwork of Otto Dieffenbach III, marketing director for Flyguy Promotions, a company that specializes in building flyable objects for brands.
The Maryland-born Dieffenbach stumbled onto Doctor Who through his work. "Two years ago I began flying many shapes, including a basic can, box and billboard," he said. "One of my friends saw the box and said I should turn it into a TARDIS. That is when my Doctor Who education began." Dieffenbach's 32-year-old son, a 15-year Comic-Con artist, helped him get up to speed on the show, and he's been a fan ever since.
"I love that Doctor Who spans the whole era of science fiction and has transformed itself for each generation," said Dieffenbach. "The quality of the production today is remarkable, with interesting and fun characters. To my American mind, the TARDIS is to Doctor Who what the Enterprise is to Star Trek. It was an inspired decision for the show creators to use a police call box as the TARDIS."
Dieffenbach flew the initial, 30-inch-tall TARDIS for Doctor Who's 50th anniversary, and, after the success of that flight, he then set his sights on San Diego Comic-Con, building a larger-sized version for the 2014 and 2015 conventions.
"Comic-Con is the worldwide science fiction event of the year," he said, "and Doctor Who is one of the premiere science fiction shows with a loyal and growing following. In addition, the area behind the San Diego Convention Center, San Diego Bay, is an ideal venue for safe flight operations."
The structure of the blue box is built from foam, wood, and carbon fiber, weighing four pounds. "It is bigger on the inside enabling it to house all the electronics for flight," he joked. "I had to go there."
But to get the unique TARDIS-like careening trajectory required special engineering. "The TARDIS is a radio-controlled platform that is more like a plane than a helicopter," he said. "It has four internal motors that supply 10 pounds of thrust and four flight control surfaces. In hover, during takeoff and landing, the motors and control surfaces provide guidance and stability. During horizontal flight, the control surfaces provide primary control."
Reactions to the flying TARDIS have been strong. "Wonder and awe are the first words that come to mind," said Dieffenbach. "Most people, when they first see it, want a selfie or to hug it. Then I mentioned that it flies, and the jaws drop and the looks of disbelief appear. When I fly the TARDIS you get a lot of shouts, laughs and 'I want one.' It does stop traffic."
See more:
'Doctor Who' Enters the World of 'Lego Dimensions'
Doctor Who's Day Roundup: The TARDIS Lands in San Diego
'Doctor Who': Peter Capaldi Makes 'Cosmic' Comic-Con Debut
Read More
Filed Under: