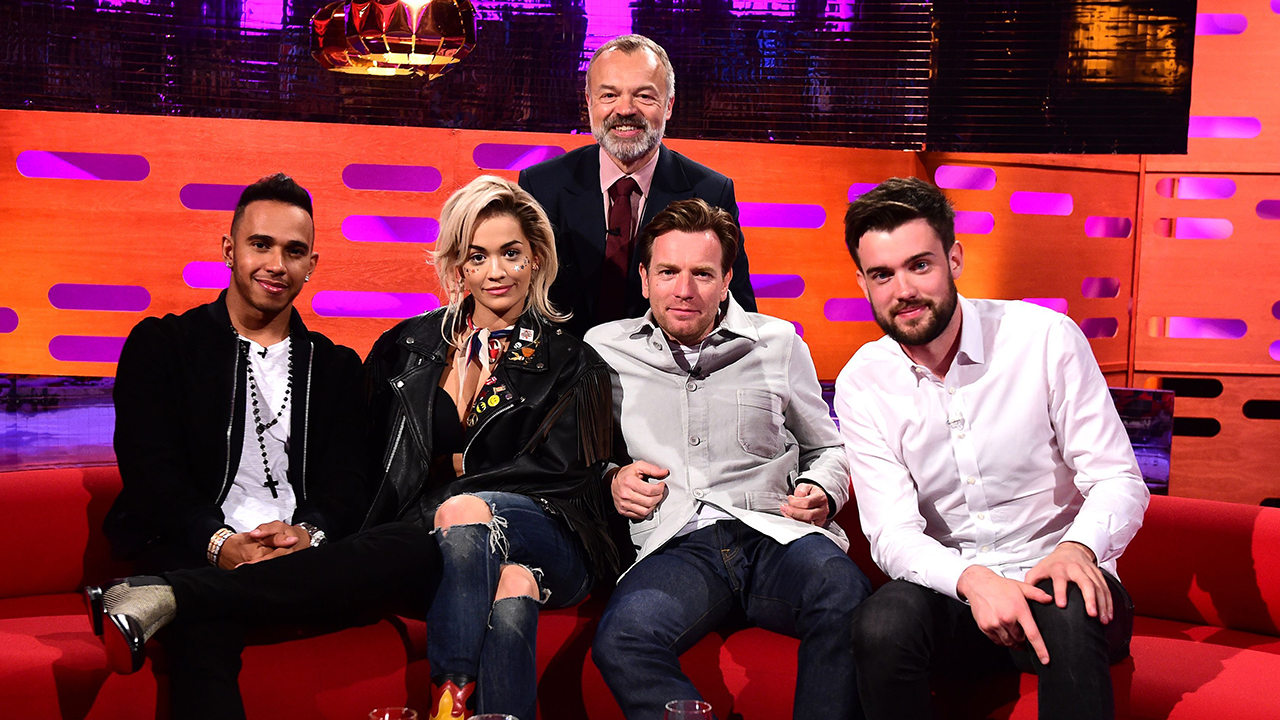 Graham Norton's couch is all British in this week's (July 4) episode of The Graham Norton Show with Formula One driver Lewis Hamilton, singer Rita Ora, actor Ewan McGregor, and comedian Jack Whitehall.
Whitehall started off as a child actor starring in the TV series Noah's Ark in 1997. He continued to land roles in British sitcoms like Fresh Meat (2011-2012) and Bad Education (2012-2014). He was offered a part in the blockbuster Frozen, or so he thought. Things could've gotten a little awkward when Graham asked him about the Disney film, but Whitehall handed it with class:
Even though Whitehall's Disney dream crashed and burned right before his eyes, he's doing all right. He co-wrote and stars in the Bad Education movie, which hits U.K. cinemas on August 21. In addition to filling arenas with his standup shows, he's a regular panelist on the British game show A League of Their Own.
This week, we also get to meet Formula One driver Lewis Hamilton on Graham's couch. Sure, it's pretty cool that he's the 2014 Formula One World Champion, but if that weren't enough, he starred in the animated film Cars 2 as himself. He acts too?
He ribs Whitehall for not having a driver's license in the below clip from Graham Norton:
We're looking forward to McGregor starring as Lumiere in Disney's live-action reboot of Beauty and the Beast, but that's not going to be out until 2016. Right now, McGregor guest stars in the second season of Doll and Em, which already premiered in the U.K. and is set to return to HBO in 2015.
The first season of Doll and Em, co-written and starring real life friends Emily Mortimer and Dolly Wells, followed the two English women as they made their way through Hollyweird. In the second season the women are in NYC making an off-Broadway show, with McGregor playing himself.
It's hard to tell who is more smitten with whom in the below clip, with McGregor and Wells chatting away about their upcoming projects:
Rita Ora's debut album Ora was released in 2012. She was just recently named the newest addition to the British X Factor panel of judges. She talks about performing at the Oscars and making the move from the U.K. version of The Voice in this interview with BBC News.
Here's a clip of her performing "Grateful" at the 2015 Oscars:
https://www.youtube.com/watch?v=XKz_hA7Yu54
We hope to find out more about her new role on X Factor on Graham this weekend!
What's your favorite episode of Graham from 2015 so far? 
See More:
Jessica Hynes: The Brit on Graham Norton's Couch
Michael McIntyre: The Brit on Graham Norton's Couch
John Bishop: The Brit on Graham Norton's Couch
Read More
Filed Under: