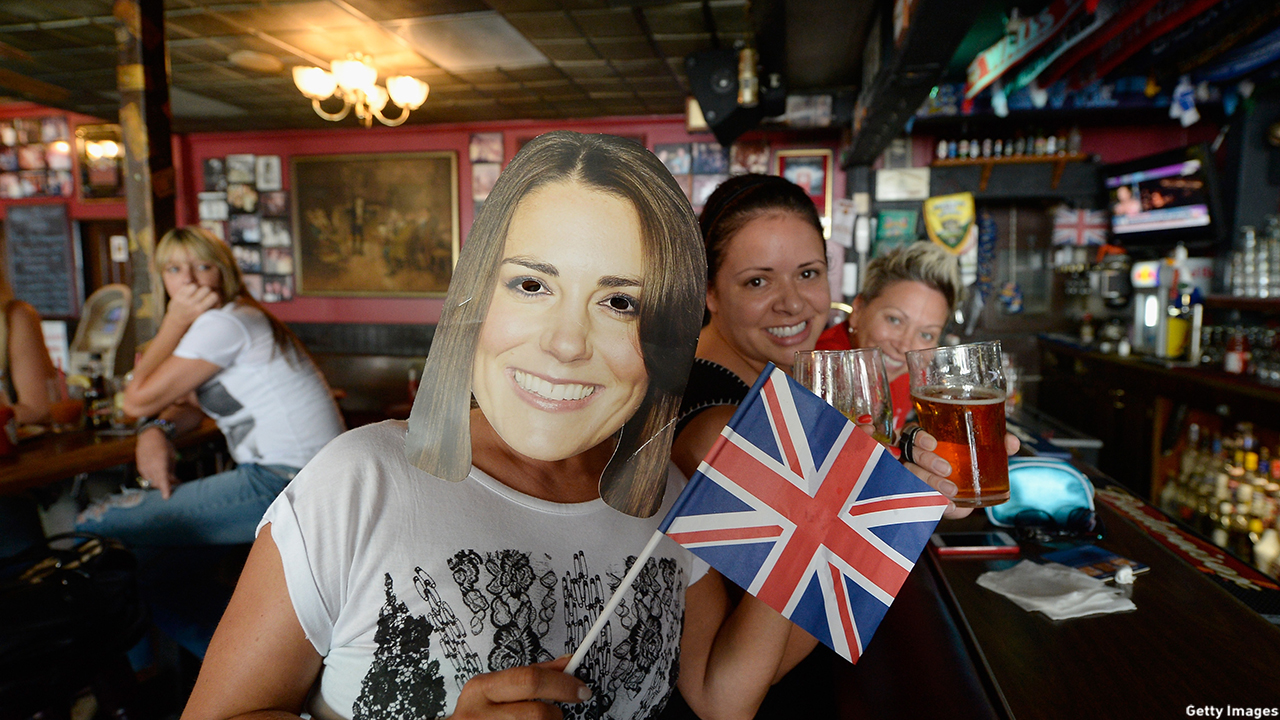 Simon Pegg showed us how to lose friends and alienate people in the 2008 film adaptation of Toby Young's memoir named exactly that, How to Lose Friends and Alienate People. We're going to take a more positive spin on that concept and flip it around, how to make friends, British mates specifically.
Here are 10 tips that might land you your British plus one:
1. A Pint for You, A Pint for Me
As you may already know, pub is short for Public House. We've circled around the U.S. in our 10 British Things About Your City series and almost every U.S. city has some sort of British or Irish pub in it like the Baker St. Pub and Grill in Oklahoma City, OK, the Streets of London Pub in Denver, CO, or Cricketers Arms Pub & Eatery in Orlando, FL. If you find yourself rubbing elbows with a Brit, it's time to start up a chin-wag. Just don't start with "Oh, are you British?" Perhaps try something more like, "Are the Scotch eggs any good here?"
2. Can I Join Your Club?
There are British enthusiast groups found throughout the U.S. Some groups are expats only, but there are plenty of other groups welcoming to both expats and Anglophiles like the The Blue Box Companions who meet up monthly in Birmingham, AL, to talk about all things Doctor Who. And there's the U.K. Expats and MI Mates in Detroit, MI, which is about connecting U.K. transplants with locals in the area. If you feel unlucky and don't find a group in your area, then maybe you can be that one lone soldier who starts a new meet-up group.
3. It's All a Kick in the Grass
If you're a soccer enthusiast, you already have a head start. Depending on your level of interest you might join a recreational team in your area, watch the Premier League match on the telly at a pub, catch a professional team's match in your area, or join a club that supports a team. In NYC Jack Demsey's, at 33 W. 33rd Street, is home to the Celtics supporters, where decades-long friendships have ensued and spilled out from the pub into real life. Soccer isn't the only way to a Brit's heart; let's not forget about rugby and cricket, which also get airtime in pubs.
4. Table for One
There are British restaurants all over the U.S. like Limey's Pub and Grub in Des Moines, IA, the Little Taste of Britain just outside of Salt Lake City, Utah, and The Pie Shop in Oakland, CA. Don't be afraid to go out alone for a bite: pull up a chair and break out a Brit-friendly book. It might be an icebreaker. Perhaps have a chat with the barman, waiter, or a fellow restaurant-goer about British-related events in your area or at the restaurant itself. Another option is to swing by your local British grocer, like You Say Tomato in San Francisco, CA or Tea and Sympathy in NYC, NY. If you don't have something like that in your area, the international aisle at your local shopping mart might do the trick.
5. Knees Up
Another way to get into the mix is to join an interest-specific group like dance. Scottish social dancing groups are welcoming to men and women of all ages and ability. You don't have to be an expert or are you expected to compete at events. Most of these groups are meant for meeting people, celebrating the history of Scotland, and, of course, getting your knees up while taking part in line dancing. You can do a quick Google search to find classes in your area, but just to give you a sampling, classes can be found in Albuquerque, NM, Little Rock, AR, and Buffalo, NY.
6. Dress the Part
You might attract a Brit if you dress like one. A British tee might get some comments. I'm prone to walk around my neighborhood wearing BBC America tee shirts, and just recently a British woman behind the coffee shop counter told me how much she missed BBC in the U.K., and had just moved to the area with her husband and his job. Why not break out a shirt with one of your British interests emblazoned on it like Simon Pegg's TV show Spaced or a sports jersey for your favorite team like Arsenal? If you're feeling a little bold, these Union Jack leggings we featured in our Playing British for a Day post will definitely get some attention.
7. Stretch Your Legs
You might be reading this and thinking to yourself, "These are all fine suggestions, but there is no British stuff where I live." If that's the case, you may need to travel. If you're already planning a holiday, then maybe choose a Britcentric spot in the U.S. and kill two birds with one stone. Our post The 10 Most British Towns in America might get you started in your planning. You may land yourself a pen pal.
8. Go Online
These days it's pretty common for people to meet online, whether it's for dating purposes, to share interests in chat rooms, or catch up in the Anglophenia comments section on Facebook. One of our Anglo readers wrote a comment, saying, "I would love a British pen pal!" Another Anglo reader chimed in, writing, "If you like word games play Word Chums. A lot of British people play it. I have some new British friends I have found through playing it." Other forums where you might engage about British topics include Mind the Gap, BritishExpats.com and Quora.
9. What Not to Do
We've included some ways to meet British people with the above items, but how do you go about striking up a conversation? The easiest approach is to just say hello and follow their lead to see if there's any interest. But there are some topics to stay clear of, which Mind the Gap writer Ruth Margolis outlines in her handy list of 10 Things That Americans Don't Realize are Offensive to Brits like talking about money or over-politeness. She warns that these "howlers" are guaranteed to set off Brits. Of course, not all Brits are the same, and don't feel like you're walking on egg shells, but it's always good to go into a situation prepared.
10. Keep Calm and Don't Rush
Don't be discouraged if it doesn't happen straight away. You may need to go the pub a few times before getting your "regular" status and people chatting you up. You might have a conversation with a Brit, but it might not translate to a lifelong friendship straight away, which is understandable. It takes time, patience, luck, and a little maneuvering. It could be helpful to grab an Anglophile-enthused friend to help with the search rather than going it alone.
Brits living in the U.S. can be super friendly and like getting to know Americans.
It's just a matter of getting over the gap.
Get out there! Let us know how it goes. 
See More: 
How to Pretend You're British for a Day in NYC
10 Ways to Make Friends and Influence People in the U.S.
10 British Things About Your U.S. City
Read More
Filed Under: