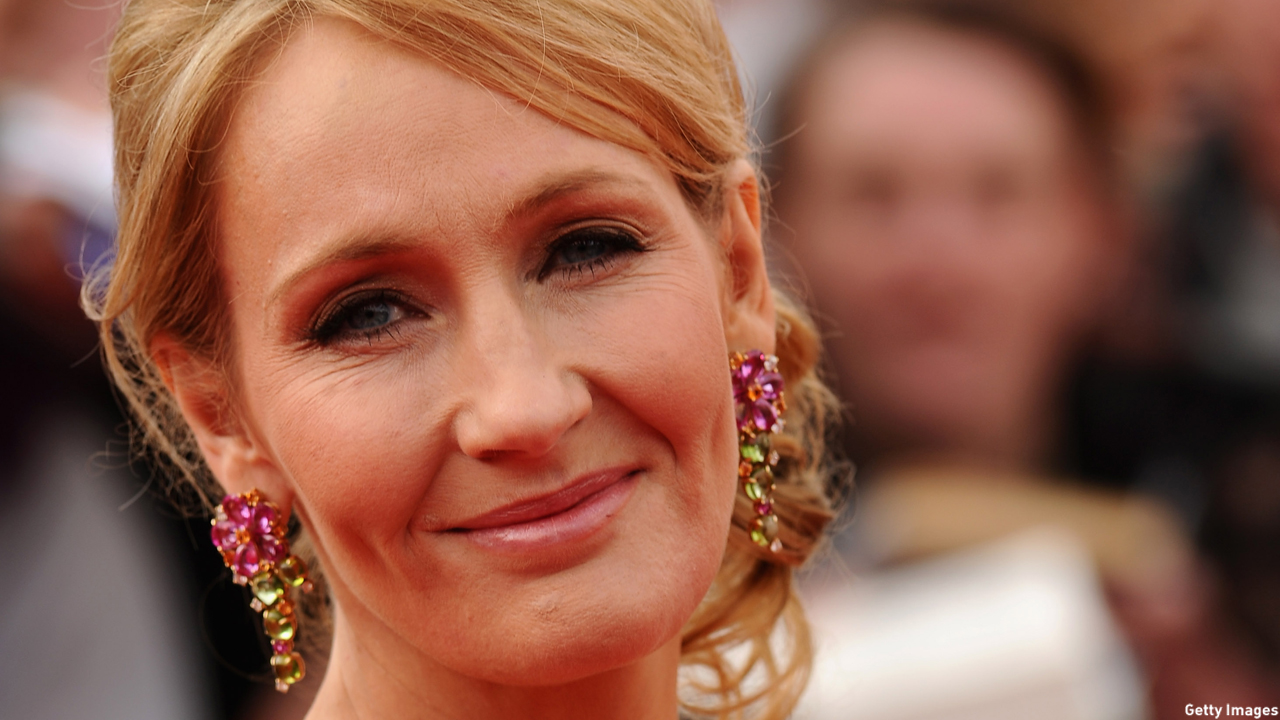 It seems like author J.K. Rowling hardly ever takes the day off from work, whether she's writing or keeping up with readers on Twitter. Today (July 31) marks the Harry Potter author's 50th birthday, but hopefully she'll take a break to enjoy her day. We'll try to take some of the weight off of her by compiling these 50 quotes from previous interviews and tweets that you can look back on:
1. On second chances.
"It is impossible to live without failing at something, unless you live so cautiously that you might as well not have lived at all—in which case, you fail by default." (Harvard Speech)
2. On living in a tiny front room. 
"I feel I really became myself here, in that everything was stripped away, I'd made such a mess of things. But that was freeing, so I just thought, 'Well, I want to write', and I wrote the book and what is the worst than can happen? It gets turned down by every publisher in Britain, big deal." (The Telegraph)
3. On writing. 
"I'll be writing until I can't write anymore. It's a compulsion with me. I love writing." (GoodReads)
4. On her favorite literary character as a child. 
"My favorite literary heroine is Jo March. It is hard to overstate what she meant to a small, plain girl called Jo, who had a hot temper and a burning ambition to be a writer." (New York Times)
5. On creativity.
"We do not need magic to change the world, we carry all the power we need inside ourselves already: we have the power to imagine better." (The Guardian) 

6. On self-awareness.
"Whatever money you might have, self-worth really lies in finding out what you do best." (Mugglenet.com)

7. On her ideas. 
"I've no idea where ideas come from and I hope I never find out; it would spoil the excitement for me if it turned out I just have a funny little wrinkle on the surface of my brain which makes me think about invisible train platforms." (Amazon.co.uk)
8. On universal appeal.
"If it's a good book, anyone will read it. I'm totally unashamed about still reading things I loved in my childhood." (Time)

9. On presenting at the 2012 Olympics.
"It was simultaneously terrifying and one of the most wonderful things I've done in my life. It was wonderful. The British aren't very good at celebrating themselves. We have quite a complex view of ourselves, I think. And that was one evening where we got it right, and we celebrated being British in a way that we all felt comfortable with." (CBS News) 

10. On battling obsessive-compulsive disorder.
"Those are the indulgences you can have before you have children. Now I don't have time to obsess. All that stuff about, 'I need to go this certain way and do that' was an indulgence of my youth." (The Guardian)

11. On women wizards.
"I'm a female writer and what's interesting about the wizarding world is that when you take strength out of the equation, a woman can fight just the same as a man can fight." (The Women of Harry Potter)
12. On keeping the Harry Potter plots a secret. 
"Of course one could be cynical and say it was a marketing ploy, but I don't want the kids to know what's coming because that's part of the excitement of the story. I've sweated blood creating all my red herrings and lay all my clues." (Newsnight)
13. On readers' expectations. 
"There's always trepidation. I think people might be surprised to know I felt trepidation every time I produced a Potter book. The weight of expectation there was … I won't say crushing … but it was extraordinary and wonderful to have that weight of expectation, but at times … with the expectations literally of millions of fans, all of whom were very invested in the story and wanted to see what they wanted to see. And I knew where I was going. I had to put on mental blinkers a lot, and just think, 'I know where I am going. I must not be influenced by this." (Charlie Rose)
14. On her love of Hufflepuff.
"This may surprise people, but in many, many ways Hufflepuff is my favorite house." (Scholastic Inc.)
15. On children.
"Those who write for children, or at least those who write best for children, are not childlike or immature, but they do remember with sometimes painful intensity both what it was to be small and confused and how wonderful was that fierce joy in the moment that can become so elusive in later life." (The Eternal Bookshelf)

16. On her children.
"My youngest child asked me the other day, 'Mummy, if you had to choose between us and writing, what would you choose?' And I said, 'Well I would choose you but I would be very, very grumpy.'" (Waterstones)

17. On Harry Potter finding her. 
"I had been writing for years, intending to write for adults, but had never tried to get anything published before. But when this story came to me it was obviously a children's story. So, it chose me, rather than the other way around. I never sat down and said, 'I'm going to write for children.'" (STV)
18. On fame.
"The fame thing is interesting because I never wanted to be famous, and I never dreamt I would be famous. My fantasy of being a famous writer—and again, there is a slight disconnect with reality, which happens a lot with me—I imagined being a famous writer would be like being Jane Austen. You'd be able to sit at home in your parsonage and your books would be very famous. Occasionally you'd correspond with the Prince of Wales' secretary." (Newsnight)
19. On looking in the Mirror of Erised.
"I would definitely see what Harry sees. I would have seen my mother. I would have been able to talk to my mother. Definitely [my] mum dying had a profound influence on the books because I had been writing about Harry for six months when she died. In the first draft his parents were disposed of in almost a cavalier fashion. Six months in and my mother dies, and I really think from that moment on death became a central, if not the central, theme of the seven books." (Today)
20. On taking responsibility.
"There is an expiry date on blaming your parents for steering you in the wrong direction; the moment you are old enough to take the wheel, responsibility lies with you." (Harvard Speech) 

21. On her favorite Harry Potter books to write.
"Three, six, and seven have been the best to write. That's Azkaban, the Half-Blood Prince, and Deathly Hallows." (Wit Beyond Measure)
22. On finishing the last Harry Potter book. 
"Any writer finishing a book will know what I mean when I say, you've lived a parallel existence and suddenly the door closes and it's over. For me it was 17 years. I was writing Harry Potter the night my mother died. It was a connection to a very different time in my life. It had always been there for me to escape into during the most turbulent years of my life." (Today)
23. On mourning the end of Harry Potter. 
"It was a bereavement. It was huge. Although I knew it was coming, we all know that the people we love are mortal, we all know we're mortal, we know it's going to end; you can't prepare yourself for it. So even though I always knew it would be seven books, that was it, I knew how it was going to end, and when it ended I was in a slight state of shock." (Oprah)
24. On finding interviews easier after Harry Potter.
"I think finishing the books, it's definitely been a release. I feel more relaxed. I thought, I can come here now and crash and burn. What does it matter?" (Jonathan Ross)
25. On writing Casual Vacancy.
"The worst that can happen is that everyone says, 'That's shockingly bad.'" (The Guardian)
For the second half of the 50 quotes to live by, we thought we'd pull from some of her best tweets:
26. On joining Twitter. 
I am told that people have been twittering on my behalf, so I thought a brief visit was in order just to prevent any more confusion!

— J.K. Rowling (@jk_rowling) September 17, 2009
27. On feeling appreciated. 
Being sent so much love and support right now that I would like to take a break from sticking my wand up trolls' noses to say thank you! xxx — J.K. Rowling (@jk_rowling) June 20, 2015
28. On cheering up fans. 
.@BrocaesarTV And I'd say, the world is full of wonderful things you haven't seen yet. Don't ever give up on the chance of seeing them. — J.K. Rowling (@jk_rowling) May 4, 2015
29. On being just like us.
— J.K. Rowling (@jk_rowling) April 27, 2015
30. On announcing Career of Evil. 
Oh happy, happy, happy day… it's the eleventh time I've done it and the joy never wears off. — J.K. Rowling (@jk_rowling) April 24, 2015
31. On fan's allegiance. 
.@jacksonftpotter 'U could ask us how to hide a dead body and we won't even hesitate to help u.' Can't decide whether touched or scared. — J.K. Rowling (@jk_rowling) April 22, 2015
32.  On real life owls.
On the subject of unfathomably cute things: behold, the perfect mixture of fluffy and ugly. #FluglyOwl pic.twitter.com/UvNDADuSRb

— J.K. Rowling (@jk_rowling) April 16, 2015
33. On decision-making. 
.@aboymadeofsky No, Jonathan, I've never made a single decision in my life on the basis of whether it was cool. — J.K. Rowling (@jk_rowling) September 9, 2014
34. On remorse.
Today I would just like to say: I'm really sorry about Fred. *Bows head in acceptance of your reasonable ire* — J.K. Rowling (@jk_rowling) May 2, 2015
35. On Harry Potter-themed dreams. 
@amymeowz I had a waking nightmare where I met a Harry Potter fan who quizzed me on a sub-plot & I couldn't remember what I'd written — J.K. Rowling (@jk_rowling) September 7, 2014
36. On Dumbledore being gay. 
Nicely done, @jk_rowling… pic.twitter.com/7tc2KQCOvl — Robert Perry (Pez) (@pez_sez) March 24, 2015
37. On rejection. 
.@babymegs_ Loads! First publisher to turn down Harry also sent @RGalbraith his rudest rejection. They don't even want me in a beard. — J.K. Rowling (@jk_rowling) March 23, 2015
38. On managing a pseudonym's Twitter account.
.@JanineHaines @RGalbraith says to tell you he's very close to finishing his third. He still doesn't know his Twitter password. — J.K. Rowling (@jk_rowling) March 13, 2015
39. On sharing dog photos. 
I'd just decided I'd retweeted enough dogs when… pic.twitter.com/u53mSaaV9p — J.K. Rowling (@jk_rowling) March 5, 2015
40. On it not being a prequel. 
Why has Percy Weasley got his arm around Narcissa Malfoy? Find out in my new… kidding. I'M KIDDING. #NotAPrequel pic.twitter.com/ZZ6HJZrDY3 — J.K. Rowling (@jk_rowling) March 5, 2015
41. On watching rugby. 
Scotland 16 Italy 15. Nerves frayed. #backingblue — J.K. Rowling (@jk_rowling) February 28, 2015
42. On other career paths.
'What would you like to be if you weren't a writer?' An otter weigher. pic.twitter.com/Tc7TwevoN7 — J.K. Rowling (@jk_rowling) November 24, 2014
43. On reality checks. 
I can't say I consider myself a 'world leader' though. Maybe of worlds inside my head? In the real world I can barely lead my dog. — J.K. Rowling (@jk_rowling) September 4, 2014
44. On realities mixing.
.@wastsons She'd be extremely proud. Emma's speech was incredible. #HeForShe — J.K. Rowling (@jk_rowling) January 5, 2015
45. On being a bystander. 
Are you the sort of person who gloats when they see a woman fall, or the kind that celebrates a magnificent recovery? #TeamMadonna — J.K. Rowling (@jk_rowling) February 27, 2015
46.  On Who Do You Think You Are? 
That was the best thing I've ever done on TV. I really loved the experience. https://t.co/NGGtp0y3bH — J.K. Rowling (@jk_rowling) July 17, 2015
47. On shutting down online bullies.
I'm #TeamSerena today, because you don't meet many super-talented people nicer than she is. Go @serenawilliams! pic.twitter.com/KHDYNCt6Ls — J.K. Rowling (@jk_rowling) July 11, 2015
48. On being snubbed by Draco. 
.@gillianngracee Draco turns 35 today. I'm not invited to the party, mainly because I keep telling girls they're misguided to fancy him. — J.K. Rowling (@jk_rowling) June 5, 2015
49. On not being liked by everyone. 
If you're waiting for universal popularity, you'll be on Twitter a VERY long time. xxxx — J.K. Rowling (@jk_rowling) September 6, 2014
50. On you.
Potterheads are all wonderful, but YOU are the best. Yes, you, reading this. X

— J.K. Rowling (@jk_rowling) September 10, 2014
Happy birthday Jo!
See More:
J.K. Rowling Unveils New 'Harry Potter' Story for the Theater
J.K. Rowling and the Very Nice Tweets of Inspiration
How the Director of the 'Harry Potter' Play First Met J.K. Rowling
Read More
Filed Under: