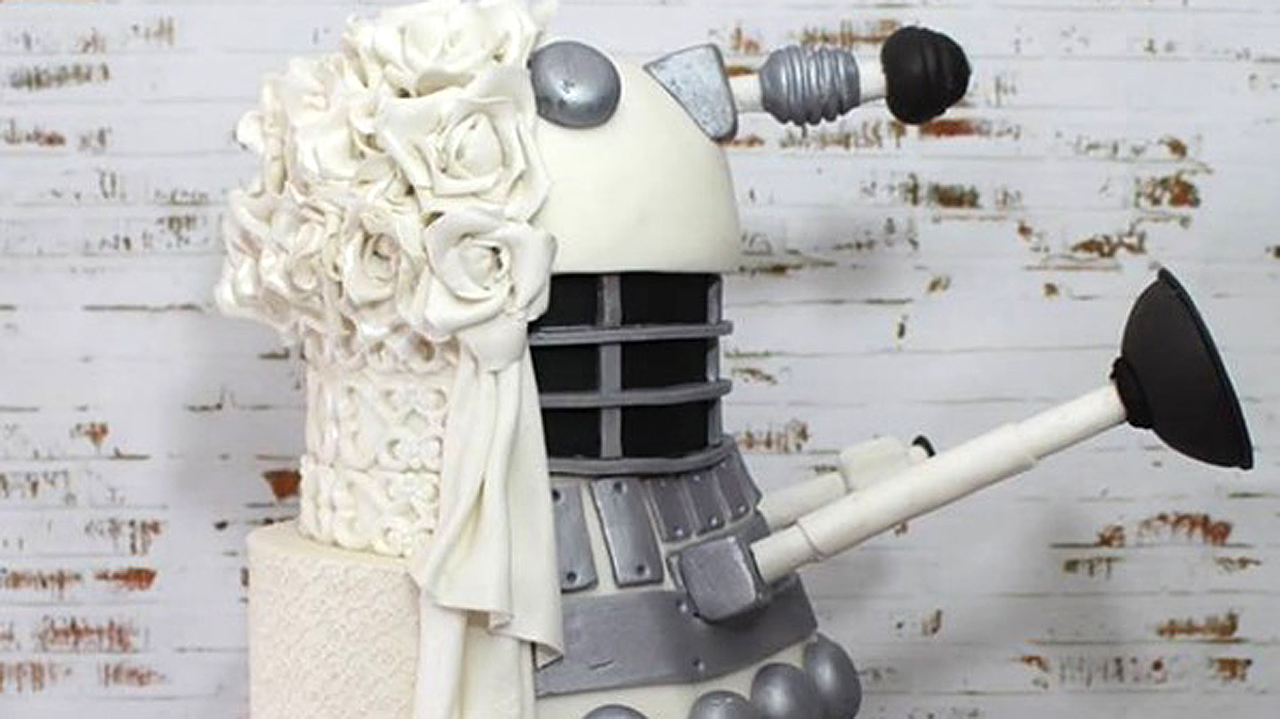 Welcome to the Doctor Who's Day Roundup, a grab bag of Gallifreyan gubbins that takes in any and all Whovian events across all known time streams and dimensional rifts over the past week.
And this week, we have cause for celebration. For starters, let us offer our hugest congratulations to Alex Kingston—River Song herself—who tied the knot over the weekend with her long-term partner Jonathan Stamp.
And in tribute to their nuptials, just take a look at this magnificent Whovian wedding cake, created by The Giant Cupcake Shop in Wellingborough, Northamptonshire. On one side it's the traditional three-tiered affair, and on the other, something far nastier.
The video of "George" the half and half dalek in action….

Posted by The Giant Cupcake Shop on Wednesday, July 15, 2015
Hats off to all concerned. And here's what else has been going on in space and time this week:
• 20 (non-spoilery) things we've learned about Doctor Who recently.
• Doctor Who: The Fan Show meets John Smith, the maker of exquisite fan videos such as Wholock:
• Who is Maisie Williams playing in Season 9? Doctor Who fans have a go at working it out.
• Speaking of which, here's where we're at with the Doctor Who / Sherlock crossover.
• The Doctor arrives on a bleak plain:
• Doctor Who director Rachel Talalay explains how this seasons finale is different to last season's finale, without giving away anything at all:
• This is rather great. It's a comic devoted to the Second Doctor's companion Zoe:
• What did Comic-Con tell us about Season 9?
• And here's the entire Comic-Con Doctor Who panel, starring Peter Capaldi, Jenna Coleman, Steven Moffat, Michelle Gomez:
• Michelle Gomez works the tills at the BBC AMERICA stand:
• A Zygon and friends:
• Meet Otto Dieffenbach, the man behind Comic-Con's flying TARDIS, a smaller prototype of which is seen right here:
• Think you know everything there is to know about the Daleks? Take this quiz and find out.
• I'm made of pixels now. Pixels are cool:
• A summation of Season 8, so we're all up to speed for September:
• And finally, let's go out on a song. This piece of music was composed 10 years ago, in tribute to the Doctor Who theme, by the brother of YouTuber Rick Graham. Rick's brother is no longer with us, so as a tribute, Rick edited his music to one of John Smith's beautiful Doctor Who clips, and the result is rather lovely:
TTFN!
Read More
Filed Under: