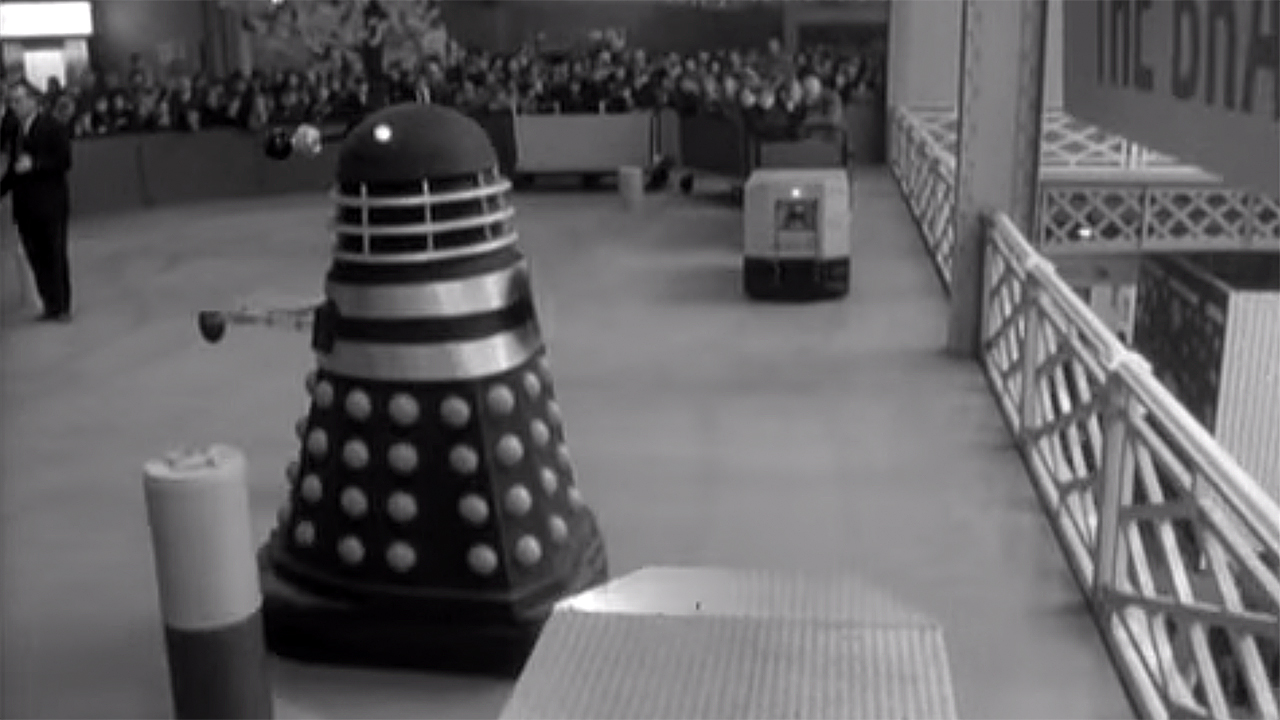 Welcome to this week's Doctor Who's Day Roundup, a regenerative roundup of Whovian odds and ends, and this week we begin with a sift through some ancient archives for early sightings of Doctor Who-related stuff.
The British Movietone Archive is a YouTube channel showcasing some of the most interesting items from British Movietone, a 35mm cinema newsreel service that ran from 1895 until 1986. And naturally they've picked up a couple of Doctor Who-related items along the way, like this report on the Boys and Girls Exhibition in London's Olympia, in which a Dalek nearly reverses into a train:
Or this, a full report on the 1960 wedding of Third Doctor Jon Pertwee. At the time he was famous for appearing in the radio comedy The Navy Lark, and so there's a definite nautical theme to the day, which would have been very different had he been the Doctor at that point:
For a more Whovian wedding, here's an example from earlier this month, in which a Dalek acted as a ring-bearer for a Doctor Who-themed wedding, at which Eighth Doctor Paul McGann was a guest.
And while we're on weddings, how about the moment in "The Aztecs" when the First Doctor got engaged?
Here's what else has been going on in space and time this week:
• U.S. fans: Doctor Who is returning to the big screen nationwide for a two-night theatrical event. The two-part Season 8 finale "Dark Water/Death in Heaven" will be screened in RealD™ 3D and Dolby Atmos sound (where available) on September 15 and 16 at 7:30 p.m. (local time). In addition to the two-part finale, a special prequel scene to the Season 9 premiere, "The Doctor's Meditation," will be screened along with an exclusive interview with Peter Capaldi and Jenna Coleman, hosted by Wil Wheaton. Tickets for the screening can be purchased starting Friday, July 31 at FathomEvents.com. Approximately 700 movie theaters are participating through Fathom's Digital Broadcast Network. For a complete list of theater locations, visit the Fathom Events website.
• Fun and games on the set of the Season 9 finale:
Now, that's our kind of clapperboard! http://t.co/oh1EDQByqz #DoctorWho pic.twitter.com/EJl8k1Op4b

— Doctor Who Official (@bbcdoctorwho) July 28, 2015
• To commemorate Moon Day on July 21, the anniversary of Neil Armstrong's giant leap for mankind, here's a "Day of the Moon" jigsaw puzzle.
• And a brief history of the Doctor's various interactions with our closest celestial neighbor.
• 15 reasons why the TARDIS is frankly magnificent.
• Doctor Who: The Fan Show also took a look at the fan merchandise available at San Diego Comic-Con:
• The Sixth Doctor is the chief subject of the latest issue of Doctor Who Magazine:
There's a new issue of Doctor Who Magazine in shops tomorrow, featuring an interview with Doctor Six – Colin Baker! pic.twitter.com/2cVqU1D9yT

— Doctor Who Magazine (@DWMtweets) July 22, 2015
• And he reveals that Big Finish audio have crafted a regeneration story for the Sixth Doctor, although he did require a little coaxing, as he explains, jovially: "Big Finish came to me and said, 'If we write you a really good story, and if we released your seven cats which we've kidnapped, which are suspended above this flame getting lower and lower, will you perhaps do this story?' and I reluctantly agreed, and my cats are safe!"
• Who writer Jamie Mathieson is delighted with the results of their readers' poll:
Doctor Who Magazine voted me best series 8 writer and best ep for Mummy! Not humble bragging. Just bragging. pic.twitter.com/xLHK4pxxCn

— Jamie Mathieson (@Jamti) July 22, 2015
• On July 17, Peter Capaldi and Jenna Coleman traveled to Berlin to meet German Doctor Who fans and talk about the show. You can see how it all went in this free iTunes 'Doctor Who: Meet the Cast' podcast.
• Some ideas for Gallifreyan interior decor:
Give your walls a Time Lord makeover with the latest collection of adhesive and reusable Doctor Who wall art, including…

Posted by Doctor Who on Thursday, July 23, 2015
• And finally, here's what happened when Doctor Who: The Fan Show had a lovely long chat with the actual Doctor:
TTFN!
Read More
Filed Under: