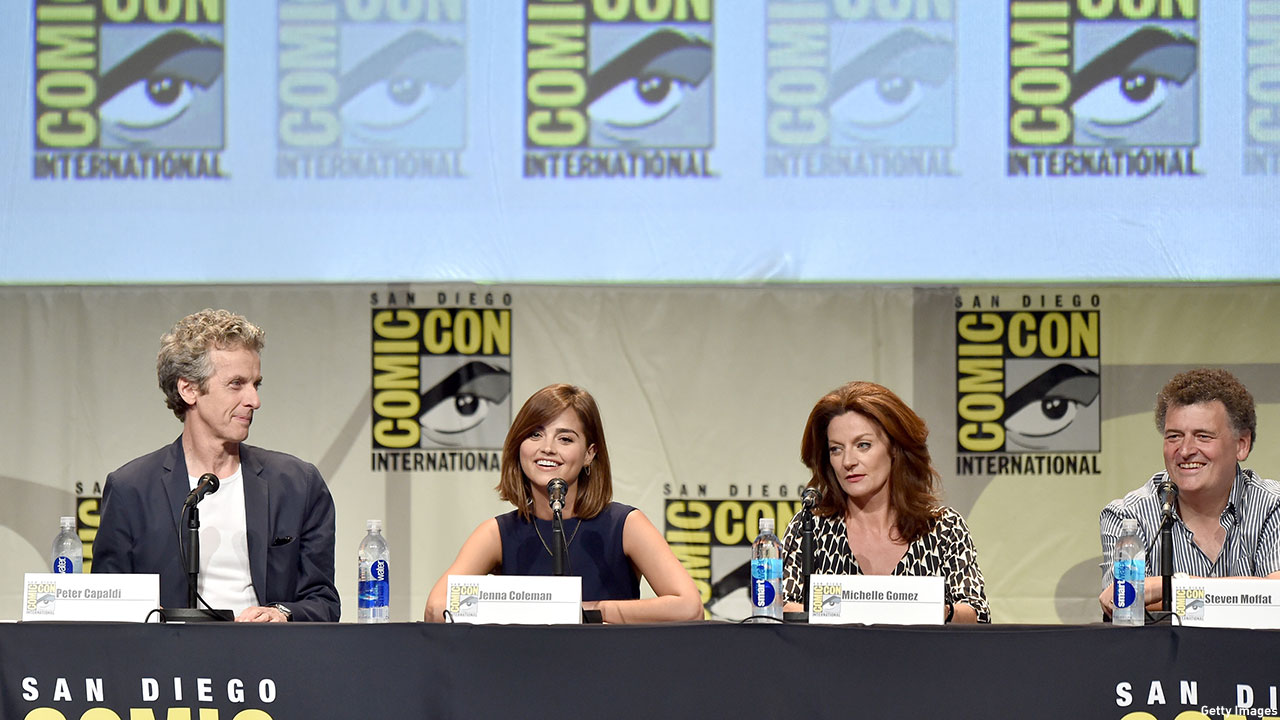 Peter Capaldi, Jenna Coleman, Michelle Gomez and lead writer/executive producer Steven Moffat appeared in a San Diego Comic-Con panel moderated by Nerdist's Chris Hardwick, reflecting on the past season and gearing fans up for what's to come. The takeaway from the discussion can only be summed up in seven words: Can September 19 get here quickly enough?
Fans in Hall H were treated to a first look at the upcoming Season 9, which is set to premiere on September 19 on BBC AMERICA. Never has Doctor Who looked quite as big as it does here in this trailer:
Speaking of big, the sneak peek at Game of Thrones star Maisie Williams's guest stint naturally sparked the curiosity of the crowd, but showrunner Moffat was keeping mum on any details about her character: "It's going to be surprising what she gets up to, but honestly I can't say a single thing about it."
For Twelfth Doctor Peter Capaldi, this was his first experience at Comic-Con. For a newbie to the annual convention, he sure seemed like a pro commanding the enormous audience that had turned out to get an in-the-flesh glimpse of the star.
Peter Capaldi on his first #SDCC: "It's cosmic… I've never been in front of 7,000 people before in my life." #DoctorWho

— anglophenia (@anglophenia) July 9, 2015
He did not disappoint, showing intelligence, humor, a respect for Whovian history, and just a hint of naughtiness that kept the crowd enthralled throughout the panel.
Peter Capaldi on when he first felt like the Doctor: "When they threw a rubber spider in my face and said, 'Fight it!'" #DoctorWho #SDCC

— anglophenia (@anglophenia) July 9, 2015
Capaldi: "The most amazing thing that happens is that I get the affection of the whole 50 years pointed in my direction." #SDCC #DoctorWho

— anglophenia (@anglophenia) July 9, 2015
Meanwhile, Jenna Coleman's partnership with Capaldi continues to evolve as Clara and the Doctor "find their groove," as Capaldi put it. In the series, Clara finds herself a bit more settled, having grieved the loss of Danny Pink and discovering a newfound joie de vivre in embarking on adventures with the Doctor.
"I think it's a change of perspective. Life is short & I want to live it & feel alive." – @Jenna_Coleman_ on Clara after series 8 #DoctorWho

— Doctor Who on BBCA (@DoctorWho_BBCA) July 9, 2015
Michelle Gomez (Missy/the Master) was in fine form at the panel as she explained the relationship between the Doctor and the Master, those old frenemies. Steven Moffat interestingly described their dynamic as "a friendship between a vegetarian and a hunter," with Gomez chiming in that the characters "both kill a lot of people. He feels bad about it. I don't."
Moffat, of course, isn't giving up any details about the role Missy will play in Season 9, but he teased her entrance a bit.
Steven Moffat: "The way Missy comes back into the Doctor's life is something you probably wouldn't predict." #SDCC #DoctorWho

— anglophenia (@anglophenia) July 9, 2015
He did say that Missy as the Master quite eloquently expresses his thoughts on the possibility of a female Doctor down the line.
Steven Moffat on the possibility of a female Doctor: "points to Michelle* "If you read the subtext, you'll know how I feel." #SDCC

— anglophenia (@anglophenia) July 9, 2015
Watch some more moments from the 2015 Doctor Who Comic-Con panel in Hall H:
See more:
The Trailer For 'Doctor Who' Season Nine Is Here
Scott, Cumberbatch, and Gatiss Excuse Themselves From Comic-Con
Sneak Peek at 'Sherlock' Victorian Special
Read More
Filed Under: