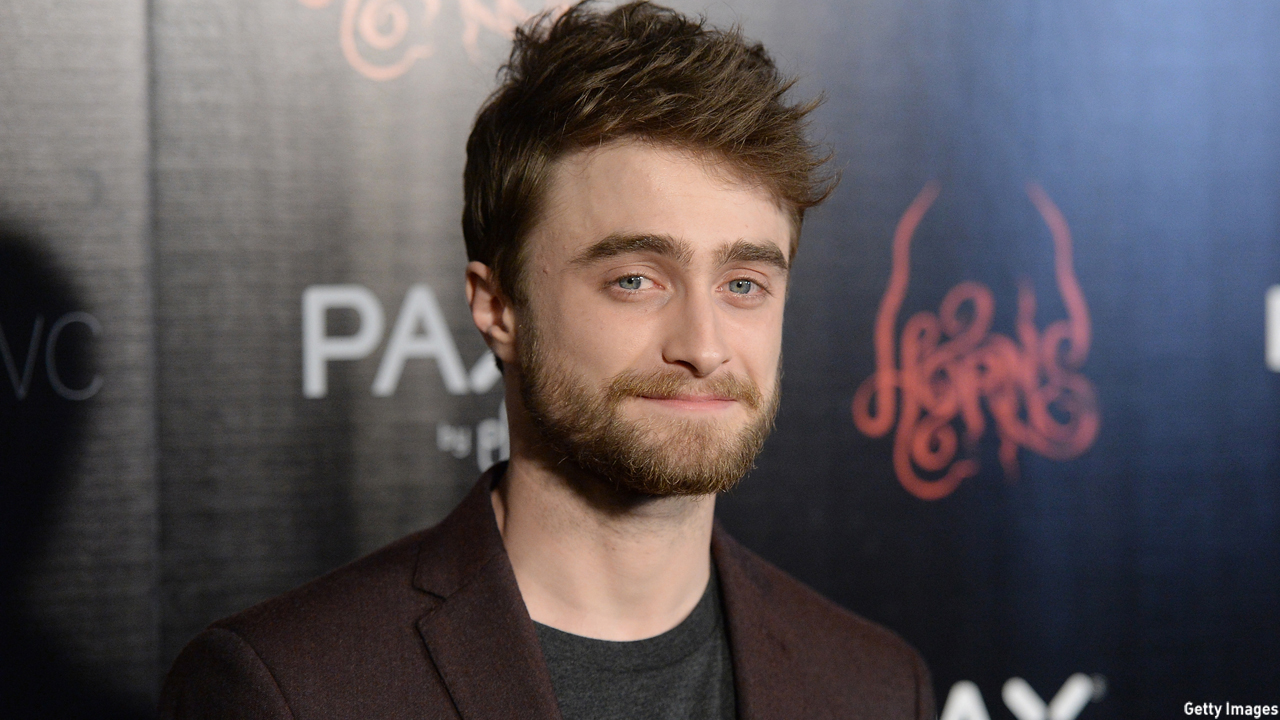 Daniel Radcliffe has been on a roll, taking over the internet with one good-humored moment after another. With today (July 23) being his birthday, he's turning 26, we thought it called for us to highlight 10 occasions the internet was completely enchanted by the British actor:
1. When Daniel Took on a Day Job 
We expect the movie making business pays well, but it doesn't hurt to have a backup plan. Daniel swung by Nylon Magazine's offices for a media interview, but while he was there he took a seat behind the receptionist desk.
2. The First Time We Saw Him Rap
He may not be cut out for the stresses of 9-to-5 work, but good thing he can rap. We were pleasantly surprised when Daniel busted out with Blackalicious' "Alphabet Aerobics" on The Tonight Show with Jimmy Fallon. 
3. The Second Time We Saw Him Rap
Apparently he was bit by the rapping bug, because he can't get enough of it. He and his girlfriend Erin Darke were spotted rapping Eminem's "The Real Slim Shady" at karaoke night at a bar in California.
4. When He Turned Up at the Harry Potter Museum
Daniel made a visit to the Harry Potter Museum at the Warner Brothers Studios in Burbank, CA, which is also home to Conan O'Brien's late night show. Daniel relayed the story to Conan while on his chat show.
5. The Time He Sang the Periodic Table 
He was so impressed by American singer-songwriter Tom Lehrer, who wrote "The Elements" song, that Daniel attempted the song when appearing on The Graham Norton Show. The song includes all of the chemical elements from the Periodic Table.
6. When He Chatted Up the Internet

He starred in the romantic comedy What If in 2013. The role inspired him to try out his cheesy pick-up lines, speaking into the camera, like, "Do you have a map? Because I just got lost in your eyes."
7. Again, He Took on a Day Job 
Daniel Radcliffe walking 12 dogs while smoking. (Via Reddit) pic.twitter.com/7lPISAXw2p

— Google Facts (@GoogleFacts) July 1, 2014
Daniel was spotted in NYC with 12 dogs strapped to his body. At the time, we thought it was for a role, but now we're not quite sure. Again, if he decides to retire from acting, he has another backup job.
8. When His Hair Extensions Stole the Show
Daniel donned hair extensions for his role of Igor in the forthcoming film Victor Frankenstein, starring opposite James McAvoy. He stopped by The Graham Norton Show, where he took one on the chin for his chin-length locks.
9. When He Tried to Impress His Girlfriend


The British actor is surprisingly candid about his dating life. In the above clip he shares a funny story about how he tried to impress his girlfriend by flying from London to NYC, but it didn't pan out as expected.
10. Daniel Just Being Daniel 
Mr. Daniel Radcliffe gave us the 411 on how to be Daniel Radcliffe in the above clip from the U.K.-based YouTube comedy channel Bad Teeth.
Happy Birthday Daniel!
See More:
Happy Birthday, David Tennant! 10 Great Tenth Doctor Moments
'Doctor Who's Day Roundup: Happy Birthday, Peter Capaldi!
Prince George Turns Two: His Past Year in Photos
Read More
Filed Under: