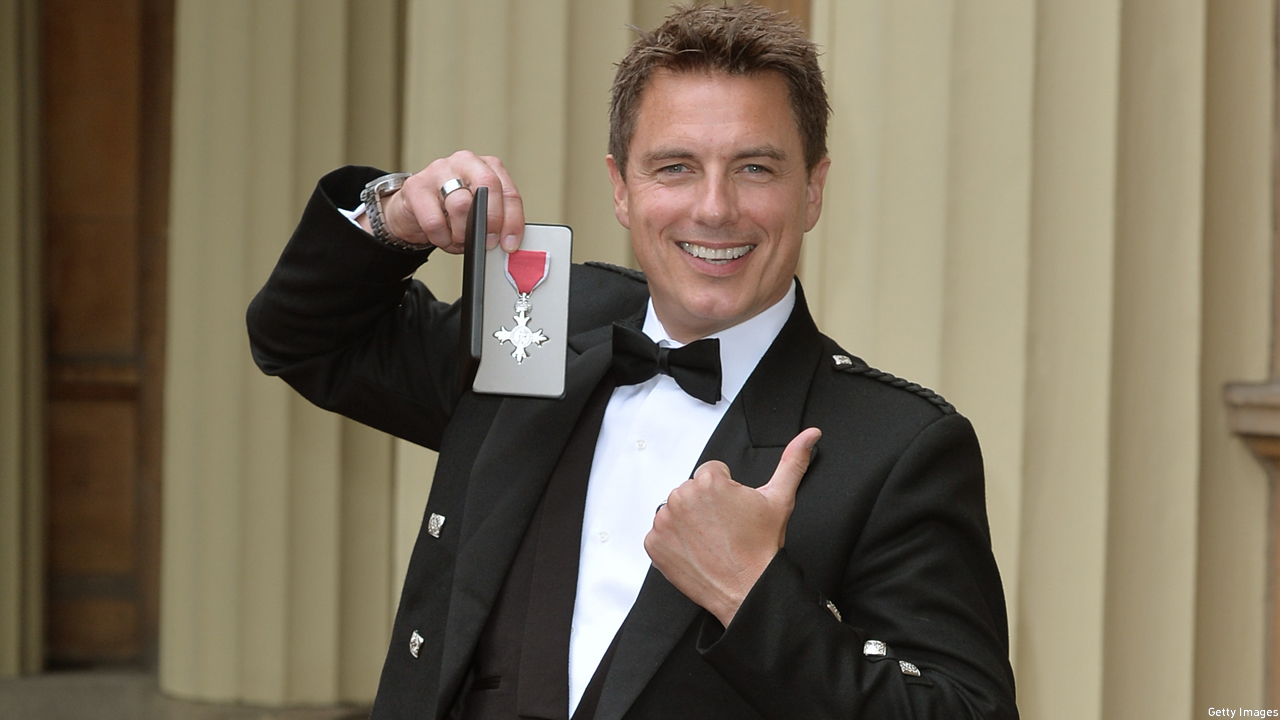 Pinning John Barrowman down (not like that) to just 10 memorable encounters (or that) is no mean feat. He's got so many strings to his bow (so to speak) that just sifting through his archive of saucy experiences is practically a full-time job.
Here are, then, 10 things John Barrowman has done that only he could possibly get away with. As such, some of these clips are a little near-the-knuckle, although none are outright NSFW:
The prank he pulled on the Arrow set
If you put John in front of an audience, it's not always clear what is going to happen. For example, at this panel where John is explaining how he first came to be involved in the comic book adaptation Arrow, who could honestly say they were prepared for a story that begins with a contractual negotiation and ends with an intimate assault on the body of Stephen Amell? Not that it's the biggest shock in the world either, but still.
"I've got cake…"
Here's a brief moment from Doctor Who Confidential in which John explains his relationship with David Tennant as being one in which a serious, stern man is given license to muck about by a frivolous and silly man, clutching a box full of cake.
THAT kiss
We all know that John is a man for whom nerdish passions run deep. So when an opportunity came up to kiss David Tennant in front of a roomful of screaming Doctor Who fans, during a panel with David and Russell T Davies at Comic-Con '09, he not only overreacted beautifully, you could tell he was also kissing the Doctor for almost everyone in that room.
As an aside, here's a view from the other side of that kiss. David Tennant made a series of what I am reluctant to call Barrowman wisecracks (given the circumstances) when he hosted Never Mind the Buzzcocks:
Miniature Dalek invasion
Tumblr is littered with fantastic pictures of John at various conventions, taking a very (very) hands-on approach to interacting with fans of Doctor Who, Torchwood and Arrow. This is probably the best example, showing the after-effects of an attack from a tiny-weeny Dalek that once again leaves Captain Jack breathless.
Revealing his inner nerd
This is particularly cute too, and a perfect illustration of John's nerd credentials. What do you say when you meet George Lucas, even if you are Captain Jack Harkness? Well nothing cool, that's for sure.
The invasion of River Song
Another wondrous convention moment occurred in March this year when John's panel was interrupted by Alex Kingston, prompting John to drop to all fours, Alex to sit on his back like she was riding a horse, and then he serenaded her with Cole Porter's "You'd Be So Easy To Love" from Anything Goes.
Too much sassy
Not that you have to be famous to get a reaction, as this particularly sassy exchange from Dallas Comic-Con in February serves to prove. Oh and as a note for anyone offering a Q at future Q&As and hoping to maintain control of the situation, the line "Listen, stop being sexy" is never going to work.
Losing his hearing for a day
As part of a campaign for Hearing Dogs for Deaf People, John agreed to have his ears blocked for a day so he could experience something of how the world works for people with hearing impairments. He also wrote a blog about it, in which he described his day in quite emotional terms, particularly as close friends and colleagues began to react differently as he struggled to keep the lines of communication open.
"The Doctor and I"
And while we're on John's musical capabilities, who else would have the brass neck to change the words to "The Wizard and I" from the musical Wicked so that they're a little more Whovian?
Not sure if I can get on board with "Like Oods he's so small-minded," mind you.
The Nerdistgasm
Then there was his piggyback ride around Meltdown Comics, the comic shop that is the hub and home of the Nerdist.
And is it just me, or is Chris Hardwick doing the "BARROWMAN!" raised fist to heaven at the very end there?
See more:
John Barrowman Set to Executive Produce and Star in TV Miniseries 'The 49th Key'
Daniel Day-Lewis, Maggie Smith and John Barrowman Honored by the Queen
Wait, Wait, John Barrowman's New Show Is Called WHAT!?
Life Outside The TARDIS: John Barrowman
Read More
Filed Under: