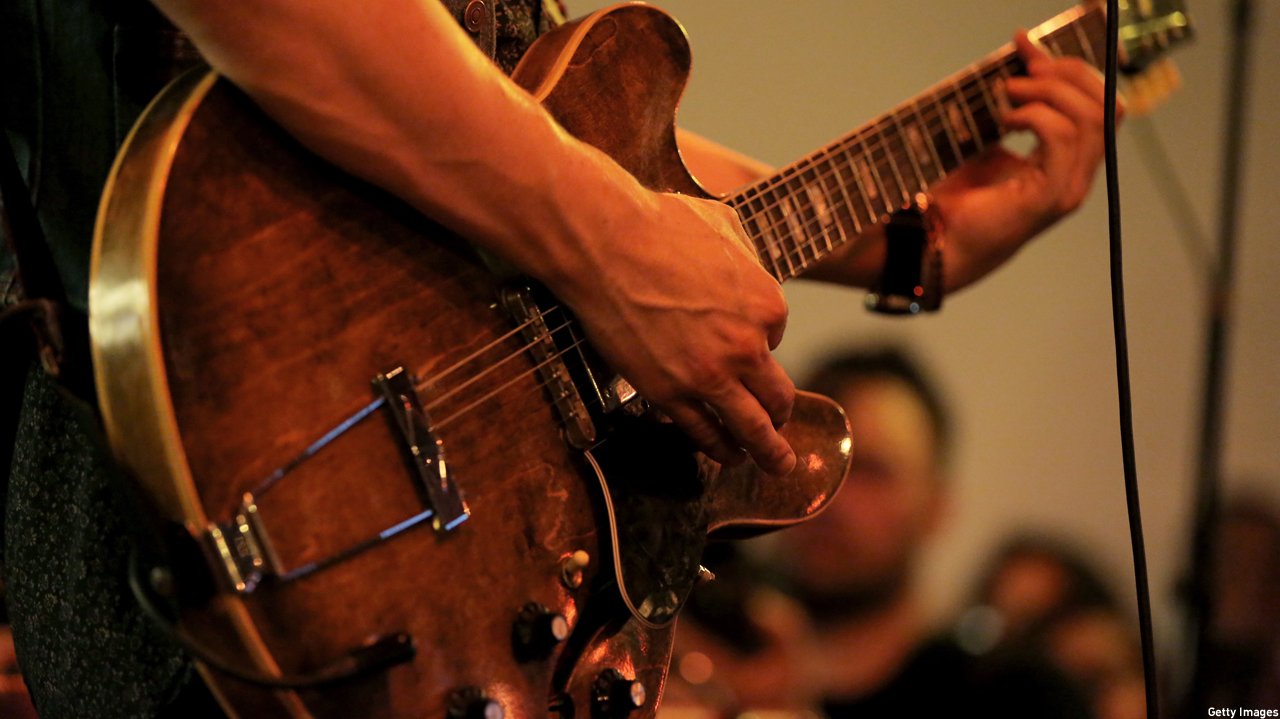 Musicians, particularly those of a hipster disposition, we have an invaluable service to offer as you gather together into your various groups and ensembles. Rather than pinching the stage names of other performers and making your own, based on bad puns—like Joanna Gruesome, Ringo Deathstarr, Dananananaykroyd and Ryan Adams*—why not trawl through some of the nastiest slang insults of the past instead?
There are so many to choose from too. Here's a selection, to get you started, and all we ask in return is a credit on your first critically-adored album:
Bedswerver
Shakespeare coined the phrase to describe an adulterer, and it's got a brilliant swashbuckling (or, more accurately, beltbuckling) undercurrent to it. Picture four greasy rock dudes (of either gender) taking to the stage, strapping on Les Pauls and stamping down hard on a fuzzbox in front of a Stonehenge of Marshalls. "How ya doin, Cincinatti?" asks the lanky androgyne in the middle, "we are Bedswerver, and you are about to get ROCKED! WAN CHOO FREE FOWAH…"
Fopdoodle
Well that's James Blunt to a tee, isn't it? Or any well-to-do singer-songwriter with the unfortunate habit of hitting their guitar while playing it, as if friends with percussion instruments are an alien concept. The word was used to describe someone of little significance, which seems a little harsh in this context, but as a descriptive term for a particular type of performer, it's bang on the money.
Gobermouch
In old Irish slang, a gobermouch was someone with an unhealthy interest in the affairs of other people, the sort of person the Brits would call a nosey parker. Taken into a musical context, and you could easily see the name being applied to either a snarky singer-songwriter or rapper with a poor grasp of interpersonal boundaries and a thirst for saying the unsayable.
Lubberwort
One for the specialists here. A lubberwort was a mythical vegetable, well-known in the 16th century for causing slow-wittedness or sleep. Then the term just became used to describe someone who appeared to be either slow-witted or dozy. Surely there's a drone metal or stoner rock band out there that could use such a useful name?
Muck-spout
Similarly, this would suit either a capricious and mischievous rapper (said out loud, it does rather sound like someone saying "mucks about," which seems apt) or the dirtiest, sleaziest of grotty metal bands. And it's historically fitting too, as a muck-spout was someone with a bad case of verbal diarrhea, the kind that is riddled with scattershot cuss explosions too.
Mumblecrust
A shy, skinny young man in a cardigan takes to the stage. He holds a badly beaten-up guitar in one hand and a similarly distressed laptop in the other. He steadfastly refuses to look the audience in the eye as he plugs both items into the same tatty amp and turns to face the mic. "H'lo we're mumblecrust," he intones at speed, "this is called 'DreamWakeSleeper,'" and then he hits the space bar, oblivious to his band name's origins as a toothless beggar character from medieval comedic theater.
Rakefire
Rake is a cool word, and so is fire; so it's a little disconcerting to find out that a rakefire was originally someone so uncool that they would outstay their welcome in someone's house until long after the fire had burned down to just the last few embers. Don't let this be your band, unless you want to take pride in re-stoking a fire most people would leave for dead. Ska revivalists, you are welcome.
Scobberlotcher
The scobberlotcher—derived from scobberloit, an old English slang term for time off work—is a workshy layabout with no clear direction or appetite for hard graft. Surely the ultimate band name for the ultimate weekend jam band that, like, just play what they feel and don't want to make this, y'know, a career or anything.
Smell-feast
Appearing in support of Scobberlotcher whenever they can get themselves together enough to leave the house. Smell-feast are also very aptly named, being both a treat for the eyes and nostrils, but also fulfilling the term's original intention as a description of a freeloader who only turns up at a party if there's free food and booze.
Snoutband
These guys (and for once it is just guys) have been playing together since they met at work 10 years ago. They're either all into the Allman Brothers or bluegrass or Frank Zappa, and they all grew those beards—tidy, no mustache wax—before it became fashionable, thank you very much. They choose to name themselves Snoutband after a guy at work who can't stop interrupting people in order to correct them or pick an argument. The group is their release from office politics.
Stampcrab
Jessica Evans, Stampcrab's lead singer, is a formidable stage presence. At almost six foot in her KISS-level heels, she looms over the audience, glaring at everyone and silently daring them to meet her gaze. She has musical scores to settle with the world and is supported by a black-clad group of equally sullen women clutching the least-girly guitars they could lay their hands on. They mutually agreed on the name because it refers to someone who is clumsy, a klutz. They decided to make their Stampcrab an angry one, as their sound may not be pin sharp, but by word they leave a deep impression.
And one extra one for Sherlock fans: cumberworld (or cumberground) is a term for someone who is useless, a feckless idiot. But wouldn't it do rather well for a theme park devoted to all things Benedict-ish?
Note: Thanks to Mental Floss for their recent dip into the ever-reliable big book of fantastic old swear words.
* Yes, we know.
See more:
5 Words the British Got From India
10 American Words You'll Never Hear a British Person Say
Why Brits Spell Words Like 'Realize' With an 'S'
4 Words That Don't Work Written Down (And One You Can't Say Out Loud)
Read More
Filed Under: