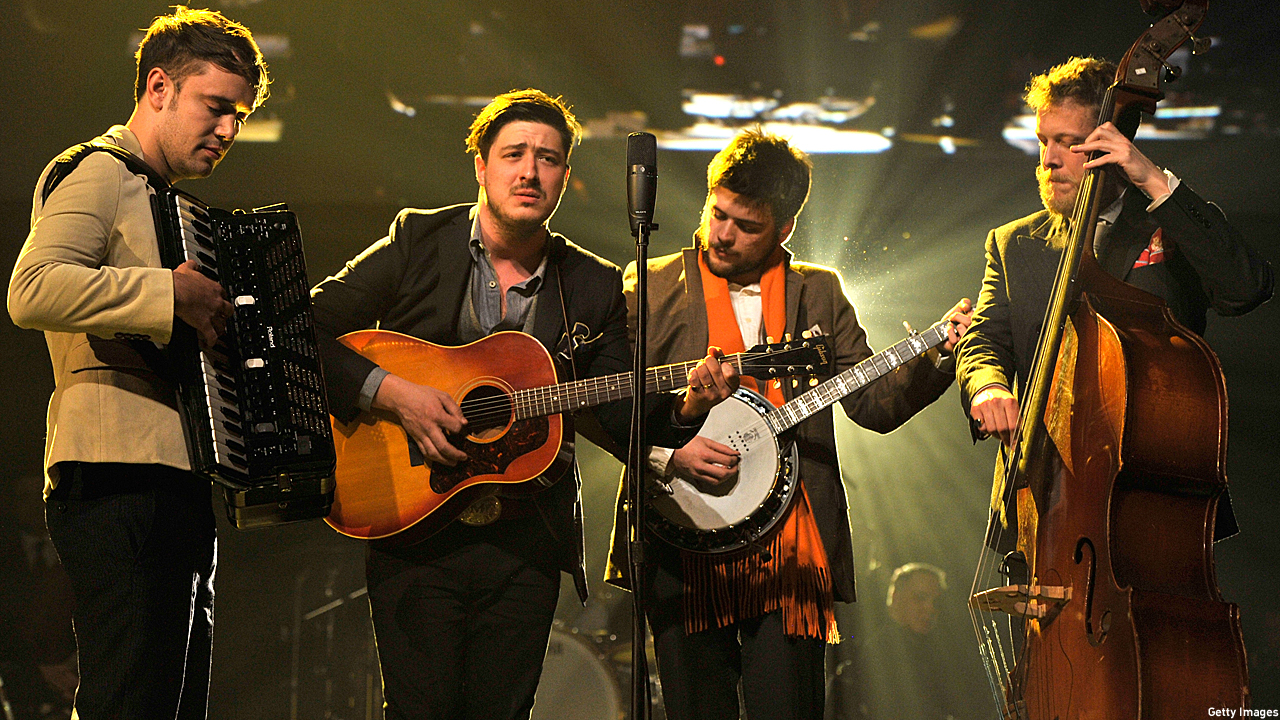 The rules of this game are very simple. We're setting up an instant pantheon, one that stretches back over the entire timeline of Anglophenia, from its birth in 2005 to the article of dazzling wonderment you see before you today.
All the bands mentioned in this list released their first music in the period from 2005 to 2015. They may have been gigging or forming before that, but that's OK, some flowers take longer to blossom than others.
So, let's kick off with something rowdy:
Royal Blood
You want riffs? Mike Kerr and Ben Thatcher have got 'em. In fact, that's pretty much the essence of the band, considering there's only the two of them, one bass (hooked up to several amps and some pitch-shifting pedals and whatnot) and drum kit. It's like the essence of Sabbath, Zeppelin and all the other first wave British heavy metal bands, only shorn of the guitar solos and lyrics about Mordor.
Arctic Monkeys
The first band to come out of the post-Libertines guttersnipe explosion with better lyrics, better songs and less questionable personal habits than Pete Doherty, Alex Turner's suave gang now wear very well their status as British indie rock's bequiffed lotharios and purveyors of dark magic. Theirs is a supple music, steely beats under velvet production and the scathing purr of Alex himself.
Chvrches
It's not all guitar rock and Beatle haircuts in British music, y'know. Chvrches have resurrected the fine old tradition of melancholy electropop (which is different from electronica or EDM because of feelings). And the band's singer Lauren Mayberry has dealt with her experiences of sexism within the music business with admirable candor, strength and lack of compromise. They may sound melancholy, but they're fierce creatures.
The Horrors
What a strange ride it has been watching this lot emerge from their monochrome,
Edward Gorey cocoon as a gothic garage rock band and then develop into a huge and glistening butterfly of psychedelic hues. Their organist now plays bass, their bassist is on keyboards, the polka-dot shirts and Victorian tailoring have been packed away, and they've quietly got on with giving people the shivers for reasons other than their name and how they look.
Foals
Foals are a band who should be too cerebral to enjoy on a primal level, as they can often be found thinking very hard about the process of making music, an approach that can lead lesser bands to forget to put the fun in. And yet their gigs are wild and tribal affairs, in which band and audience often find themselves entwined, and there is a marked absence of chin-stroking of any sort. Go figure (or in this case, don't).
Everything Everything
Meanwhile, the EvEvs have spent so long considering and analyzing every aspect of their music that their lyrics have become enormously condensed buckshot cartridges of ideas. Each line has a political, sociological or personal resonance, but you'd need a huge CliffsNotes volume for every album to keep up with them all, and even then, singer Jonathan Higgs garbles as many words as he enunciates. It's best to just let it all wash over you, then decide your own interpretation afterwards.
Mumford and Sons
We could scarcely leave out the most successful new British band of the past 10 years, now could we? The Mumfs were the pivotal act of a folk revival that changed the way pop music, dance music and rock music sounded over the past five years. With the simple addition of a pounding 4/4 beat and a banjo, they made everything sound like bluegrass. They also provided muscular backing for Laura Marling, set up a record label to release tunes by fellow travelers, and Marcus Mumford provided the musical voice of the title character in the Coen Brothers movie Inside Llewyn Davis. And then they went indie rock. Whether this turns out to have been a good idea or not remains to be seen, but you can't deny their influence thus far.
The Vaccines
Another band who've taken a sudden musical swerve with their third album, the Vaccines set out their stall early with a heavily reverberated update of the basic Ramones template—'60s girl group melodies sung over rowdy guitars. Their songs were about teenage idols, about post-breakup sex and about going steady, not the sort of thing you'd get from, say, Muse. And while the music press has always been a little sniffy about their populist tendencies, this has impaired their popularity in no sense whatsoever.
Savages
Whether the band themselves act like savages is neither here nor there, it's those songs—brutal and short and channeling the primal howl of post-punkers like Siouxsie and the Banshees—that truly earn the name. Their lyrics are often nuggets of abstracted experience, twisting the personal and political into angry barbs to prod at the flesh behind a broken mirror of thrilling guitar noise. As such, they were never going to be Top 40 chart stars, which means they remain a very personal thrill.
Florence + the Machine 
It comes to something that Florence could stand out as a throwback to a mythical, heroic era in the midst of a full-blown folk revival, but her banshee wail was always too strong to be adequately supported by a gently plucked acoustic guitar. Once you've got Florence, you NEED a machine of industrial proportions, or it's the musical equivalent of sticking your face in the exhaust from a jet engine. Small wonder she was chosen to replace the battle-damaged Foo Fighters at this year's Glastonbury festival. Who else could blow the roof off an open air venue?
And let's not forget honorable mentions for La Roux, the Young Knives, Los Campesinos!, the XX, These New Puritans, Wild Beasts, Wolf Alice, Metronomy and the Maccabees.
See more:
10 British Actors Trying Their Hands at Pop Music
Five Great British Musical Treats For Bastille Fans
Five British Music Stars That Should Be Knighted
Down With The Gentrification Of Pop Music!
Read More
Filed Under: