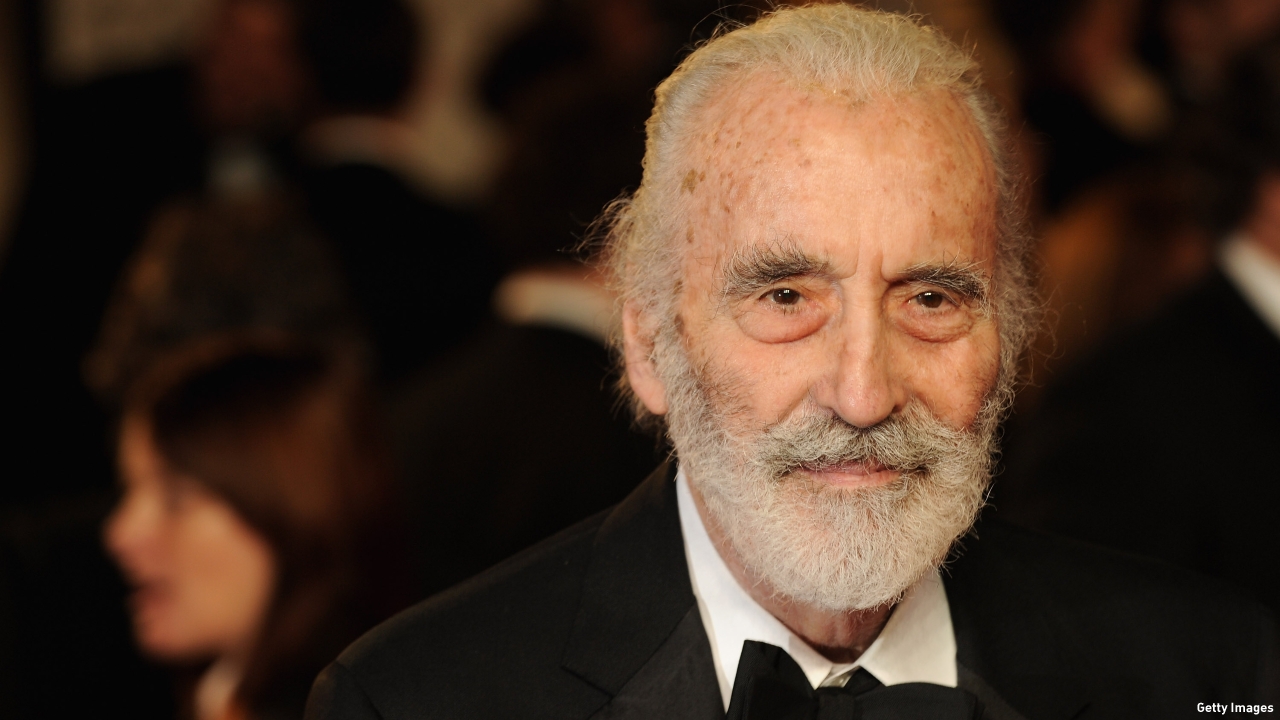 It's difficult to know where to start with Sir Christopher Lee, who has passed away at the age of 93. Unquestionably one of the U.K.'s greatest screen actors, his imposing physical presence and unique baritone voice meant that just about every role he took on—and there were many—was unforgettable.
Born in London in 1922, Lee discovered a love of acting at school in Switzerland, but didn't pursue a career in it until after the Second World War, in which he fought first in the Royal Air Force, and then as a member of the secretive Special Forces (he refused in later years to be drawn publicly on exactly what operations he was involved with in the latter capacity.)
His first film role was in 1948's Corridor of Mirrors, but it was in the 1950s that he broke out as a true star, thanks to his performances in the famous Hammer Films series of horror movies. The first was in 1957, where he played Frankenstein's monster alongside Peter Cushing, beginning a two-decade stint as regular colleagues and close friends. But it was in 1958, with his starring performance as Dracula, that he found the role that would make his name.
Outside of Hammer, his most notable British film role was in The Wicker Man in 1973, and four years afterwards he made the move over to Hollywood, keen to avoid being typecast in horror roles. During this time, he appeared in such diverse films as Airport '77, 1941, Police Academy: Mission to Moscow and Gremlins 2. And after the turn of the century, he became known to a fresh, wider audience thanks to his performances as Saruman in the Lord of the Rings trilogy, and Count Dooku in the Star Wars prequels. He also developed a strong working relationship with Tim Burton, appearing in five films in total, the last being 2012's Dark Shadows.
Aside from his film and television work, Lee had also branched out into the unlikely field of gothic heavy metal, releasing two albums—the latest being Charlemagne: The Omens of Death in 2013. He never entertained thoughts of retirement, and only last month it was reported that he had signed up to appear in a Danish drama titled The 11th. He was happily married to his wife Birgit Kroencke for over fifty years; and once famously replied, when asked the secret of a successful marriage, "Marry someone wonderful."
Here are just five of the standout roles from a truly unforgettable career.
1. Dracula (1958)
As the titular Count, Lee even managed to overshadow Hammer's most prominent star, Peter Cushing—and created an indelible association with the role that arguably challenges even that of the great Bela Lugosi. In all, Lee would appear as Dracula seven times for Hammer—and once independently in the 1970 Jerry Lewis comedy One More Time—although he became unhappy with the diminishing returns offered by the series as it went on.
2. The Wicker Man (1973)
Although Lee would always insist, as in the interview above, that The Wicker Man was not a horror movie, it still stands as one of the most genuinely terrifying films of all time. As Lord Summerisle, Lee cuts an incredibly imposing, imperious figure, at once charming and chilling in equal measure.
3. The Man With The Golden Gun (1974)
Lee had an uncanny knack for playing roles that somehow had a connection to his own life: he would once play the author M.R. James, who had been present at his (failed) interview to attend Eton College; and he was also once introduced to the assassins of Grigori Rasputin, another figure he would eventually play. There was also a neatness to his finally getting to appear in a James Bond film, as he was a step-cousin of the original Bond author Ian Fleming. In The Man With The Golden Gun, Lee was fantastically charming as Scaramanga and was probably the series' most memorable villain after Blofeld and Goldfinger.
4. The Lord of the Rings trilogy (2001-2003)
Is there really any finer sight in movies than watching Sir Christopher Lee and Sir Ian McKellen face off against one another? Frankly, the entire Lord of the Rings series could just have been conversations between Saruman and Gandalf, and it still would have been worth every penny. The trilogy also gave us perhaps the finest Lee-related anecdote, relayed by Peter Jackson on the DVD director's commentary:
"When I was shooting the stabbing shot with Christopher, I was explaining to him what he should do, as a director would. And he says, 'Peter, have you ever heard the sound a man makes when he's stabbed in the back?' And I said, 'Um, no.' And he says 'Well, I have, and I know what to do.'"
5. Terry Pratchett's The Colour of Magic (2008)
Lee's voice was perhaps the most striking thing about a generally very striking man, and nowhere was it put to better use than as the voice of Terry Pratchett's Death in several adaptations of the Discworld novels. He first played the character in two animated series—the first ever Pratchett adaptations—based on Soul Music and Wyrd Sisters in 1997. When the series moved into live-action territory, Ian Richardson was chosen to play the part in 2006's Hogfather; however, following Richardson's passing, Lee returned to the role in 2008 in The Colour of Magic. He gave as apt a performance as Pratchett fans could ever have hoped for.
See more:
Sir Christopher Lee's Metal Christmas is Upon Us Once More
10 Famous Brits Who Were Heroes In World War II
British Actors Populate Middle-Earth in 'The Hobbit'
Read More
Filed Under: