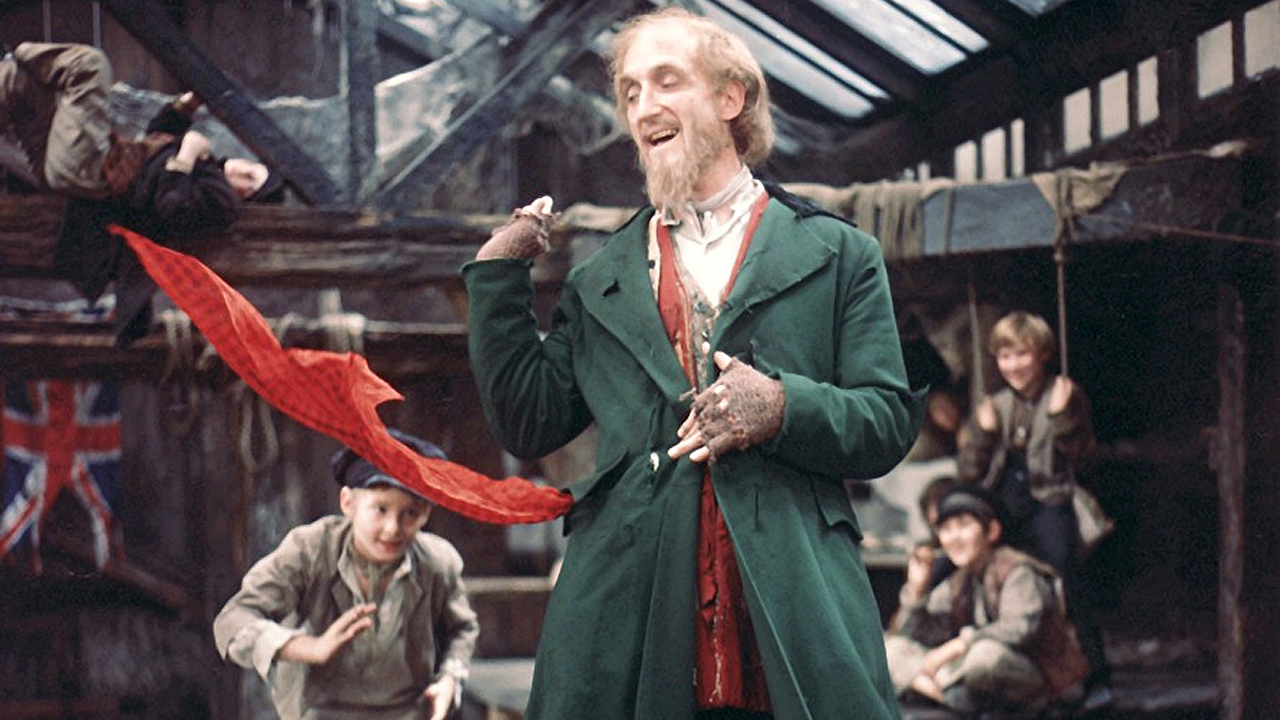 When a beloved actor passes, it's always tempting to point at the length and breadth of their career as proof of their cultural worth. And in the case of Ron Moody, who has passed away at the age of 91, there are no shortage of notable roles to discuss.
But really, the part that shines brightest and will live longest in the popular imagination is that of Fagin in the movie adaptation of Lionel Bart's Oliver!, which was, of course, the stage musical adaptation of Charles Dickens's Oliver Twist.
It's a beautiful, sinewy performance, playing with some very London-centric racial stereotypes. Ron and Lionel were both from London Jewish families and aware of the tension between communities. Ron from north London and Lionel in the same East End areas where Fagin once reigned. At least one of Fagin's songs is partially based on klezmer music (of which more later). In any case, their Fagin is also sympathetic, multi-layered and affecting. Bill Sykes (played by Oliver Reed) is clearly a wrong 'un, but Fagin is harder to pin down. Ron's sparkling eyes and deft gesticulations make him an enormously appealing character to watch, even if you wouldn't trust him with your precious valuables.
So which clip to choose to demonstrate just why he was so special? There's a lot to be said for "You've Got To Pick A Pocket Or Two", the song that showcases Fagin's charming and playful nature, his amoral stance and ready frying pan of sausages acting as catnip for young boys with no prospects on the streets of Victorian London.
But really, if we're talking about a defining moment in a defining role in a career that was not short of peaks, it has to be "Reviewing the Situation." All is lost, it's time for Fagin to run away and start again, so what are the options for a former child gang boss with his box of treasure? The answers, while evidence of his mean worldview, are surprisingly moving:
Speaking to the Guardian about this very moment in 2012, he said: "My proudest moment was the number Reviewing the Situation. I asked them to film it on the steps and I'd dance first slowly up, then swiftly back down them, torn between the safety of the kitchen and the dangers of the world outside.
"I suspect that, because I gave my all to the role, and because I was working with such a fine team of people, it inhibited my future career. I turned down quite a few offers afterwards because I thought the people didn't come close to those I'd worked with on Oliver! – which in retrospect was a mistake."
And how's this for a tantalizing thought to end on. One of the roles Ron turned down, whether for that reason or having other work already, was that of the Third Doctor in Doctor Who, when Patrick Troughton decided to move on in 1969.
But even without that, and with everything else he went on to do, Fagin remains, as he told BBC News, "The part of a lifetime."
See more:
Five Ways You Can Celebrate Charles Dickens' 200th Birthday
Fraser's Phrases: "What The Dickens"
Read More
Filed Under: