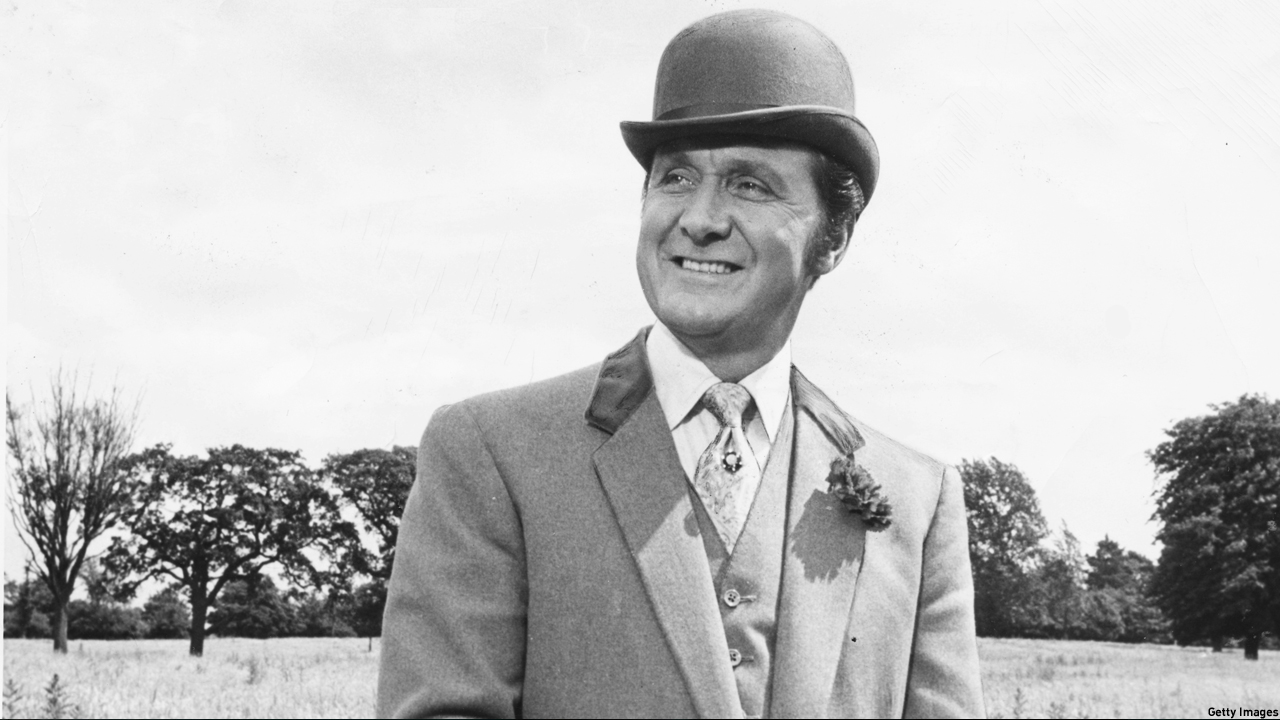 Patrick Macnee, the actor best known to British audience as the debonair British secret agent John Steed in the TV series The Avengers, has died at the age of 93.
Ever the gentleman actor, Patrick's career began early, playing roles in the West End during his teens, including a part in Laurence Olivier's movie adaptation of Hamlet. But it was the arrival in 1961 of The Avengers that made him a household name. His character Steed—a very upper crust sort of spy—famously never used a gun, but used his umbrella as his secret weapon. In the gallery of extremely English heroes, Steed sits on the meeting point between James Bond and the Doctor in Doctor Who.
Which makes his appearance in the 1985 Bond movie A View To A Kill all the more fitting. The Avengers ran from 1961 to 1969, making stars of Patrick, Diana Rigg, Honor Blackman and Linda Thorson.
It was resurrected as The New Avengers in the 1970s, and did similar wonders for the careers of Joanna Lumley and Gareth Hunt, with Patrick as the unflappable Steed still taking center-stage throughout.
A skip through his IMDB profile shows that he always kept himself busy, with cameo appearances in such TV hits as Columbo, Dial M for Murder, Battlestar Galactica, The Littlest Hobo, The Love Boat, Murder She Wrote, Hart to Hart and Magnum P.I.. He played Sir Dennis Eton-Hogg, record-company boss in This Is Spinal Tap and he even popped up in the video to the Oasis song "Don't Look Back In Anger," playing a chauffeur driving a London taxi.
Tributes from former colleagues have been coming in at a fair rate, including Dame Diana Rigg, who said: "Patrick was a very dear man and I owe him a great deal".
Sir Roger Moore lead the Twitter tributes, saying:
So very sad to hear Pat MacNee has left us. We were mates from 1950s and I have so many happy memories of working with him. A true gent.

— Sir Roger Moore (@sirrogermoore) June 25, 2015
Morris Bright, chairman of Elstree Studios—home of The Avengers—said:
Saddened by passing of Patrick Macnee aged 93. Remembered at @ElstreeStudios for his valiant Steed in The Avengers. pic.twitter.com/yNlqlZtiT1

— Morris Bright (@Morris__Bright) June 25, 2015
Doctor Who scriptwriter Paul Cornell added:
Patrick Macnee's work was subtle, wry, funny on so many levels. He could lead a cast, he could hang back to let Diana Rigg be Diana Rigg.

— Paul_Cornell (@Paul_Cornell) June 25, 2015
And Mark Gatiss was speechless:
— Mark Gatiss (@Markgatiss) June 25, 2015
One last thing: In 1964, at the height of the Avengers' popularity, Patrick and Diana Rigg even released a novelty pop song, the effervescent (and more than a little bit daffy) "Kinky Boots"
It was not a hit at first, but managed to get to No.5 on the British singles charts in 1990, after strong support from the BBC Radio 1 DJ Simon Mayo. It's by no means a swansong, but as an example of a journeyman actor's willingness to say yes to new opportunities, it's hard to beat.
See more:
Iconic British Things Part 1: The Bowler Hat
The Early Bond Girls: Where Are They Now?
Dame Diana Rigg and Daughter Rachael Stirling Set for 'Doctor Who'
WATCH: 'Absolutely Fabulous' Movie Has a Start Date
Read More
Filed Under: