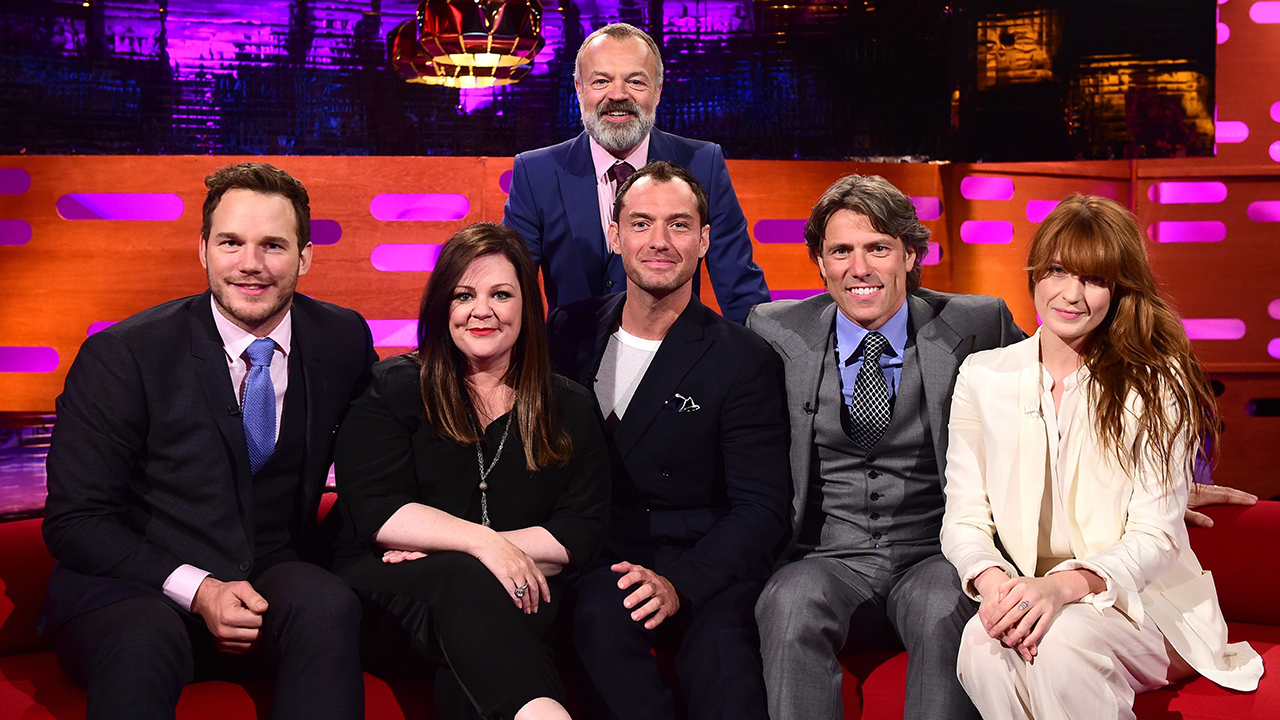 This week's episode of The Graham Norton Show catches up with American actress Melissa McCarthy, who stars in the Brit-centric action comedy Spy, hitting U.S. theaters this Friday (June 5). Her English Spy co-star Jude Law is also in Graham's studio for this week's episode, where he'll be joined by American actor Chris Pratt and British comedian John Bishop, with U.K. group Florence + the Machine performing a single from their new album How Big, How Blue, How Beautiful.
McCarthy reunites with her Bridesmaids director Paul Feig, and the early reviews are coming in strong. She portrays a CIA analyst who wants to work out in the field. The laugh-out-loud trailer features Hart as the lovable best friend, and Law and Jason Statham as stealthy secret agents.
While McCarthy has hit her stride in Hollywood as a leading actress, that wasn't always the case. Graham has somehow dug up some disastrous early "character" headshots for McCarthy. She tells us the story behind how these came to be in the below clip:
Pratt is on the couch chatting about his next film Jurassic World. But, like McCarthy, he takes a walk down memory lane, telling us about filming Guardians of the Galaxy in London. His wife Anna Faris (The House Bunny) traveled to England to visit him, and they both fell in love with the British reality show TOWIE (The Only Way is Essex). Pratt is a little shy to do an English accent in front of a live British audience, but he gives it a go:
On the other hand, comedian John Bishop isn't shy at all, hosting his new variety show The John Bishop Show on BBC1. He may not be well known to Americans, but he's been working as a full-time comedian since 2006 and even wrote a memoir entitled How Did All This Happen? The book details how Bishop had a comfortable job in marketing, a house in Manchester, and at the age of 40, rather than buying a sports car to boost his ego, he got on stage doing stand-up. And, from the looks of the below trailer, it worked:
Florence Welch provides an amazing ending to an amazing show, performing "Ship to Wreck" with her band Florence + the Machine. After the performance, she joins Graham and his guests on the couch, where she announces that she's more nervous to sit on the couch than to perform live. Of course, Bishop being a comedian, responds, "You must have a couch?" She clarifies that it's not just any sofa she's nervous about sitting on, but more specifically Graham's couch on the telly.
She's more at ease singing, as seen in the video for "Ship to Wreck" below:
Even though she may have been nervous, she holds her own and is a wonderful guest on the couch. See her and the other guests this Saturday at 10/9c.
Do you have a favorite Graham Norton Show episode to date? 
See More: 
Jessica Hynes: The Brit on Graham Norton's Couch
Michael McIntyre: The Brit on Graham Norton's Couch
Olly Murs: The Brit on Graham Norton's Couch
Read More
Filed Under: