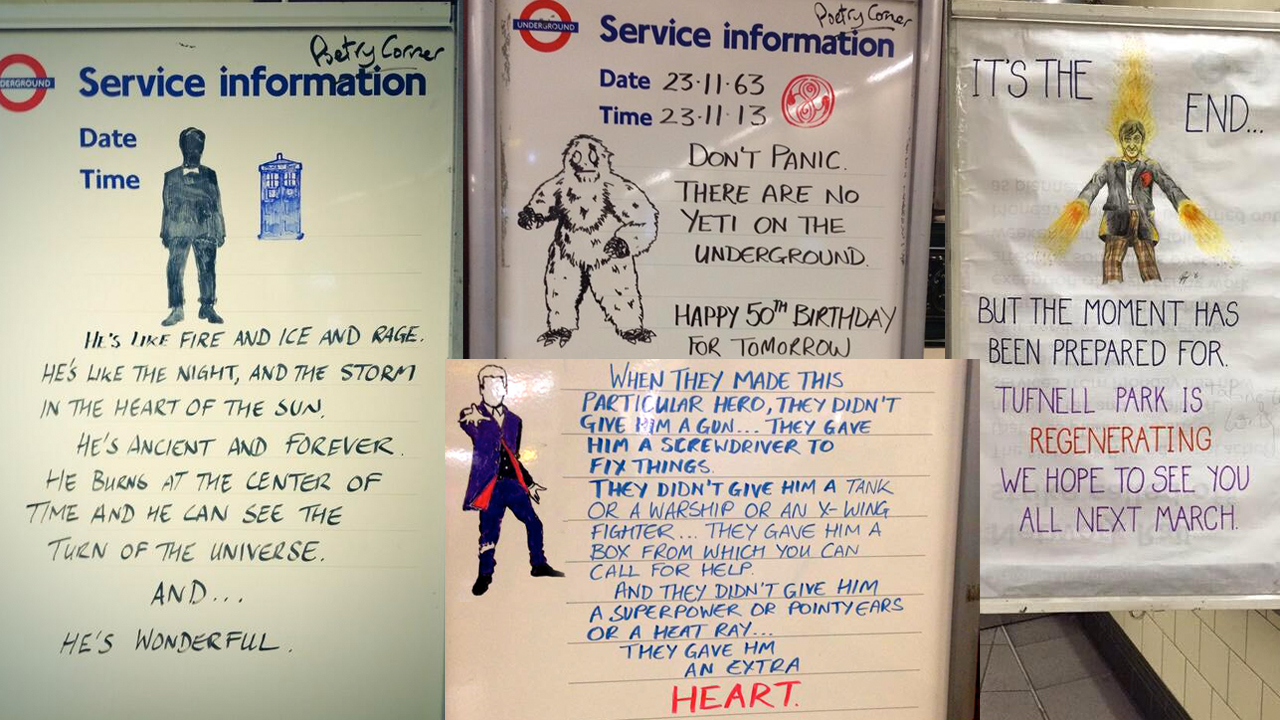 Greetings, and welcome to Doctor Who's Day, a cornucopia of chronological concerns devoted to all things Doctor and Who. And before we get into this week's selection, we begin with a delightful puzzle.
Someone at the Tufnell Park station of the London Underground is not just a Whovian but an artist too. When the Doctor Who World Tour started in August last year, this appeared on their information board: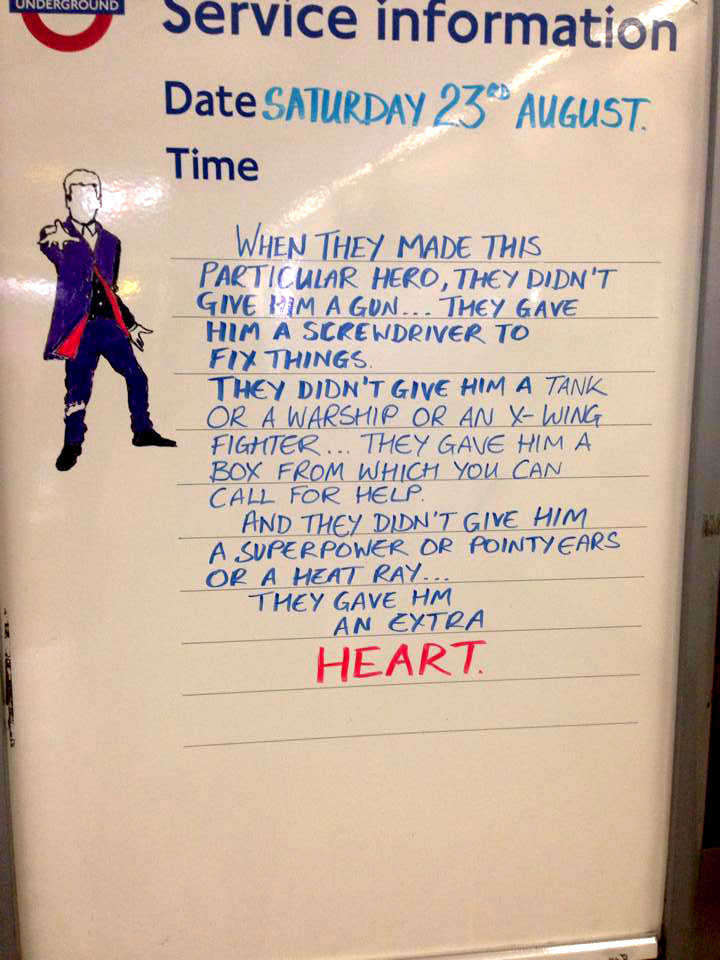 Some eight months previously, shortly after the Eleventh Doctor regenerated, there was this:
"@RoxaneGrantArt: #Doctorwho poetry and #artwork at Tufnell Park tube station this morning. pic.twitter.com/yb7aDwV1T7" cc @chevengur_

— Jackie (@Jackielaloca) January 8, 2014
And on the occasion of Doctor Who's 50th anniversary, this:
#DoctorWho RT @SummerRay: Thanks for the reassurance, Tufnell Park station. @TufnellParkLive pic.twitter.com/uvJRmrmGRg (via @Becchanalia)

— Irene Lavington (@biscuitweevil) November 22, 2013
So this week, as the station closes to prepare for refurbishment, it should come as no surprise to discover that this is how they chose to tell their passengers:
If you go down to T.Park today… pic.twitter.com/z2WktvjCJt

— Witty Leaks (@WittyLeaks) June 2, 2015
The identity of the secret scrawlers has yet to be revealed (and in a way it's better not to know) but it's important to state that their contribution has been both noted and appreciated. Keep up the good work!
Here's what else has been going on in space and time this week:
• The Doctor Who Festival is coming! It's a celebratory explanation of the way the show is made, and it will take place on November 13-15 2015 and will be attended by Peter Capaldi and Steven Moffat.
Steven said: "I can't believe we're going to give away our secrets! This is the closest you could possibly get to finding out what happens on set and how this magical show is put together."
And Peter added: "If having the world's favorite Time Lord back on screen every week isn't enough for you (and it's not for me) then the Doctor Who Festival in London is the place to be. I'll be heading there in November to join the fun and if it's anything like the 50th anniversary event, then prepare yourself for total Time Lord mania."
• Doctor Who: The Fan Show has entirely misunderstood the point of the Doctor Who Festival:
• More cast news for Season Nine, this time we welcome Peter Capaldi's old sparring partner Rebecca Front:
Work with Peter Capaldi again? In Doctor Who? Hell yeah…: Rebecca Front to Guest Star in Doctor Who http://t.co/ICNVFKaqNE

— Rebecca Front (@RebeccaFront) June 5, 2015
• Whatever the real story behind this picture may be, we approve:
I get up when I want except on Mondays when I get rudely awakened by the Zygons… Parklife! http://t.co/kqXGxYpWJu pic.twitter.com/tnQIItufxa

— Doctor Who Official (@bbcdoctorwho) June 8, 2015
• BBC America wishes to show your fan art at San Diego Comic-Con.
• Doctor Who: The Fan Show has been meeting cosplayers and wearing false eyebrows:
• What Doctor Who companions did next.
• Oi Time Lord! Can't you read? Keep off the grass!
• YouTuber Neon Visual has come up with a swooshier version of the current Doctor Who credits:
• Murray Gold's top 10 Doctor Who themes.
• Four Doctors, three companions and a five part comic book series:
• 10 of the best moments between the Doctor and his companion for Best Friends Day.
• Of course, if you go backwards in time it's called an Oyoy:
Maybe he was getting into practice for #NationalYoYoDay #DoctorWho http://t.co/uMjPhh3WQ6 pic.twitter.com/RFa5xp66X8

— Doctor Who Official (@bbcdoctorwho) June 6, 2015
• Love this:
• And finally, this is rather lovely. A fan-made clip made by Allie Nelson in which her hand-made Doctor Who storybook plays a key role. Here's a close-up from the book:
And the film itself:
Once Upon a Time and Space from Allie Nelson on Vimeo.
TTFN!
Read More
Filed Under: