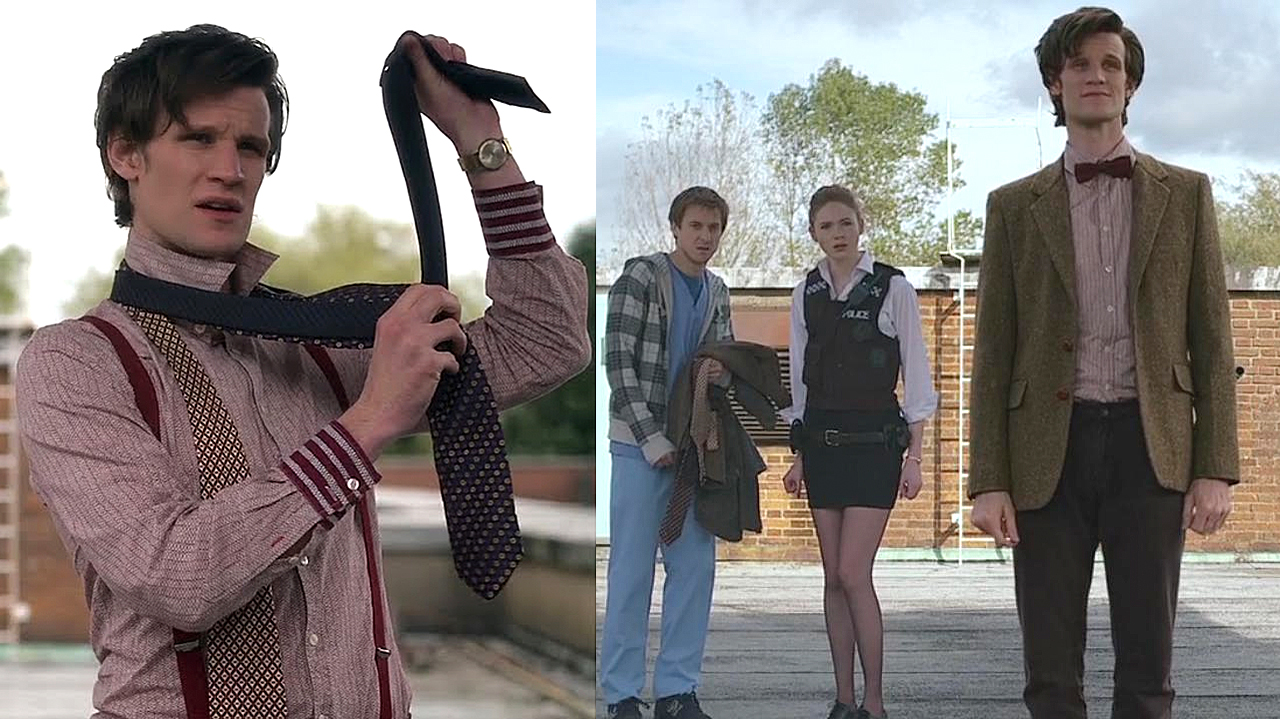 Welcome to Doctor Who's Day, a gallimaufry of Gallifreyan gubbins from the last seven days in the Whoniverse. And this week we begin with a look at the way the Doctor's regenerations are often followed by a little bit of Time Lord cosplay.
The Doctor Who web team started things off with their Regeneration Awards, which of course just leads to a trawl through the YouTube archives looking at transformation clips (for example, did you know the Second Doctor's regeneration happened 46 years ago this week?):
One of the big scenes in any new regeneration occurs when the Doctor, having shaken off the effects of the change, selects his wardrobe and fully becomes his new self. Sometimes, as in the case of the Third or Eleventh Doctors, the clothes just happen to be lying around and he helps himself…
…and sometimes, as happened with the Fourth and Sixth Doctors, there's a dressing up box in the TARDIS that he nips into for a quick sift…
…and sometimes the TARDIS just provides all that is needed:
But however he does it—even when he's telling off the Atraxi while picking the perfect tie—in the Doctor's case, sometimes clothes really do maketh the man.
The worries about what kind of man that is, good or bad, tend to come later on.
Here's what else has been going on in space and time this week:
• Speaking of regenerations, it's been ten years since the Tenth Doctor (played by David Tennant) first arrived. Here are just a few reasons why this is an anniversary worth marking.
• Meanwhile, David has just signed up to lend his vocal talents to Chew, a new comic book adaptation.
• The Nerdist set off to find out if a sonic screwdriver really could work outside of the laboratories of Gallifrey:
• Think you can tell the difference between the Master and Missy? Take this quotes quiz and find out for sure.
• Matt Smith is set to play Prince Philip in a new Netflix drama.
• Red Carpet News TV interviews the Seventh Doctor, Sylvester McCoy:
• Karen Gillan leads the search to find the Loch Ness Monster (which we all know was created by the Zygons).
• Someone needs to mount a rescue mission:
• An explanation of Karen Gillan's favorite condiment, chippy sauce.
• Time Lords presumably have to deal with this sort of thing a lot:
• Neil Gaiman (who of course wrote The Doctor's Wife) has the pleasure of seeing his book American Gods made into a new TV series for Starz.
• Doctor Who: The Fan Show has broken into Steven Moffat's writing lair to try and find out more about Season Nine:
• Aw, this is cute:
• Metro gathered up all the dinosaurs in Doctor Who, and made a virtual theme park with them. Far safer than Jurassic World, anyway.
• Sean Pertwee, acclaimed actor, posted this image in which he looks spookily like his dad Jon, otherwise known as the Third Doctor:
• And at the same event as Sylvester—Collectormania in Milton Keynes—here's John Leeson, the voice of the Doctor's robotic dog K-9:
• Speaking of whom, here's Kasterborous's five (mostly) beloved robots of Doctor Who.
• The Essential Doctor Who: Monsters is out now! A 116-page guide to the monsters that have haunted us for over 50 years. The digital edition is here.
• And finally, here's a nifty TARDIS-shaped enclosure for your pet tortoise, one that shouldn't take too much space (or time) to make yourself:
https://www.youtube.com/watch?v=oUTEK0wGX5E
TTFN!
Read More
Filed Under: