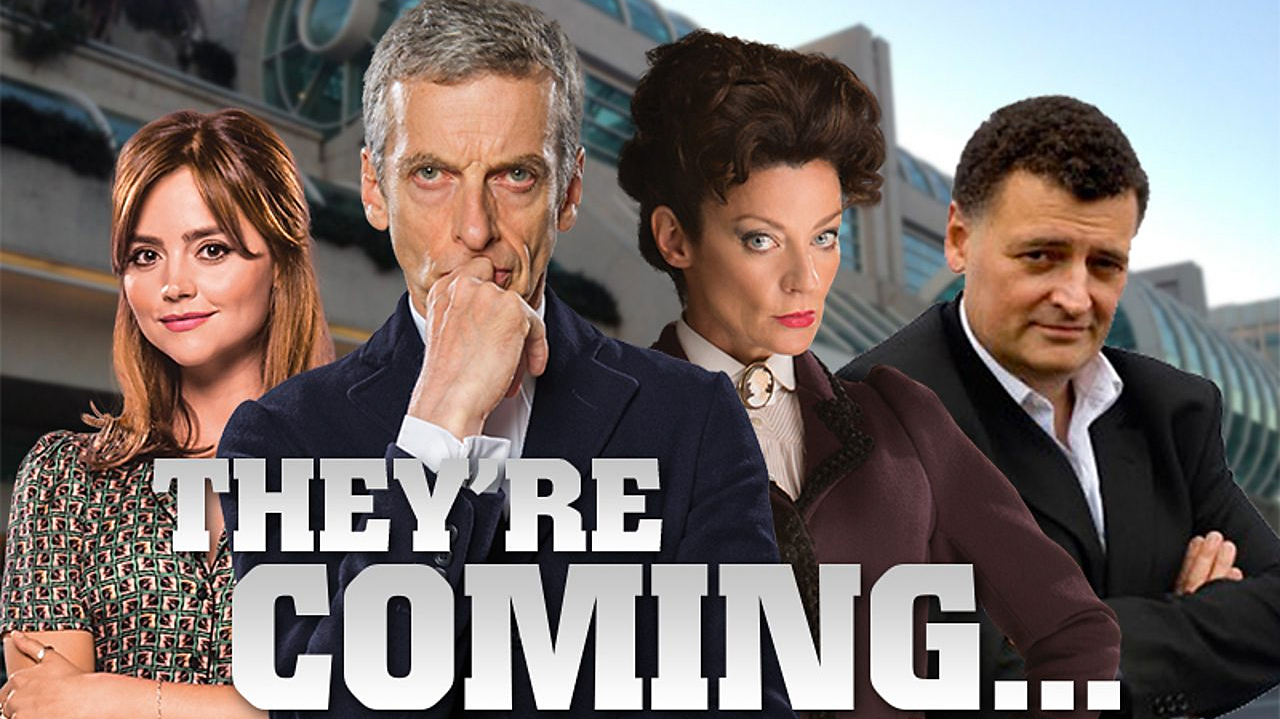 Welcome to Doctor Who's Day, a hotchpotch of Time Lord shenanigans across a week in Internet time. And this week, as everyone attending the 2015 International Comic-Con in San Diego puts the finishing touches to their cosplay wardrobes in time for the Preview Night on Wednesday July 8, we'll start by looking at some items of particular interest for Doctor Who fans who may be attending the event.
The most exciting of these is of course the arrival of Peter Capaldi (his first Comic-Con), Jenna Coleman, Michelle Gomez and Steven Moffat for a Thursday, July 9 panel, a visitation that Peter described with a due sense of the enormity of the event:
"Tales of San Diego Comic-Con are told in awe on every set around the known fantasy/sci-fi production world. It's become a fabled kingdom. One I am thrilled to find myself heading for. And to appear in the legendary Hall H is a further twist to the cosplay and comic madness I may never recover from."
And there are a couple of exclusive Whovian extras that will only be available to people attending, not the least of which is a special short story edition of the Twelfth Doctor comic book from Titan comics. It's the story of an alien threat at Comic-Con, which must be rather hard to spot, given all the cosplay.
There are two covers from Alice X. Zhang too:
And that's not all. Visitors to the BBC AMERICA shop can buy this extending Sonic Screwdriver universal remote control, modeled after the one belonging to the Twelfth Doctor. It will be released to retailers later in the summer, but this is a chance to grab one early:
Don't worry if you're not going, we'll bring you a full report in a future Who's Day, and besides, there's all this other stuff that has been going on in space and time to take a look at:
• Which Doctor Who monster are you? Take our quiz to find out.
• Doctor Who: The Fan Show has taken a trip into the Minecraft dimension:
• 10 of Doctor Who's most romantic moments.
• River Song is teaming up with the Eighth Doctor, but he can't know about it.
• A Dalek has invaded Grand Theft Auto IV, with predictable consequences:
• Two Doctors have visited the legendary island of Atlantis, one before it vanished, and one after. Although not necessarily in that order for him.
•This is one of the weirdest Whovian things to emerge in, well, ever:
Shia LaBeouf's former neighbor paints him as #DoctorWho, 13 times http://t.co/raqAHohYoZ pic.twitter.com/S2fbQmJt4s

— Mashable (@mashable) June 28, 2015
• Where to see Doctor Who alumni—from Matt Smith to Freema Agyeman—in 2015.
• Speaking of which, here's Christopher Eccleston in the trailer for Legend, the story of the London gangsters the Kray twins, starring Tom Hardy:
• Doctor Who Festival is coming to Sydney, Australia in November:
• More images from Season Nine, including the U.N.I.T. props box:
• …Clara's homework…
• …and the TARDIS front door, hanging in greenspace.
• Think you know your Doctor Who couples? Try this quiz and see.
• A glimpse inside the life of Doctor Who's first producer, Verity Lambert.
• There's a new issue of Doctor Who Magazine out, starring Ingrid Oliver (Osgood):
• BBC Radio 1 DJ Greg James went on a trip with the Minions from Minions, using a very familiar mode of transportation:
• And as you'd expect, he was delighted to be in the TARDIS:
• Want to know what your Doctor Who star sign may be? There's a quiz for that.
• And finally, a finale. James Jarvis, whom we featured a while ago with his fan-made Missy theme, has concocted a suitably stirring soundtrack to those last few costume amendments:
TTFN!
Read More
Filed Under: