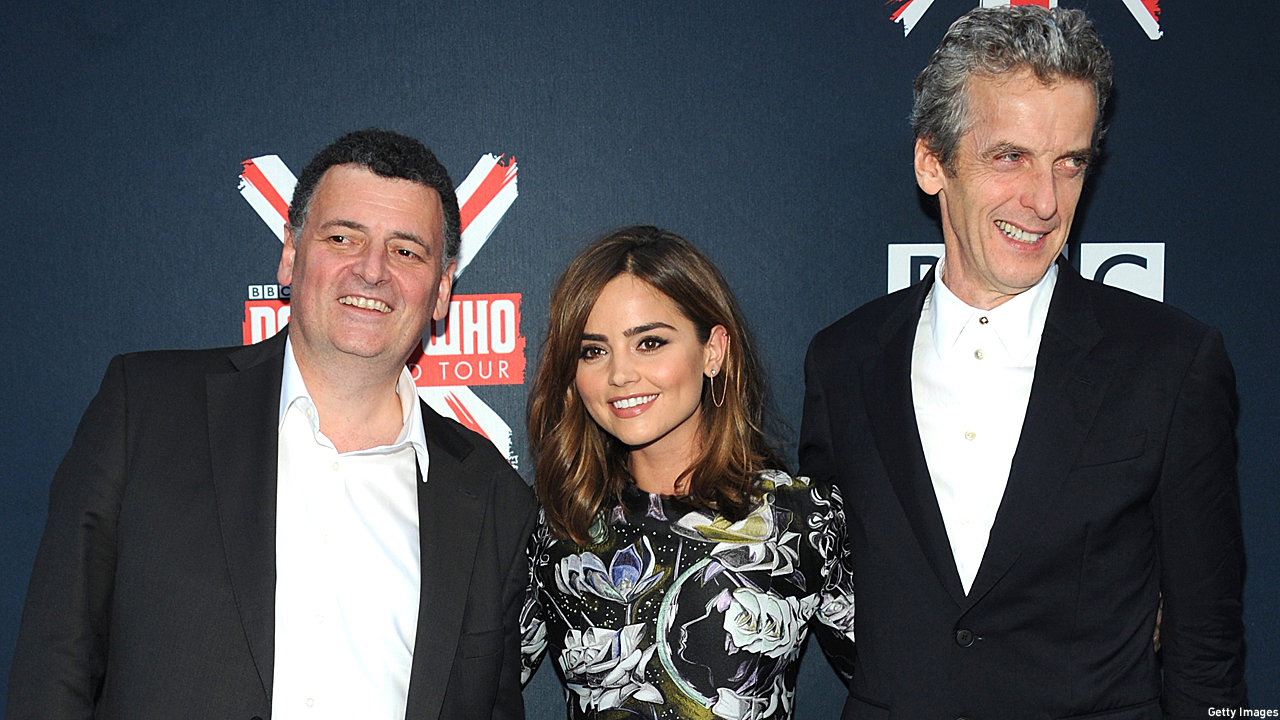 It was announced on Friday that Steven Moffat is to be awarded the OBE (Officer of the Most Excellent Order of the British Empire) in the Queen's birthday honours list, for services to drama. These include scripting two of the most successful television shows in the world, Sherlock and Doctor Who.
He's not the first member of the Doctor Who production team to be honored in the Queen's honours list; Verity Lambert was also awarded an OBE in 2002, Russell T Davies received his in 2008, and Sydney Newman, Doctor Who's first producer, won the Order of Canada for his services to broadcasting in 1981.
It's interesting to note that, as yet, the only Doctor to have received such an honor is the War Doctor, Sir John Hurt, who was knighted late last year. Although his CBE (Commander of the Most Excellent Order of the British Empire) came in 2004, before the War Doctor came into being. He won't like us for saying this, but how very timey-wimey.
Steven told BBC News that it took a short time after picking up his mail before he was even aware what was going on: "I got a very official-looking letter, but I didn't have my reading glasses so I had no idea what it said. For ages I wandered round our house looking for my reading glasses, because it said 'Cabinet Office' on it I thought 'well what could that be?' But I was thrilled. It's absolutely lovely."
And he sees this honor as a vote of support for creatives and fans too:
"I think it gives hope and comfort to the shy kid at the back of the class with his head full of stories and no one to talk to. I think it's great for writing that this happens."
As well as being a seal of approval for both Sherlock and Doctor Who as thoroughbred dramatic presentations:
"I would like to think it means that they are more than huge hits—which they are, they are huge hits—they're kind of important, kind of prestigious. You kind of want to say that about shows that have massive worldwide followings. They're not just nonsense, they're also important. They're culturally significant."
Well quite.
Here's what else has been going on in space and time this week:
• Rigsy (played by Joivan Wade) is back in Season Nine!
• His story was written by Sarah Dollard, who also wrote Being Human, and she could not have been more thrilled:
• It was the 800th birthday of Magna Carta this week, and we spent a little time discussing the ancient treaty's influence on popular culture, including a key role in the Fifth Doctor adventure "The King's Demons."
• Jenna Coleman and costume designer Ray Holman discuss Clara's clothes:
Jenna Coleman and #DoctorWho costume designer reveal how to get Clara's look in new video: http://t.co/XjKZf0TkyH pic.twitter.com/mfVqJW2MBb

— Doctor Who Official (@bbcdoctorwho) June 9, 2015
• 13 of Clara's best moments so far.
• Clara quiz: can you name the episode in which Clara wore these outfits?
• And if you're struggling with that, here's a gallery of Clara's clothes from Season Eight.
• Here's a Top 10 of the most shared clips from Doctor Who on YouTube:
• 10 areas in which Britain outranks America, including the longest-running TV science fiction show of all time.
• There are new issues of the Titan Comics Doctor Who series out, particularly for fans of the Ninth and Eleventh Doctors. Eleven's cover is especially good:
• 11 ways Doctor Who made us smarter.
• Doctor Who runs a tight ship on location:
• Peter Capaldi and Jenna Coleman are heading to Germany on July 17 for a one-off Doctor Who fan event.
• Canadian Whovians, if you're attending FanExpo Canada this September, you can expect to see Billie Piper, Karen Gillan AND Jenna Coleman, although not necessarily at the same time.
• A cartoon that proves that even a jaunty hat doesn't diffuse the attack eyebrows:
• Fans of the classic movie musical Oliver! paid tribute to Ron Moody (Fagin) who died last week. But did you know he was offered the role of the Third Doctor after Patrick Troughton handed in his notice, and later regretted turning it down?
• June 14 was #AngelsDay, which prompted a remarkable, unblinkable response from cosplayers:
Here are some of the most popular pictures of Weeping Angels around the world you sent us this week to celebrate #AngelsDay – blink and you're dead!

Posted by Doctor Who on Sunday, June 14, 2015
• Here's a fun game. What would it look like if the more recent Doctors had the same eye for bright color as the Sixth Doctor? Something like this:
• And finally, Doctor Who: The Fan Show explores the science of the show, with Dr. Marek Kukula, who has written a book, The Scientific Secrets of Doctor Who, on this very subject:
And here's the interview in full:
TTFN!
Read More
Filed Under: