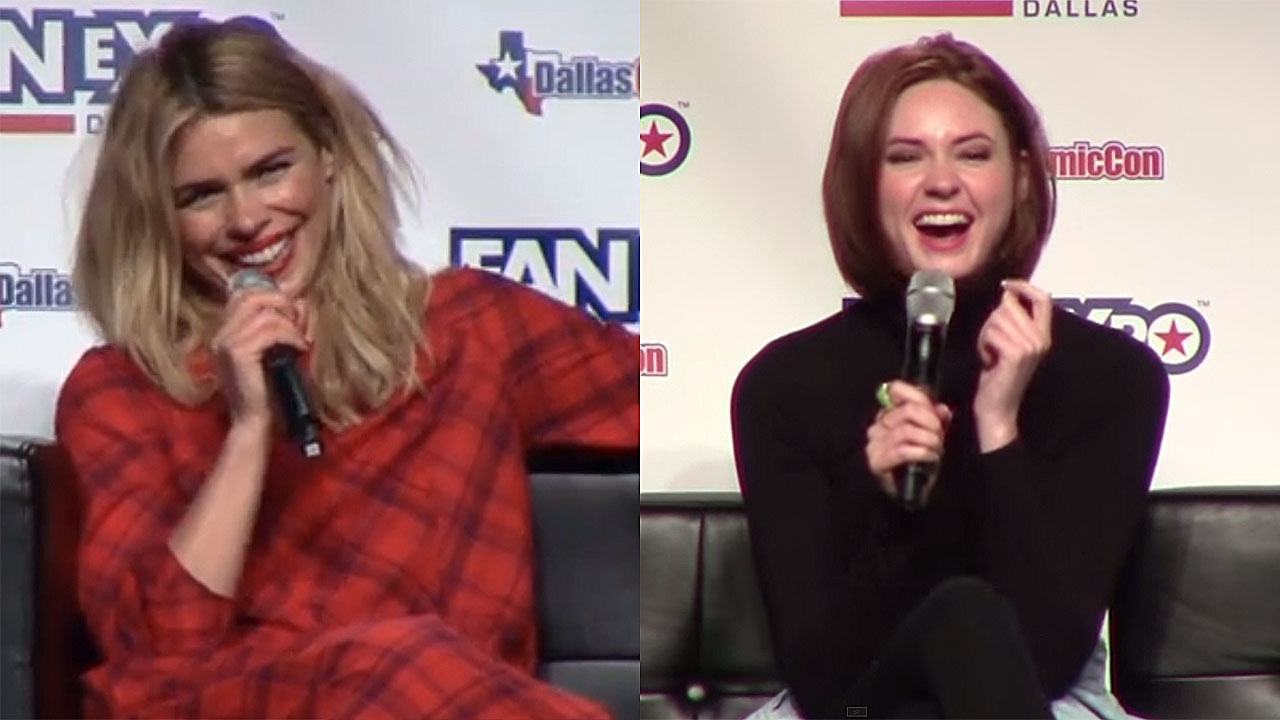 Welcome to Doctor Who's Day, a trawl through a week of internet happenings related to the travels of a certain Gallifreyan and his various friends.
This week, we begin our travels in Dallas, where Billie Piper and Karen Gillan have been meeting with fans for a Q&A at Fan Expo Dallas.
There was a key moment in Billie's panel, one that stopped everyone in their tracks. A young lady called Katie stepped forward to talk to Billie about the Season One story "Father's Day" in which Rose Tyler tries to go back in time and prevent the death of her father. Katie tearfully went on to say that she had lost her father shortly before starting to watch Doctor Who, and that not only had that particular story been a particularly moving one for her, it actually helped her to deal with her grief.
Billie responded with a lot of sympathy, saying, "Quite often when I do conventions people ask me what I would do if I could travel in time. I would go back to… my parents are alive thank God, but… I would go back to times WITH my parents and relive some moments with my mum and dad."
She continued: "I found it profoundly moving as a concept, and that's why it remains one of my favorite episodes to film. It's less about the supernatural and more about human love and connections."
Billie's entire panel is here, but Katie's section begins at 15:40:
And Karen's panel—which contains the sentence "there was real cabbage in that slime"—is here:
Here's what else has been going on in space and time this week:
• LEGO® Dimensions is a new game that aims to bridge a gap between building with LEGO bricks and console games, featuring many fan-favorite realities such as Batman, Back to the Future, The Lego Movie, Scooby Doo, The Wizard of Oz… and Doctor Who.
Here's a trailer: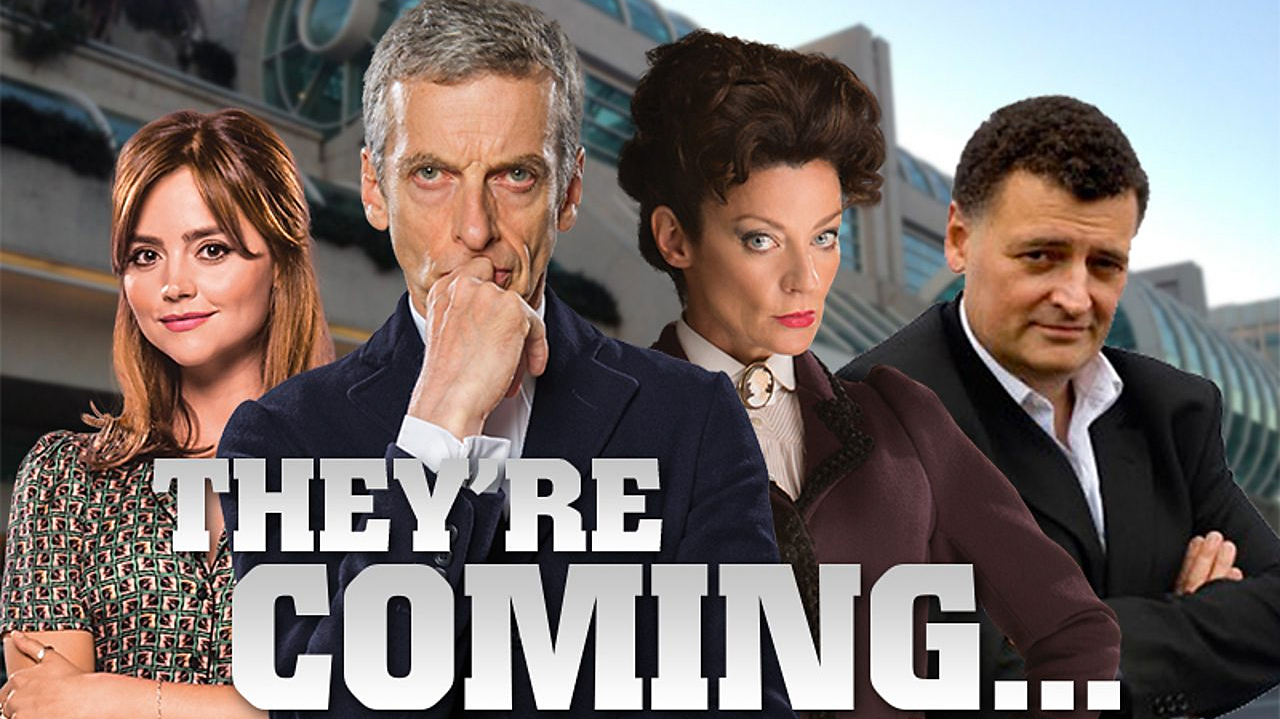 • Peter Capaldi is heading for his first Comic Con panel, in San Diego on July 9. He'll be joined by Jenna Coleman, Michelle Gomez and Steven Moffat, who had this to say: "Tales of San Diego Comic-Con are told in awe on every set around the known fantasy/sci-fi production world. It's become a fabled kingdom. One I am thrilled to find myself heading for. And to appear in the legendary Hall H is a further twist to the cosplay and comic madness I may never recover from."
• And Doctor Who: The Fan Show has this to ask:
• This happened:
• An interview with Michelle Gomez in which she expresses this theory on Missy's return to active service: "Methinks she bores easily, so death might be a lot more interesting. Life can be terribly dull for the likes of Missy!"
• Radio Times had this picture of David Tennant hard at work:
Exclusive #DavidTennant picture as Doctor Who star goes to Neverland with Jake http://t.co/6177rsxNAE pic.twitter.com/lhVIqOE5Qw

— Radio Times (@RadioTimes) June 1, 2015
• Why do Doctor Who fans love cosplay?
• There's a new issue of Doctor Who Magazine…
…which contains an interview with Steven Moffat in which he says this: "'The Day of the Doctor' was a success. Record ratings, awards, rave reviews. By any measure, it did alright. But two years later, I'm still haunted by the guilt. I know some of you, including friends of mine, were upset that we reversed the outcome of the Time War. My defense, however feeble, is that given the chance, the Doctor would do exactly that. And it was his birthday, how could I deny him that chance? What could define him more? This man who always finds another way? And there he is, at every moment of his life, proving to himself – literally – that there is always a better path."
• 12 of the Twelfth Doctor's greatest moments.
• The science of Doctor Who: what do Daleks smell like?
• A nice interview with Peter Davison in which he reveals that his first meeting with future-son-in-law David Tennant went very well indeed: "David didn't ask me for any tips on the role, but I took my two sons to the filming of his first episode in London, and he was fantastic, very nice and very welcoming. Later on things changed when he married my daughter, and that is rather weird. I don't know if either of us have really come to terms with it. But I think he did a great job in the show, and I do like the fact that I was 'his' Doctor Who when he was growing up."
• Karen Gillan met a wookie:
We meet again… pic.twitter.com/ebEgC2NX5F

— Karen Gillan (@karengillan) May 31, 2015
• And was interviewed by 9-year-old Presley Alexander:
• The Doctor Who Symphonic Spectacular proved to be VERY aptly named, being both symphonic and spectacular:
Here is a sample of what went down at the Doctor Who Symphonic Spectacular in the SSE Arena Wembley last weekend. Don'…

Posted by Doctor Who on Wednesday, May 27, 2015
• And finally, this week's Doctor Who: The Fan Show reimagines the adventures of our Time Lord hero as if made by Disney:
TTFN!
Read More
Filed Under: