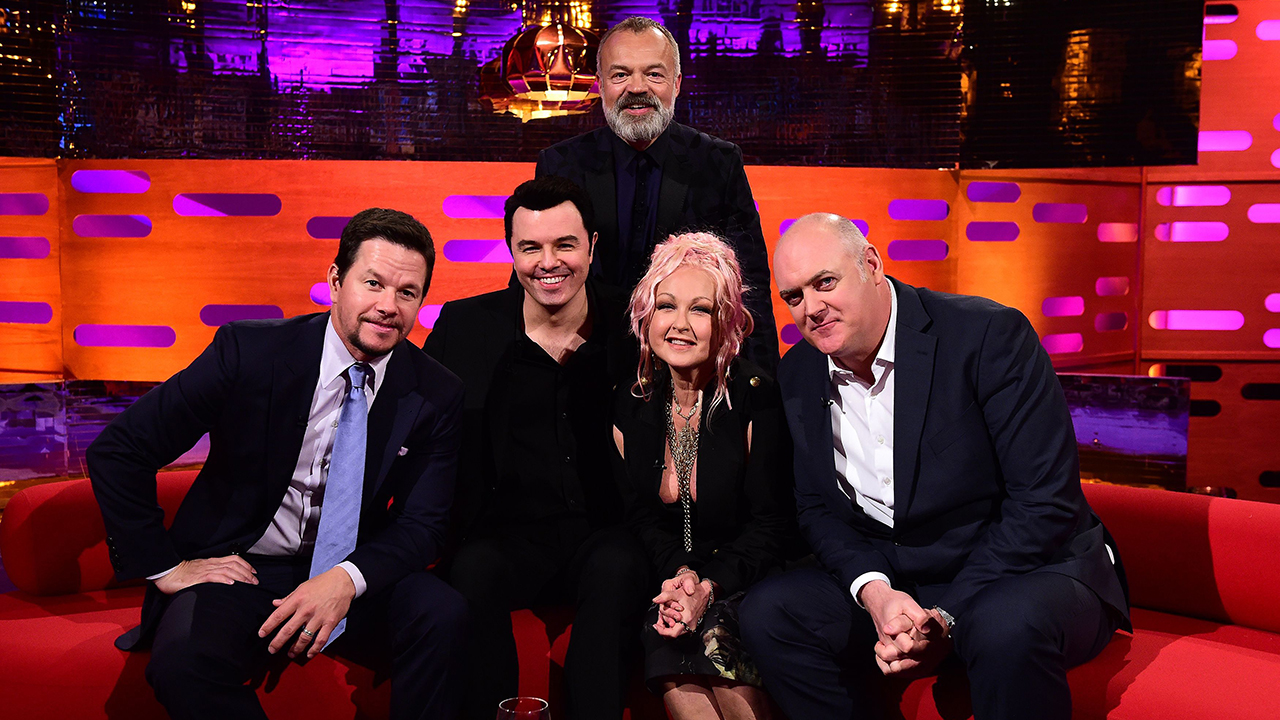 Three Americans and an Irishman walk into a television studio … no, it's not the setup to a joke, it's this week's (June 21) guest lineup of The Graham Norton Show.
You may recognize Hollywood actor Mark Wahlberg, Family Guy creator and actor Seth MacFarlane and iconic singer Cyndi Lauper, but who's the guy on the end? Let us introduce you to Dara Ó Briain.
Comedian Ó Briain is a self-proclaimed nerd having studied mathematics and theoretical physics at University College Dublin. He uses his nerdism as part of his stand-up act, intertwining his love of science and how things work into his performance, like in this clip on technology and gaming:
His fanboy dream of meeting and interviewing his boyhood hero Stephen Hawking recently came true, which was documented by BBC One. He said he was more nervous than excited in an interview with The Guardian, but he got his stride.
Ó Briain spent five years hosting The Apprentice spin-off called You're Fired. He ended up firing himself in January 2015, freeing him up to focus on his stand-up. He's currently on tour with his live show Crowd Tickler. It's not just him rattling off jokes on stage. He brings the spectators into the show with "rapid fire quips with members of the audience," according to his website. The Guardian points out in a review, "These are classy routines, that assume the audience's intelligence and condescend to no one."
Now that we've caught up with Ó Briain, what's everyone else up to? Wahlberg and MacFarlane took a seat on the couch to chat about their film Ted 2, the sequel to their over-the-top comedy Ted, starring Wahlberg and written/directed by MacFarlane. The story revolves around a teddy bear who comes to life, but he's a little rough around the edges.
Here's a peek at the trailer for the follow-up, hitting U.S. theaters on June 26:
Graham had a cheeky suggestion for MacFarlane to mash-up his Family Guy characters with Lauper's famed songs. You can check out the actor singing Lauper's "Time After Time" as Stewie, with a British accent, and Peter Griffin performing "True Colors," in the below clip:
Wahlberg worked diligently to memorize 57 movie titles for a scene in Ted 2. But, for some reason, the scene was cut. Graham prompted him to prove it, which Wahlberg did in the below clip, rattling off the list from memory:
Last, but not least, Lauper joined the guys on the couch for a chat but also performs a song from the Broadway show Kinky Boots. Lauper doesn't appear in the stage performance, but she wrote the music and lyrics.
Here she is talking about her writing process for the musical:
We don't have a clip of Lauper's performance, but that's just another great reason to tune in to Graham on Saturday at 11:15/10:15pm central time.
What's your favorite element of The Graham Norton Show? 
See More: 
John Bishop: The Brit on Graham Norton's Couch
Jessica Hynes: The Brit on Graham Norton's Couch
Michael McIntyre: The Brit on Graham Norton's Couch
Read More
Filed Under: