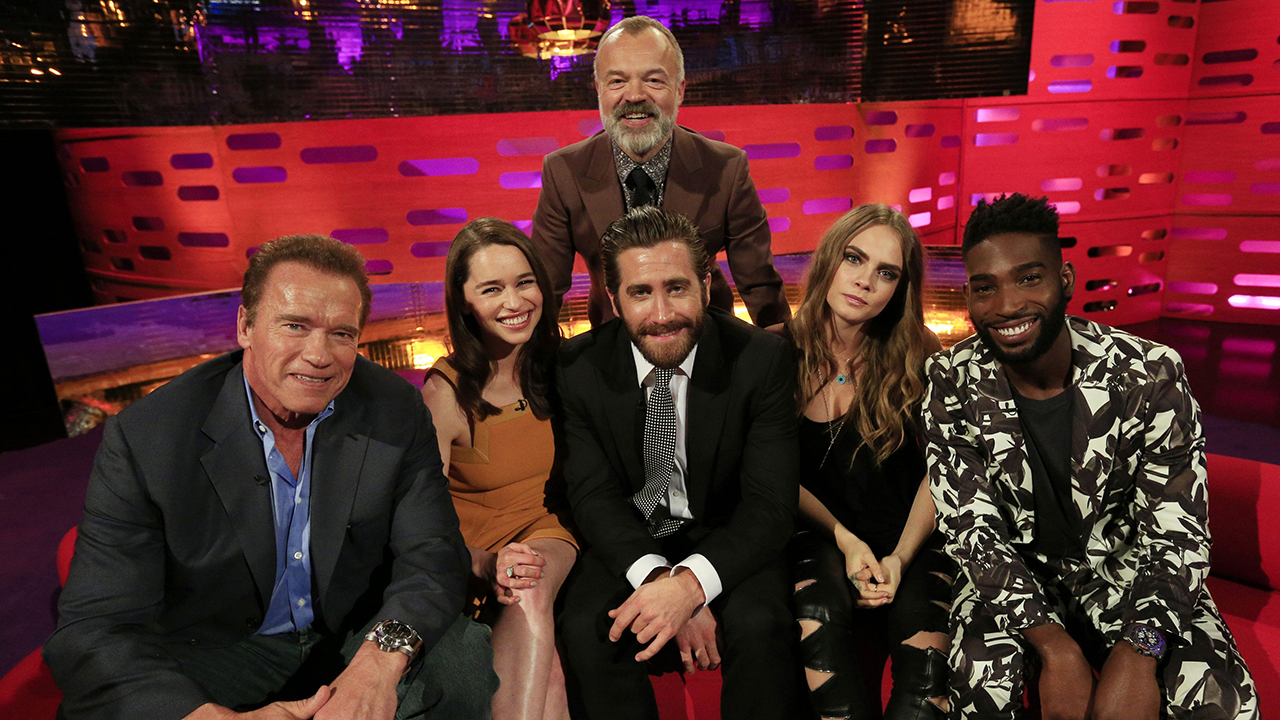 We're not the only ones looking forward to Terminator Genisys, Graham Norton has the film's co-stars Arnold Schwarzenegger (The Terminator) and Emilia Clarke (Game of Thrones) on his couch in this week's (June 27) episode of The Graham Norton Show. Along with American actor Jake Gyllenhaal, British actress Cara Delevingne (Paper Towns) and rapper Tinie Tempah.
We get a glimpse of each guest on the couch in the below clip as they take turns sharing one of Schwarzenegger's catchphrases:
Arnie, as Graham likes to call him, was the original killing machine in Terminator in 1984. He reprised his role as the Terminator in the follow-ups including Terminator 2: Judgment Day in 1991 and Terminator 3: Rise of the Machines in 2001. Other major films he's starred in include Predator (1987), Twins (1988), and Total Recall (1990).
In addition to his film career, Schwarzenegger served in office as the Governor of California from 2003 to 2011. He has an outstanding career, but it may be hard for him to top his latest role as the judge for the eyebrow-off between Clarke and Delevingne as seen on Graham's couch:
We most recently saw Clarke in the season finale of Game of Thrones, where she portrays Daenerys Targaryen, the Mother of Dragons. We look forward to her assuming Linda Hamilton's role of Sarah Connor in the Terminator reboot.
Clarke held her own in the eyebrow-off and was keen to chat away while sitting on the couch, expressing her thoughts on the death toll seen the in the GoT series:
Gyllenhaal is in the studio promoting his film Southpaw, premiering on July 24. Opposite co-star Rachel McAdams, he portrays a loving family man who happens to be a bone-crushing champion boxer for a living:
If you aren't familiar with Delevingne, you can get to know her by swinging by her Instagram page. Is she an actress? Is she a supermodel? Actually, she's a ham:
Delevingne walked the runways for some of the top fashion lines like Burberry and was the face for high-end campaigns including Chanel, but she just recently announced she's resigned from modeling completely, reports HelloGiggles.
So, we can say with confidence, she's a full-time actress.
The 22-year-old has been tenacious in her efforts to make acting a regular gig, taking on smaller roles like in 2012's Anna Karenina as Princess Sorokina, and in Sky Arts Playhouse Presents' short film Timeless.
Her hard work in modeling and in front of the screen has paid off, and she's now starring as the lead in the film adaptation of The Fault in Our Stars author John Green's Paper Towns, also premiering on July 24.
Delevingne portrays the carefree, mysterious girl next door, who goes missing in the middle of the night. Her bashful neighbor makes it his job to find her, as seen in the below trailer:
The show is rounded out with musical guest Tinie Tempah. The English rapper released his first album in 2010, which went platinum the following year. He's in studio to chat with Graham and the other guests, but we can also look forward to his performing his new single "Not Letting Go."
If you just can't wait until Saturday to get a peek of Tempah, here's a look at his video for "Not Letting Go":
If you sat in Graham Norton's Big Red Chair, what would your story be?
See More:
Mark Wahlberg Flips the Red Chair…Again and Again!
A Phil Collins Story in the Big Red Chair
Who's the Brit on Graham Norton's Couch?
Read More
Filed Under: