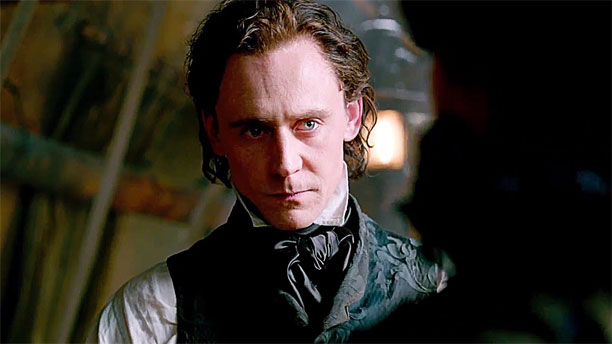 The first full-length trailers for Guillermo del Toro's latest gothic horror Crimson Peak have been released, with Tom Hiddleston in full bloom as a doomed romantic with a dark secret.
He plays Sir Thomas Sharpe, an inscrutable figure who woos the young novelist Edith Cushing (Mia Wasikowska). She comes to his ruinous family pile in the north of England, and in the style of a good many 19th century novels, discovers that there are unpleasant events in the family's past.
Oh, and because it's Guillermo del Toro and not Jane Austen, the dark secrets have pointy fingers, whispery voices and a tendency to leave blood everywhere.
Be warned: although this is a green band trailer, it's still a horror movie and some of the images are, for want of a better word, gross:
And then there's the international trailer, which has different bits in it:
Not so different as to become un-icky, of course.
See more:
WATCH: A Young Tom Hiddleston in 'Casualty'
Tom Hiddleston and Hugh Laurie Tweet Mountain Snaps from 'The Night Manager'
LISTEN: Tom Hiddleston Reads 'High-Rise'
How Tom Hiddleston Transformed Into Hank Williams
Read More
Filed Under: